Disclosure: I was not financially compensated for this post. I received a sample of the product for review purposes. The opinions are my own, based on my personal experience with the product.
Many people associate the House of Blues with stellar concerts and musical entertainment but did you know that it also features amazing food at their Crossroads at House of Blues restaurants? Since Crossroads at House of Blues has been a favorite of my family for many years, I was excited to learn that they have partnered with one of my favorite celebrity chefs, Aaron Sanchez of Food Network fame to create new menu offerings. What makes this new menu from Chef Sanchez so extraordinary is that he has taken classic American dishes and added his own creative touches for the most delicious food you can imagine such as Lobster Mac & Cheese and Hand-Stretched Flatbread Pizza. There are many new options to choose from in addition to menu classics and it features a dozen different entrees, over 10 seafood items, 4 signature burgers, classic southern favorites and vegetarian offerings.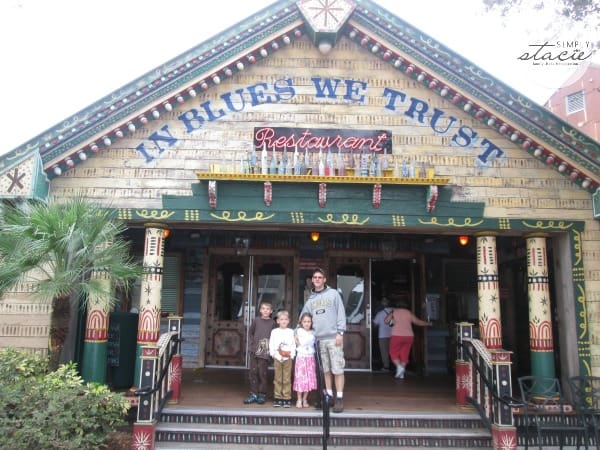 In addition to being a great date-night destination for couples who love to listen to the excellent live music played on stage nightly, Crossroads at House of Blues restaurants are a wonderful family-friendly option too. My husband and I have enjoyed many wonderful lunch and dinner meals with our children at the House of Blues in Orlando, Florida. When we visit Crossroads at House of Blues, we always expect delicious food and friendly customer service….we have never been disappointed as this restaurant always hits the mark!
We recently were invited to visit our local Crossroads at House of Blues restaurant in Orlando for a lunch meal to sample the new Chef Aaron Sanchez menu. I was particularly excited to try some of the new menu items as well as our regular favorites. When we arrived for lunch we were greeted by the friendly hostess and seated at a very nice table where we could see the entire restaurant. This location is especially proud of the large collection of original folk art created by some of the best folk artists in the world. My children enjoyed looking at all of the beautiful sculptures, paintings and wall and ceiling art and this really kept them entertained as we were waiting for our food.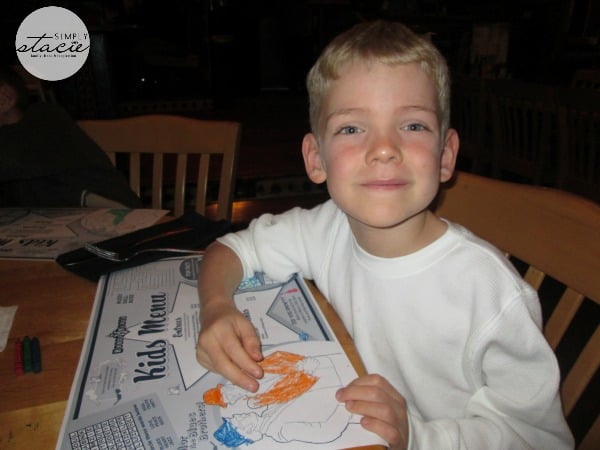 Our server, Ryan is a class-act as he was very friendly, knowledgeable about the menu and professional. After looking over the new menu, we ordered appetizers and chose the Voodoo Shrimp and Street Tacos with Steak. My son and I love seafood and we thought that the Voodoo Shrimp with housemade jalapeno cornbread tasted spectacular. It features fresh, juicy jumbo shrimp in a delectable sauce which had just the right amount of heat without being overly spicy. The Street Tacos with steak were amazing…..the steak was tender and seasoned to perfection and the authentic street taco taste was delicious.
For the main course, this Southern gal selected my personal favorite, the Shrimp and Grits and in all honesty, it was the best shrimp and grits that I have ever eaten with flavors that were sensational. On recommendation from our server, Ryan my husband chose the St. Louis Ribs which are cooked to perfection during a 14 hour slow cooking process for the best tasting ribs you can imagine. My husband was enjoying his ribs so much that he was barely able to put it down to tell me how much he liked it. He did finally agree to give me a rib to sample myself and "WOW" it was meaty, tender and full of flavor from the spice rub and accentuated with a delicious barbecue sauce. Our children thoroughly enjoyed their kid's meals which are attractively priced and included a very nice amount of food….in fact, our kids were full and that rarely ever happens. I appreciate that while the kid's meals offerings are choices that children are sure to enjoy, the food is still the same high quality that the adults are enjoying too.
For dessert, it was very hard to choose from the delicious offerings. I was so excited to try my favorite dessert, the Bourbon Bread Pudding. This delectable sweet treat featured bananas and white chocolate with a bourbon caramel sauce and freshly whipped cream for a wonderful taste experience. My husband enjoyed the Chocolate Mousse and my kids shared an ice cream sundae which was also a big hit.
Normally, when I write a review I discuss all the "good" and "bad" points but in this case there was only a positive experience overall with no negatives. This is exactly what we look for in a restaurant when we are selecting a special meal out with our family and Crossroads at House of Blues never disappoints. In addition to lunch and dinner service and concerts and events, we recently learned that Crossroads at House of Blues also features a Gospel Brunch every Sunday at 10:30 a.m. and 1:00 p.m. This is something that sounds very appealing to our family and in addition to enjoying wonderful Gospel music performed by local artists there is an all-you-can-eat meal so you can try many of the delicious menu items too. This is something that sounds very memorable and we plan to check it out soon as a family.
There are thirteen Crossroads at House of Blues restaurants nationwide and you are invited to visit the location nearest to you to try the new menu created by Chef Aaron Sanchez. It is an experience that you and your family are sure to be talking about for a very long time! You can head over to the House of Blues website to make a reservation today.