The Loonie is still low, relative to the US dollar, but there are still ways to leverage cross border shopping deals!
I was happier than anyone else I know when a certain big box store announced its arrival in Canada. When they closed up shop less than two years later, I was more or less indifferent. The experience wasn't the same as the American version of the store in question and that's true for almost all US brands..
But with years of a low Loonie relative to the US dollar, you have to look closely at a deal before buying from south of the border. There are a few things to remember, however, that can sweeten the deal.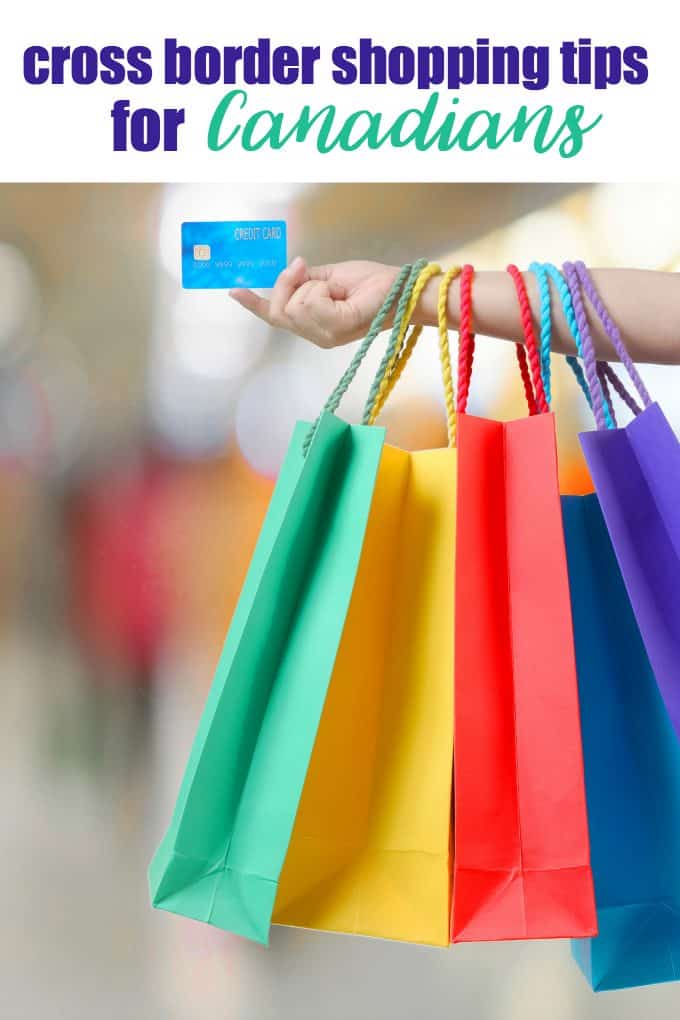 © shopping bag image via Shutterstock
Shopping in person
The key with in person shopping in the US is to make sure you can get as much as you can, duty free. That means staying overnight because a trip of less than 24 hours will permit you to bring back… $0 worth of items, duty free. Yes, you read that correctly. Now, if you stay in the US for between 24 and 48 hours, your limit goes up to $200 per person. Over 48 hours? $800 per person! That's a lot of shoes!
And if you don't have relatives who happen to live just over the border, do your research: plenty of hotels offer at par or discounted rates to Canadian shoppers. Stay on top of border wait times with the Government of Canada travel wait times site. It's updated every hour so you can check as you go! There's also an app for that for iPhone users and if you are a Nexus card holder (described below), it will help you with your wait times too!
With the decline in the value of the Loonie, some 'just over the border' malls are offering shopping with the Loonie at par on specific long weekends and holiday weekends. Check into your favourites and see what they're doing to offset the low dollar.
And if you're a regular traveler, consider getting a Nexus card. With this card, you have been pre-screened for quick travel over the border. At $50 for five years, it's a worthwhile investment, but if you're going to use it, everyone over 18 in your vehicle must have one or you're going in the regular lanes. You can also use it when flying to the US, at security checkpoints.
Shopping online
The best deals online are around US holidays and events—that's true for in person shopping too, but they're also very busy times and you might not get the greatest rate on a hotel at a peak visiting time. Online, however, you can take advantage of deep discounts which more than offset the exchange rates and duty in many cases.
Other times of year to watch for big sales? Change of season and annual sales for big retailers. Sign up for emails and newsletters with your favourite American e-tailer so that you'll know what's coming! A lot of big US retailers are also offering free or minimal shipping charges to Canadian clients and they're doing all the math on the duties and exchange right on their site, so you won't get a surprise when your package arrives!
A couple more tips for getting maximum bang out of your Loonie
Convert your Canadian dollars to US dollars at home BEFORE you travel. That gives you the opportunity to shop around for a good rate, rather than having to settle for whatever you can find when you arrive. The worst exchange rates will be at at ATM machines, over the border, so those should be avoided at all costs! Debit and credit cards often charge a 'foreign transaction fee' of anything upwards of 2 to 3.5% of the transaction price, so if you're not going for long, cash may be your best bet.
Get gas while in the US. At about 20% cheaper than the Canadian counterparts, filling up before heading back will be the cheapest part of your trip!
For shops that aren't near the border or don't ship to Canada, you can order online and have your packages shipped, usually for free, to a US border address with companies like MyUsAddress.ca. Then when you go down to pick up some other things, you can pick up your packages too and save a bundle on international shipping charges. Amazon.com, for example, often has a more interesting selection than their .ca counterpart. Problem solved. UPS also offers this service!
Do you have any tips for saving some Loonies while shopping in the US? Let me know!