This Cream Cheese Stuffed Strawberry Bread is the perfect way to use up fresh strawberries from the garden. A fresh strawberry bread that has a cream cheese filling that will totally rock your world. Whip up this stuffed strawberry bread for breakfast, brunch or a dessert to serve guests.
If dry bread is your thing, then you'll want to skip this recipe. This Cream Cheese Stuffed Strawberry Bread is a super moist, melt-in-your-mouth kind of recipe! I prefer the latter, hands down.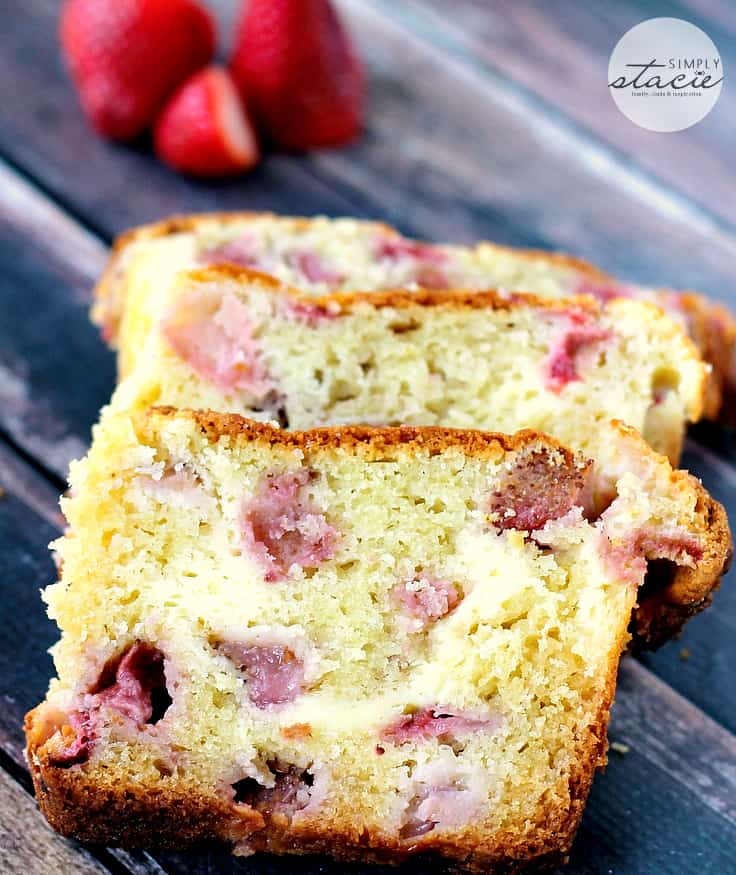 Cream Cheese Stuffed Strawberry Bread
Snack or dessert, it doesn't really matter. It tastes yummy on its own or serve it with some vanilla ice cream. This recipe is a keeper!
The peak season for strawberries in Ontario is in June and July. We often pick berries in the summer and then make a recipe with our day's work. Bridget adores strawberries so I buy them year-round.
Searching for more strawberry recipes
For more strawberry recipes, try these ones from my blog: Strawberry & Coconut Breakfast Casserole, Strawberry No-Bake Cheesecake, Berry Cheesecake Trifle, Strawberry Agua Fresca and Berry Jam Smoothie.
Fresh Bread with Strawberries
Like I said above this strawberry bread is super moist. When you work with fresh fruit it will add a lot of moisture to the mixture. It is important to measure correctly on the dry ingredients and wet to ensure you meet that proper ratio.
To prevent the strawberries from sinking to the bottom of the bread, toss them in all-purpose flour, and they will not sink to the bottom.
Can I Use Frozen Strawberries for Strawberry Bread
You can use frozen strawberries. I recommend allowing them to thaw and then chopping them up. Do your best to get all the excess juice off the strawberries so they don't add too much liquid to the bread. One thing to note when using frozen strawberries is it can change the color of the better to pink.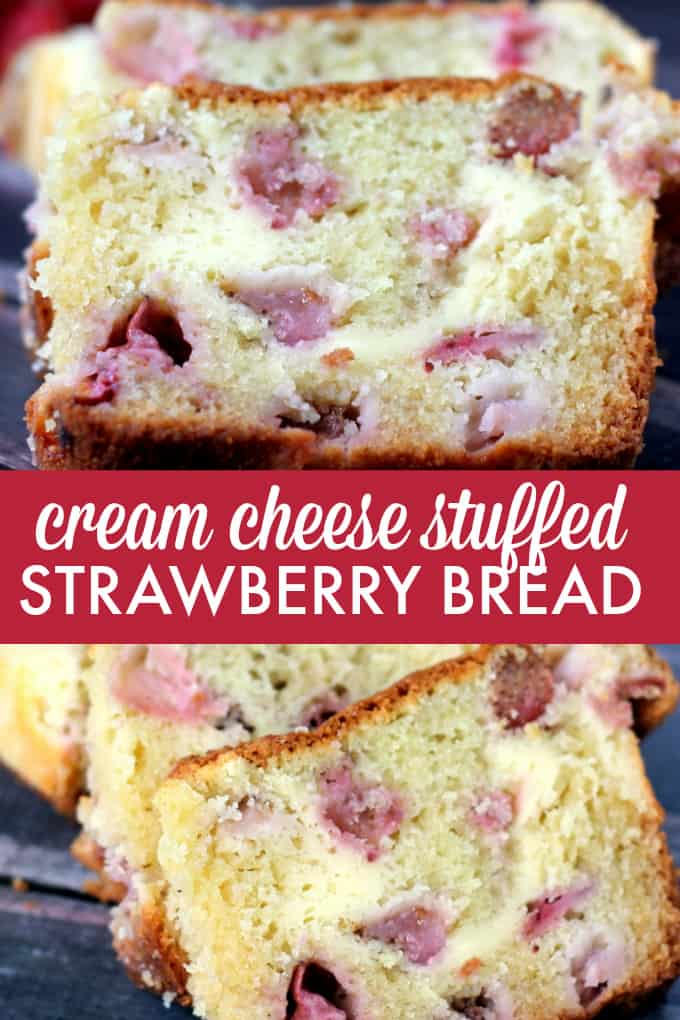 Can You Freeze This Strawberry Bread
Yes! You can easily freeze this bread. It is so easy to freeze and can last up to three months in the freezer. I wrap it in aluminum foil or plastic wrap. Then place in a freezer bag and toss in the freezer.
How to Choose Strawberries
If you are wondering how to pick good berries at the store, farmer's market, or your garden, here are some tips.
Plump berries are best.
Bright red in color. If they are greenish or white they are under-ripe.
The size of the berry does not matter.
Look over all the berries to ensure that they all look similar.
Watch for mold developing at the middle to bottom of the package.
Can I Make Mini Loaves of This Strawberry Bread
Of course! You can use the mini-sized loaf pans instead of a regular loaf pan if you want. You will just need to reduce the cooking time. So make sure to watch your bread after 15 minutes to check and see how done it is. Then keep checking until the bread is done.
How to Know When Strawberry Bread is Done
Take a toothpick and stick in the center of the bread. When you pull out the toothpick it should be clean. If you see batter on it, then the bread needs to cook longer.
One tip I have found with this bread is if the top is getting too brown, make a tent out of aluminum foil to prevent the top from browning too much as it finishes baking.
How Do You Make Strawberry Bread
Start by mixing your wet ingredients for the bread in a stand mixer or large bowl. Then slowly add in the dry ingredients to the wet, and then fold it in. Make sure not to overmix or it will make bread dense. Once bread mixture is ready, fold in the strawberries that were coated in flour.
In a new bowl make your cream cheese filling until it is no longer lumpy. Spay your pan and place 3/4 the batter in the pan. Now spoon the cream cheese filling over the top. Then pour rest of strawberry patter on top. Now you can sprinkle extra sugar on top and toss in the oven to bake.
How to Store Strawberry Bread
Strawberry bread with cream cheese filling needs to be stored in the fridge. The cream cheese filling will go bad if it is not in the fridge. You can store this bread in the fridge for 3-4 days. After that use your best judgment on if the bread is still good.
Craving More Strawberry Recipes?
Strawberry Cream Pie | This pie hits the spot every single time. Light, refreshing and bursting with that fresh strawberry taste. A must make for any occasion.
Easy Strawberry Coconut Tarts | Strawberry and coconut really work well together. A light and flaky tart that is filled with strawberry and coconut flavor.
Strawberry Smoothie | Jumpstart the day with a smoothie. This is a vanilla strawberry smoothie that will help fuel your body and be a sweet treat to sip on.
You'll also like this Apple Cheddar Bread.
Have you ever made strawberry bread?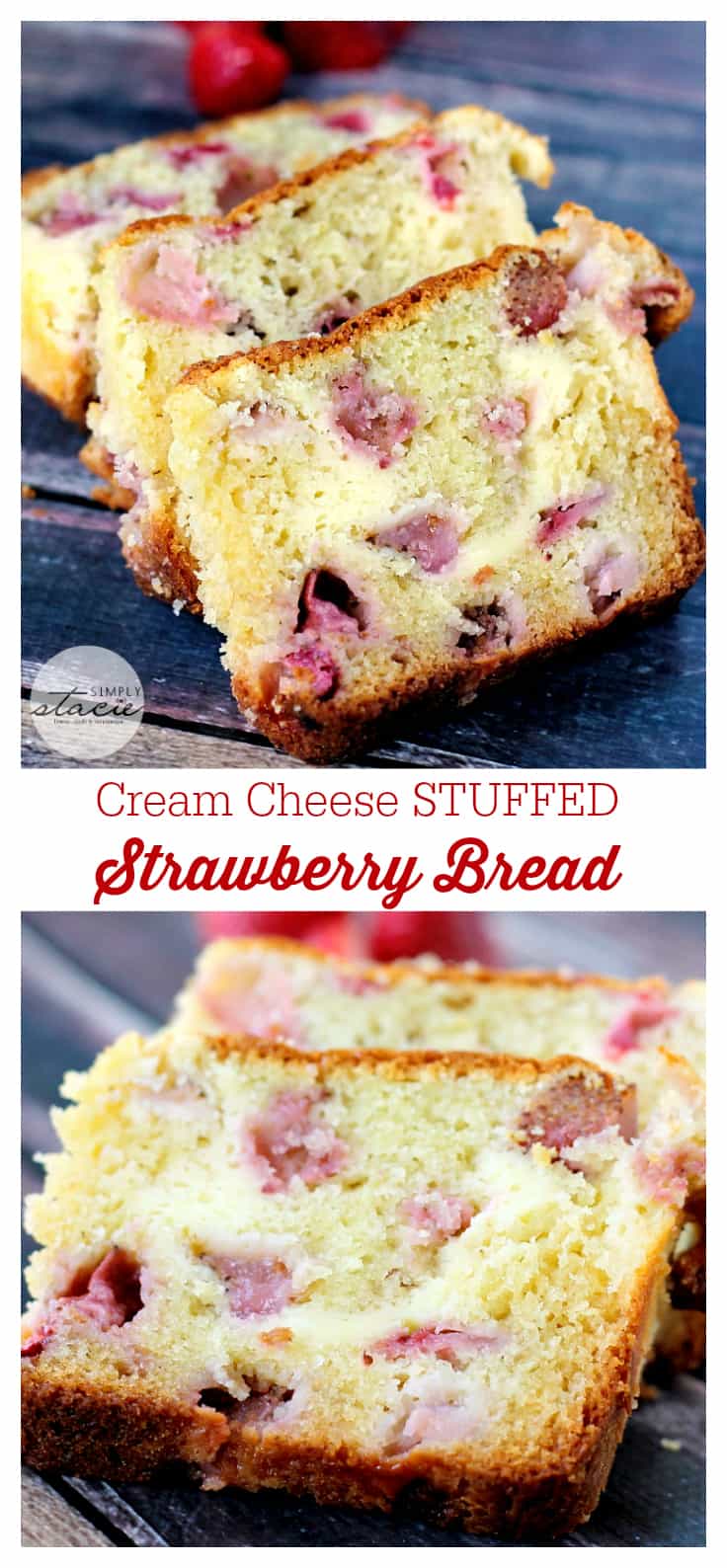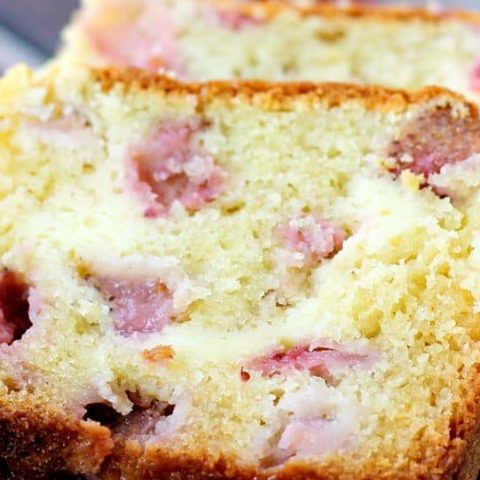 Cream Cheese Stuffed Strawberry Bread
Total Time:
1 hour
20 minutes
There's no wrong time to serve this moist, fruity bread! Filled with cream cheese swirls, this has a spot on your table from brunch to dessert.
Ingredients
Bread
¾ cup sugar + 1 tbsp for topping
½ cup butter, softened
4 oz cream cheese, softened
1 tsp vanilla extract
2 eggs
2 cups flour + ½ tbsp for strawberries
2 tsp baking powder
½ tsp baking soda
½ tsp salt
½ cup heavy cream (or whole milk/whole greek yogurt)
1 pint strawberries, tops removed and chopped
Cream Cheese Filling
4 oz cream cheese, softened
¼ cup sugar
1 egg
3 tbsp flour
Instructions
Preheat oven to 350 F.
In the bowl of a stand mixer, add ¾ cup sugar, 4 ounces cream cheese, and ½ cup butter; beat on medium until fluffy. Add eggs one at a time, beating well after each one. Add vanilla and heavy cream; beat to combine.
Remove bowl from stand mixer. Add 2 cups flour, baking powder, baking soda, and salt to the bowl with the wet mixtures; Fold in with a spatula until just combined.
Place strawberries in a small bowl and sprinkle ½ tbsp flour over the top; toss to coat. Add strawberries to batter and gently fold in. Do not overmix. Set aside.
In a medium bowl, add 4 oz cream cheese, ¼ cup sugar, 1 egg, and 3 tbsp flour; whisk or use a fork to completely combine (no lumps); set aside.
Using a 9×5 loaf pan, spray with non stick spray, add ¾ of the strawberry batter to the pan; spread evenly. Pour cream cheese filling mixture over the batter; spread evenly. Carefully add the remaining batter to the top, pressing very lightly to spread (you don't want it to mix a lot with the cream cheese filling), until the cream cheese layer is covered. Sprinkle 1 tbsp sugar over the top, place in oven; bake for 50-60 minutes. If you feel the bread is getting too browned partly through cooking, you can tent a piece of foil over the top. Check bread with toothpick at 50 minutes. When the toothpick comes out without batter on it, the bread is done (this is a little difficult because the cream cheese won't get hard – but check for batter not cream cheese).
Remove from oven and allow to cool in pan for 30 minutes on a wire rack. Remove from pan and allow to cool completely on a wire rack before slicing to serve. Enjoy!
Notes
Store wrapped tightly in the fridge. If you use mini loaf pans, make sure to only fill 3/4 full, otherwise it will be a BIG mess.
Recommended Products
As an Amazon Associate and member of other affiliate programs, I earn from qualifying purchases.
Nutrition Information:
Yield:

8
Serving Size:

1
Amount Per Serving:
Calories:

450
Total Fat:

29g
Saturated Fat:

17g
Trans Fat:

1g
Unsaturated Fat:

9g
Cholesterol:

146mg
Sodium:

558mg
Carbohydrates:

40g
Fiber:

2g
Sugar:

12g
Protein:

8g