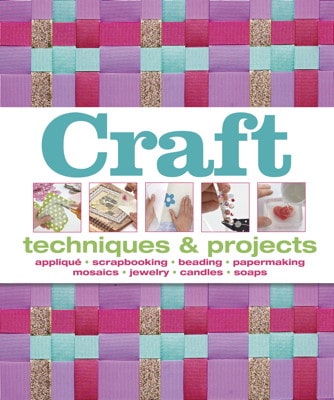 *I received a copy of this book for review, but was not compensated financially in any way. The opinions expressed are my own and are based solely on my experiences while reading this book.*
Title: Craft
Author: DK Publishing
About the Book:
Packed with more than fifty projects displaying a range of crafting techniques, from appliqué to mosaics — Craft is the ultimate go-to inspirational reference for every crafter's bookshelf.
Whether its textile crafts like felting and batik, paper crafts like decoupage and rubber stamping, jewelry techniques like beading and silver wirework, or more specialized crafts like soap making, this guide is guaranteed to whet the appetite of both novice and experienced crafters.
With clear step-by-step techniques and close-up full-color photographs, Craft gives the art of making a modern makeover.
My Review:
I would consider myself a beginner crafter. I'm nowhere near the level of skill you find on some of the craft blogs out there. However, I still enjoy doing crafts both on my own and with my children for fun. If it turns out, then great. If not, then at least it was a learning experience and we had fun trying.
I'm slowly starting to build my craft book collection. My most recent addition is Craft: Techniques & Projects by DK Canada. It's packed with more than 50 craft projects in a variety of styles. It's designed so the crafts can be done at home inexpensively and you don't need to be an expert crafter to complete the projects.
There's six chapters featuring different types of craft projects including:
Textile crafts
Papercrafts
Jewelry
Ceramics and glass
Candles and soap
Eco crafts
Each chapter showcases the essential materials that are required for that particular type of craft. I'm grateful for that info because there's many tools I had never heard of before. The individual craft project shows step by step instruction with pictures. I'm a visual learner so this is key for me. I need to see it done to be able to try and understand how to do it myself. Short of someone coming over to my house to teach me, this book is the next best thing.
With John and I renovating our home, I've bookmarked a few different projects to try once we are ready. For our kitchen, there's the marbled napkins and stenciled dish towel. There's also a set of coasters made with plain white ceramic tiles that you can paint to match your kitchen decor.
I've also always wanted to learn how to make my own candles. I'm not sure if I'm brave enough yet to attempt making my own yet, but when I do I'll know everything I need to get started. It shows the various techniques like how to make a wick holder, types of wax, adding colour and fragrance oil and shows the various types of candles you can make.
If you want to see the style of the book, check out this freebie from the book for a Flowerpots project.
If you are looking for a comprehensive craft book with a wide range of projects, Craft is the book for you!
Connect with DK Canada on Facebook & Twitter.