You know the saying, "A few bad apples spoil the bunch"? This applies to couponing as well. A local grocery store in my area will not accept printed coupons because they were a victim of coupon fraud. Most couponers are ethical, but this one instance ruined it for all us honest folks in my area. It's very frustrating because I lose out on many good deals because I can't use my coupons at that location. I get it though. They are trying to protect themselves.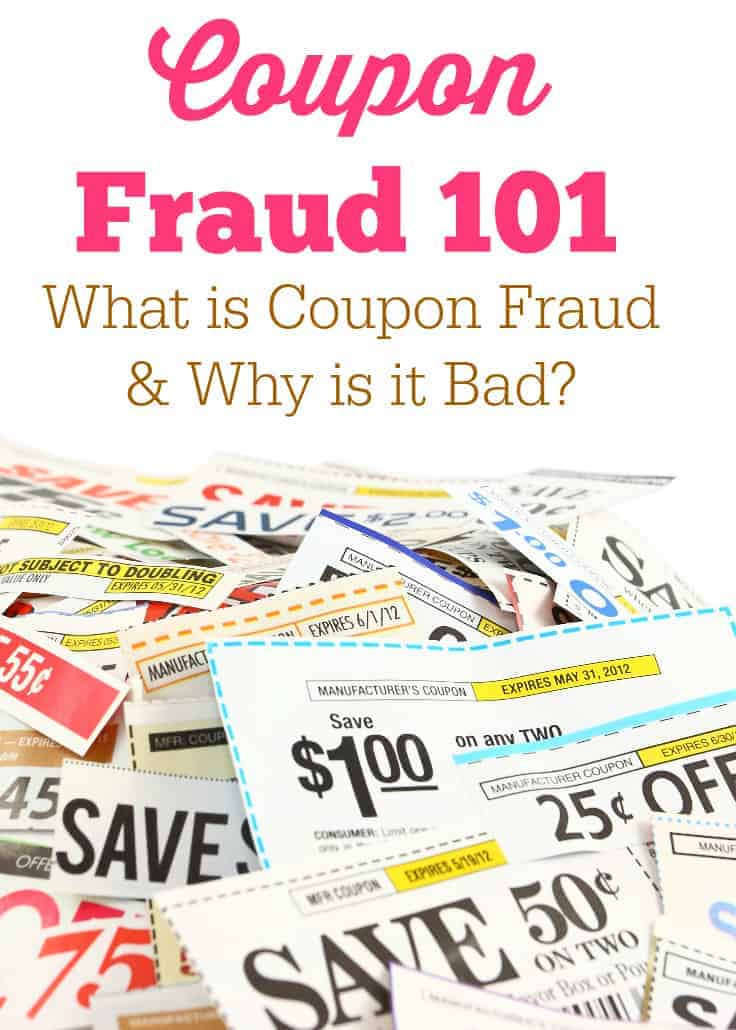 What is Coupon Fraud?
By now, you've no doubt heard about coupon fraud, but do you know what it is? If not, you should learn since it affects every single couponer. Coupon fraud is when a person knowingly uses a coupon against the store's coupon policy and the coupons terms. How can this be done? There are many ways to commit coupon fraud, but some examples might be using the coupon on an item not listed, using a counterfeit coupon or using it after its expiration date.
Coupon fraud is not only unethical, but it's illegal as well. If you're caught committing coupon fraud, you could be fined up to several hundred thousand dollars and possibly do jail time. Coupon fraud is the same as theft so they are punished a lot alike. Counterfeiting coupons is just as bad and is looked at much like counterfeiting money is.
Why is it bad for couponers?
Now that you know what coupon fraud is, can you figure out why it's bad for all couponers? Imagine that a store receives 1500 coupons for $1.00 off that are all redeemed fraudulently. The manufacturer refuses to honor them causing the store to lose out on $1500.00. Now imagine that happening five or six times. What does the store do? Continue to lose out on money? No, they won't do that. Instead, they will tighten their coupon policies to place stricter restrictions on coupon usage or just refuse to accept coupons any longer. When this happens, it puts a squeeze on all couponers who shop at that store. Coupons become harder to redeem, coupon limits get smaller, and stores stop stocking as many items that typically carry coupons.
By committing coupon fraud, you are stealing not only money from the stores, but if you got the product for free, you are stealing the item as well. There really isn't a need to commit fraud when using your coupons. There will always be another deal and the next one will most likely be just as good as this one. Couponing ethically will always save you more money in the long run…and you'll avoid a possible jail sentence and hefty fine.
Say NO to coupon fraud! Be ethical in your transactions and show stores that people who use coupons can be trusted.
Check out my other posts about couponing and saving money: 17 ways to save money on groceries, how to price match with flyers, 20 ways to save money on electricity.
Were you aware of coupon fraud before reading this post?