I don't know about you, but coffee keeps me alive and prevents me from freaking out at people before 9 a.m. That's true of a lot of us—it's the second most consumed beverage in Canada, after water. But did you know there are many other interesting uses for coffee? No? Read on!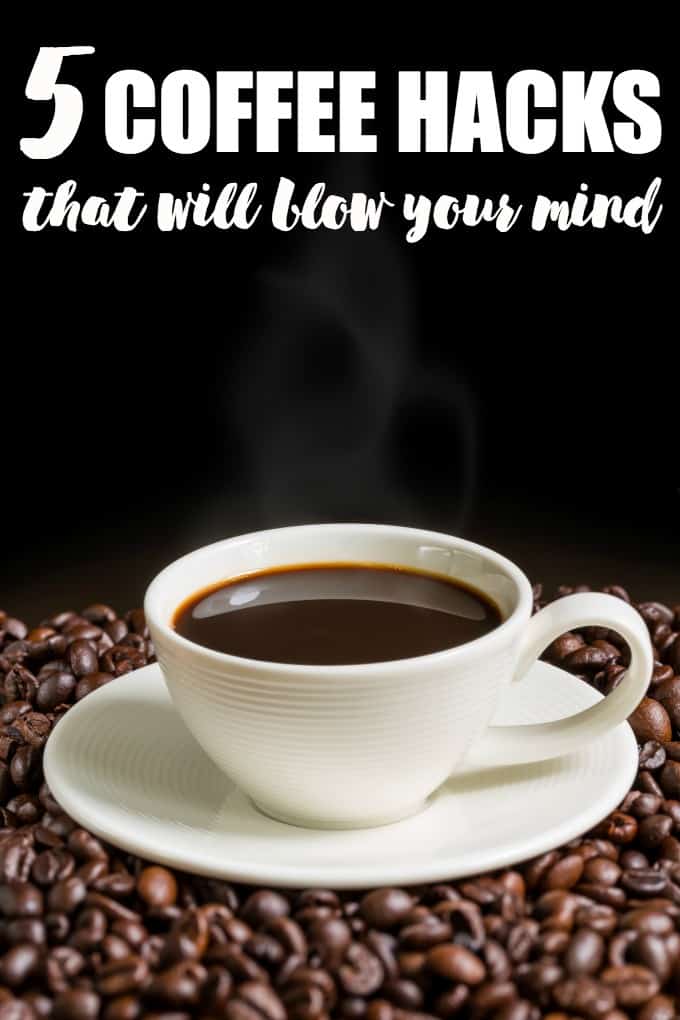 © coffee image via Shutterstock
Coffee Hacks
1. Health and beauty
Not only will coffee keep you awake after a long night with the kidlets, but you can also use it in a variety of scrubs and to make the most heavenly scented soap you could ever imagine.
Other ideas? Wet your dry hair with extra strong coffee. Leave it in for about twenty minutes and then rinse it out for shiny locks your friends will envy. Be aware though that it will have a mild dyeing effect, which will wash out but might be best avoided for the blondes in our readership!
2. Fix your wood furniture
Got a knick in your favourite piece of dark wood furniture, handed down from your grandmother? Not to worry. Get yourself some instant coffee and mix a couple of tablespoons of it with enough water to make a thick paste. Grab a plastic knife (no sharp edges: we don't want to create another scratch or groove!) or a cotton swab and use it to fill the knick with the paste. Remove any excess and when it dries, you can buff your furniture to a like-new shine with your favourite furniture polish.
3. Freshly ground coffee takes the smells away
Have you ever gotten back into your car after having brought home some particularly stinky takeout and noticed that, even a day later, it still smells like Monday night's dinner? A small tupperware filled with freshly ground coffee will absorb the smell beautifully! This also works in the refrigerator, to absorb unwanted food odours, instead of baking soda.
You can also get rid of a pervasive smell of wet dog (or even dry dog!) by putting a cup of freshly ground coffee into a pan on low heat and warming them through until the smell of coffee is released—this is the oils being released. Place the pan out of harm's way in the room that needs to be deodorized and by the time your coffee cools down, the room should be minus one doggy smell.
4. Eat, drink and be merry
We all know how coffee can help in the a.m. (and the p.m.) but it can also enhance your cooking.
Adding a cup of strong coffee to a beef stew, halfway through cooking, will enhance the flavours! Or use fresh ground coffee as a dry rub for your grilling meats: Starbucks has a great recipe that you can follow and keep handy for up to six months.
Get an extra ice cube tray and pour in freshly brewed coffee. You can freeze it and you'll have handy coffee cubes for adding to iced coffee, coffee milk or whatever way you want to add a little coffee to your day.
5. Coffee in the garden
No, I don't mean taking a timeout and sitting in the garden with a fresh cup, although now that I write that, I'm thinking that's a good plan! What I actually meant was that pouring coffee – for example, the leftovers from the morning pot and not just the grounds – into your compost can help speed up the breakdown process, creating healthy compost for your garden.
I talked about uses for used coffee grounds in an earlier post, so now that you've had your coffee and poured the rest of it into your compost, go over and take a look at what you can do with the grounds instead of throwing them out.
Do you have other uses for coffee besides enjoying a steaming cup of it?