Among the latest trends for the 'one stop shop' product that can do it all for you is coconut oil. Most people have heard of using it in cooking, to replace other oils particularly at high temperatures, but coconut oil has so many interesting uses to explore.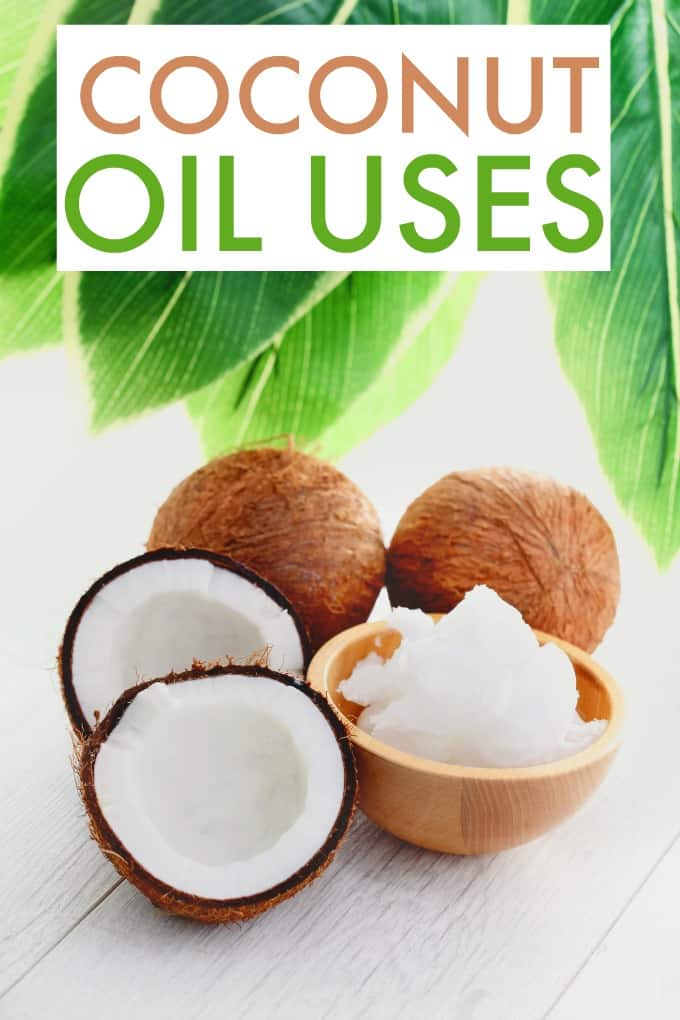 Coconut Oil Uses
Not all coconut oils are created equal
This post contains affiliate links.
Coconut oil got a bad rap in the past, largely because most manufacturers using it in food products were using a partially hydrogenated variety that contained trans fats, among other things.
There are three types of coconut oils that you can find on the shelves. Like olive oil, what you're going for, particularly if you're cooking with it, is virgin coconut oil, which is extracted from fresh coconuts. It is also referred to as unrefined.
Virgin coconut oil can be a little more difficult to find on the supermarket shelf, so your next best bet is to look for a refined coconut oil. This oil is extracted bleached and deodorized coconut flesh (not fresh).
The last option, which is the stuff that used to fill the junk food of the 80s, is partially hydrogenated coconut oil, and as mentioned above, is chock full of trans fats and other cholesterol inducing properties. Avoid it and any product that contains it.
If you ARE going to cook with it, you should understand what your coconut oil contains
Virgin coconut oil is 90% saturated fat. Compare that with butter, which clocks in at 64 % saturated fat, and you might be thinking: "You want me to EAT that?" As it turns out, half of the fat in virgin coconut oil may improve good cholesterol levels:
"About half of virgin coconut oil's saturated fat is lauric acid, a medium-chain triglyceride that turns out to have a number of health-promoting properties, including the ability to improve levels of "good" HDL cholesterol… That said, because it's so high in saturated fat, even the purest, most natural coconut oil could be problematic for longterm heart health, according to a Harvard nutrition professor." (Source)
So if you aren't going to cook with it, because you're worried about your heart health, what else can you do with it?
Use coconut oil as a moisturizer
Just a little is all it takes to leave your skin silky smooth and hydrated in appearance! And while it does go on greasy, it absorbs quickly. In particular, coconut oil makes a wonderful cuticle moisturizer and will help you to grow stronger nails too!
You can soothe a sunburn with it too and its antioxidant properties make it perfect to moisturize those pesky eye wrinkles! You can also whip up an easy mint lip balm to soothe cracked, dry or sunburned lips!
Mix equal parts coconut oil and sugar for a delightful body scrub to exfoliate your skin! Just remember, your tub might get a bit slippery! Add some ground coffee for a luxurious smell!
In addition to your skin, you can use coconut oil to moisturize your hair, and put an end to fly away dry ends. Again, a little goes a long way, so don't overdo it or your hair will take on a greasy texture.
Another option is to use coconut in a hair mask: mix 1 tablespoon of coconut oil with 1 tablespoon of honey and apply it to your hair, pop on a shower cap and let it sit for half an hour before washing it out. Silky smooth locks will be the result.
Use coconut oil on baby too
Whether to prevent chafing or to reduce diaper rash, coconut oil can help. Its antibacterial properties are perfect for it! Just apply to the affected area and let it dry before diapering. It's also a perfectly natural way to soothe bug bites on little ones, instead of using a chemical concoction.
Use coconut oil as a cleanser
Even stubborn waterproof mascara can't hold up when you remove it using coconut oil. No matter how smokey you've done up your smokey eye, it will yield to the power of coconut oil!
The lauric acid it contains can also help with acne! While this might seem counterintuitive (covering your face with oil to deal with a problem that originates from oily skin and bacteria), the anti inflammatory properties will reduce redness and the acid will help fight the bacteria that contributes to acne. With the added bonus of not being drying to the skin, that tightness that occurs when using over the counter acne remedies will be a thing of the past!
Add a quarter cup of coconut oil and a quarter cup of epsom salts to your bath for a relaxing soak that will leave your skin glowing and smooth.
Around the house, coconut oil is perfect for cleaning metal and removing rust. Your old garden chair can look like new in no time, with a little effort and coconut oil. Stubborn rust stains just need a little soaking in coconut oil (about 2 hours) before you wipe it off, and the rust along with it.
Use coconut oil to moisturize wood and leather
Are your favourite salad utensils or bowls becoming a little dry from use? Rub in a little coconut oil! This works well on other wood furnishings as well, to bring them back to like new condition.
Do you have a leather ottoman that has seen better days? Give it the coconut oil conditioning treatment to bring out the luster and sheen of the original grain. It's also great for handbags and shoes that need a touch of sheen! (NOTE: test a corner first to make sure it doesn't darken your leather more than you would like!)
And if you have the misfortune to find your child's hair, or a chair, with gum stuck in (or on) it, you can rub on a little coconut oil to try and lift the gum from the surface. Start with a very little bit: you're not looking to saturate the hair, or the fabric; just work it in, leave it for a few minutes and then try and loosen the gum.
There are so many uses for this product that having some around the house is a good idea. Store it per the directions on the jar to get maximum use out of it.
You might also like this post about vaseline uses.
Do you use coconut oil that isn't listed here?