These Chili Cranberry Fusion Meatballs are made in the slow cooker for the easiest appetizer recipe! I love this Asian-inspired sauce with cranberry sauce, soy sauce, and oyster sauce. Perfect for the holidays!
I think this Chili Cranberry Fusion Meatball recipe should have another name. If it were up to me, I'd give a simple one-word name: Amazeballs. Why? Because they were devoured before they had a chance to even cool down!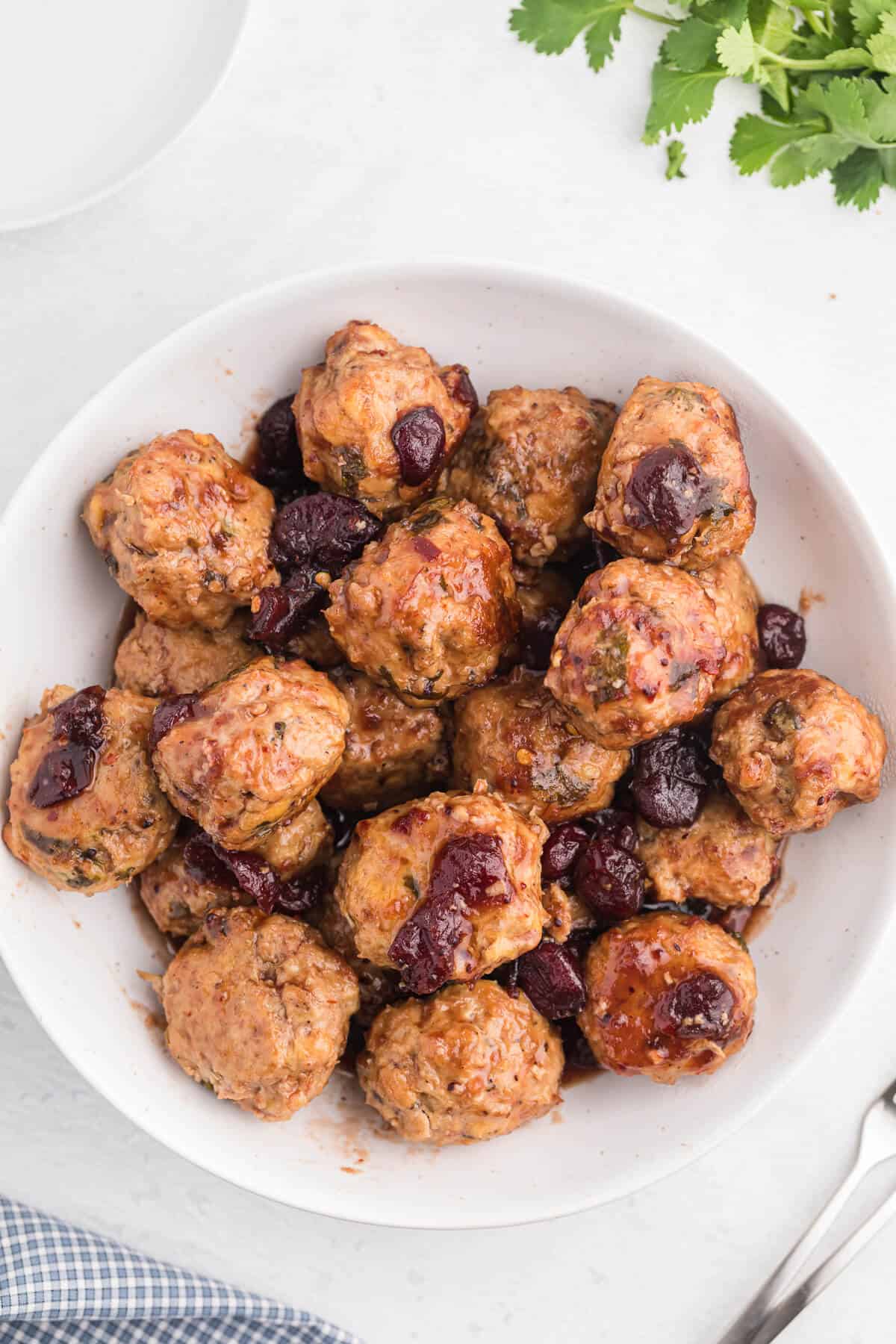 Disclosure: I am participating in the Chicken Farmers of Canada campaign managed by SJ Consulting. I received compensation in exchange for my participation in this campaign. The opinions on this blog are my own.
However, the folks at Chicken Farmers of Canada deserve all the credit for this yummy appetizer recipe. Their name for it is probably better than mine because it's much more descriptive.
And yes, it's a slow cooker recipe for the most part. There is some prep work though, but it's not hard. You'll be precooking the meatballs in the oven. The slow cooker is what cooks the sauce and spreads the flavours throughout the dish.
You may want to make extra sauce for dipping. I found that the recipe had enough though and was not skimpy on the sauce. No one likes a dry meatball!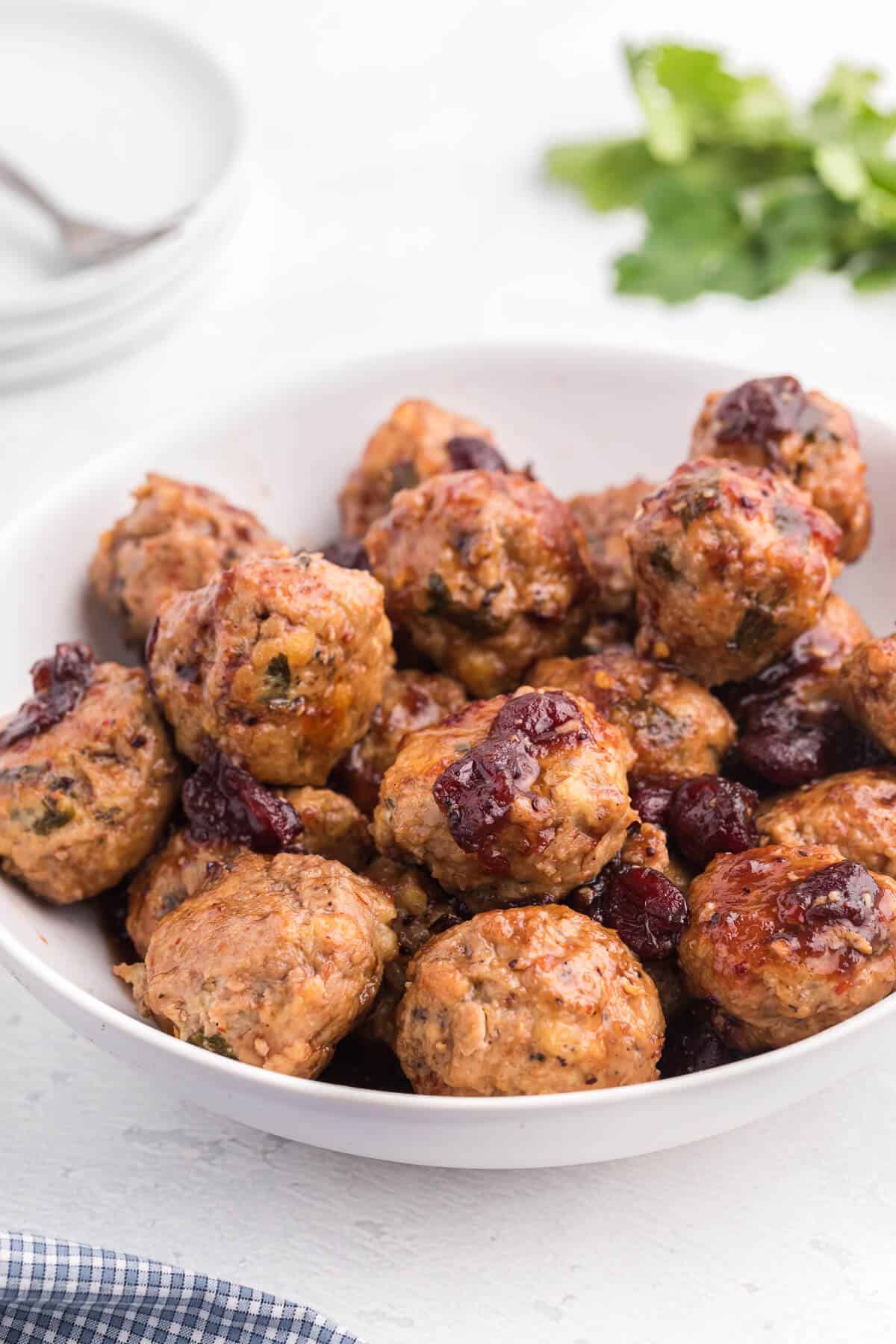 Ingredients
Ground chicken: You can use just about any ground meat for slow cooker meatballs, but I like to stick with chicken. It's a great juicy lean meat with tons of flavor that you can mix with any sauce!
Eggs: For moist meatballs that don't fall apart, you'll need a little egg. Be sure to mix the meatballs by hand to fully incorporate the eggs.
Cilantro: I love this Mexican herb so much, and it's great with chicken meatballs! If you're not a fan, you can always swap it for parsley.
Bread: With chicken meatballs, bread acts as a great binder. It also absorbs some juices as it's formed and cooked to keep your meatballs moist.
Garlic: Everything is better with garlic! I only add some to the meatballs, but if you love garlic, add a pinch to the sauce, too. Garlic powder also works here in a pinch.
Chinese five-spice: This warm seasoning has a distinct licorice-like flavor from the mixture of star anise, cinnamon, fennel, cloves, and Szechuan peppercorns.
Cranberry sauce: Most meatball recipes have a mixture of sauce and jelly. Instead of traditional grape jelly, I opted for cranberry sauce in this Asian fusion recipe. This helps the sauce stick to the meatballs better for a great coating.
Soy sauce: This salty sauce is great for adding flavor to these chicken meatballs. No need for extra salt with this around.
Oyster sauce: If you combined soy sauce and BBQ sauce, you'd get oyster sauce. It's a little sweet and a little salty, too.
Rice vinegar: You'd be surprised how important the vinegar is in this chicken meatball sauce recipe! It's a lot sweeter than regular white vinegar, and it adds a great tanginess to the mix.
Red chili pepper flakes: Adjust this based on your preferred spice level. I like my food a little spicy!
I used the Chicken Farmers of Canada Shopping app to make my shopping list. I found almost everything I needed at the first grocery store except the rice vinegar. Apparently it's a hot grocery item here in Pembroke because the shelf was completely cleared! I was hesitant to substitute another type of vinegar because I think rice vinegar has more of the Asian flair needed for this recipe.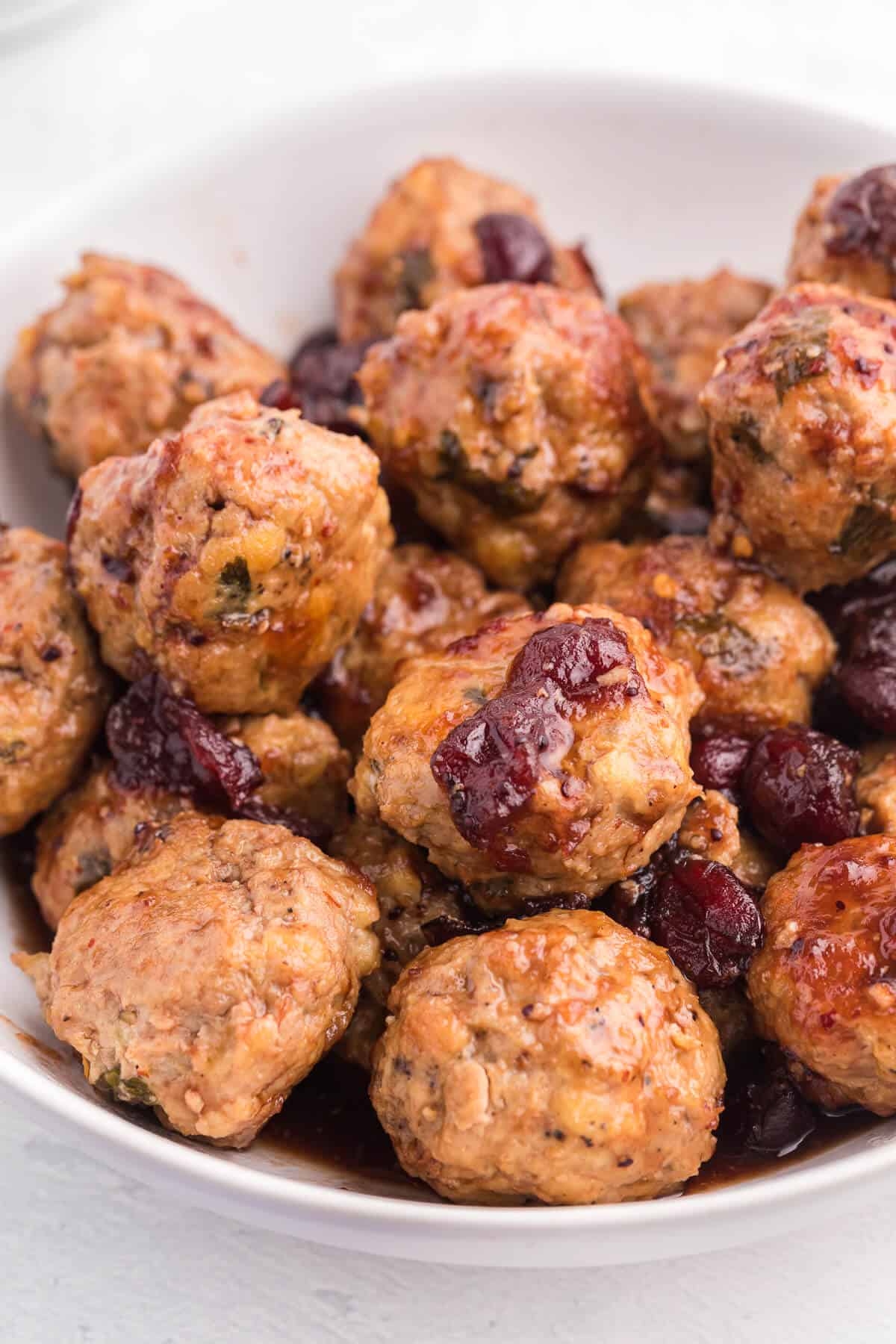 What I Used For This Recipe
This post contains affiliate links.
Meat thermometer: Whenever you're working with meatballs, a meat thermometer is the best way to check the doneness. Chicken should always be cooked to 165 degrees F before serving for food safety.
Baking sheets: Meatballs should always be browned before adding them to the slow cooker. These baking sheets are thick and sturdy to get them perfectly cooked every time.
Crockpot: I love this slow cooker with a locking lid! No more worrying about spilling your meatballs on the way to the potluck.
How To Make It
First, make the meatballs! Mix the ground chicken, eggs, cilantro, bread pieces, garlic, sesame oil, Chinese five-spice, and pepper in a large bowl by hand. This gives you the most even distribution of ingredients through your chicken meatballs.
Then, roll the mixture into one-inch balls and spread them out on a baking sheet prepped with parchment paper or cooking spray. Bake until they're no longer pink in the center, flipping them halfway through cooking. Once fully browned, add them to the slow cooker.
Now, mix the cranberry sauce, soy sauce, oyster sauce, rice vinegar, and chili pepper flakes together in a bowl. Pour the sauce over all the meatballs, and stir gently so they're all
coated.Finally, cook on high until the sauce is thickened and sticks to the meatballs. You can serve these immediately, or turn the slow cooker down to low and let people serve themselves for a couple hours.
I'm so glad I tested out this recipe because it will be perfect to serve over the holidays. I think it has a dash of festivity with the cranberry sauce. I put wooden toothpicks in mine to make them individual servings and so people won't have to pick them up with their fingers. They are saucy! We don't want to ruin those Christmas sweaters.
Should You Brown Meatballs Before Slow Cooking?
Part of the beauty of meatballs is the chewy outside and pillowy warm inside. This is all achieved by browning the meatballs!
While the Crockpot will totally cook the meatballs through, they will have less flavor and no chewy exterior. They also can break apart and become ground chicken again without that browning process.
While it adds a little time and a few dishes to the pile, it's totally worth browning them! You can also brown meatballs on the stovetop in a nonstick pan.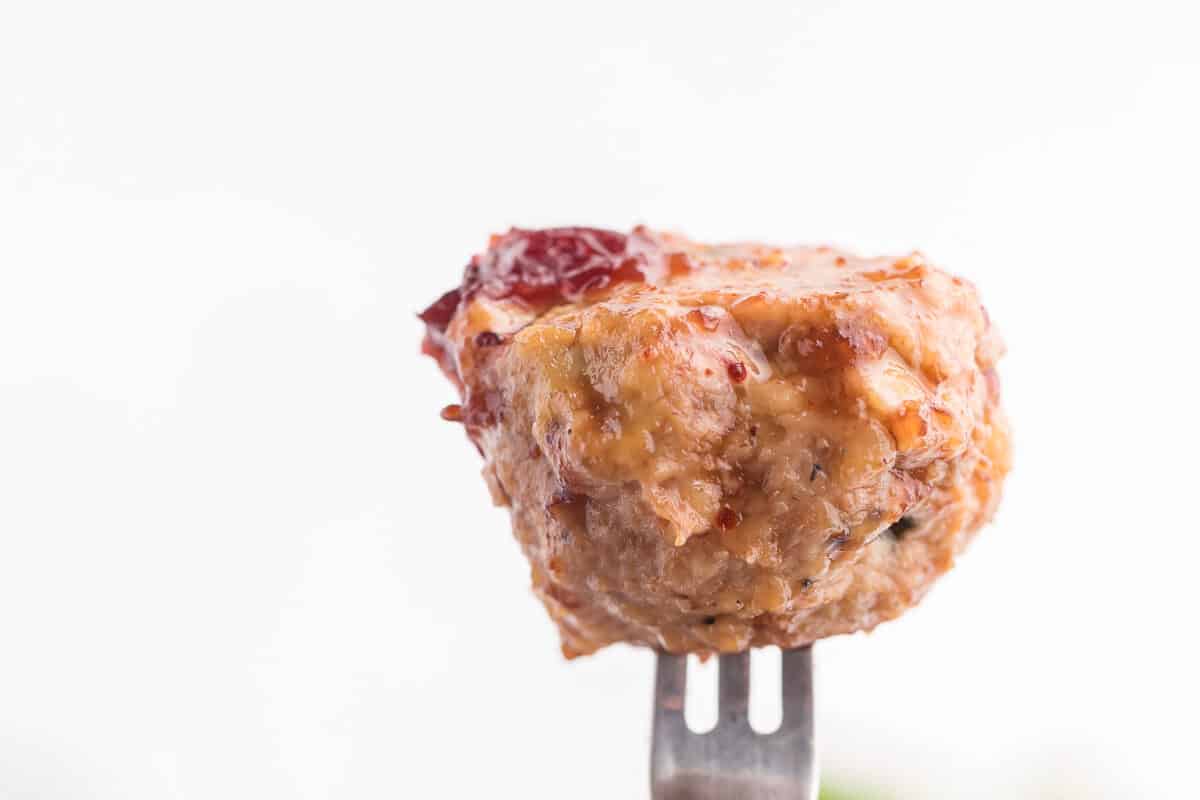 How Long Do You Heat Meatballs in a Crockpot?
When you brown the meatballs first, they're usually fully cooked. That means the slow cooker is just for thickening the sauce.
While you could do this in another vessel, the Crockpot also helps keep the meatballs moist while the sauce steams them. The low heat also helps them retain their juices.
No one wants tough, overcooked chicken, and the Crockpot is so great at keeping your cooked chicken moist even when it's already done.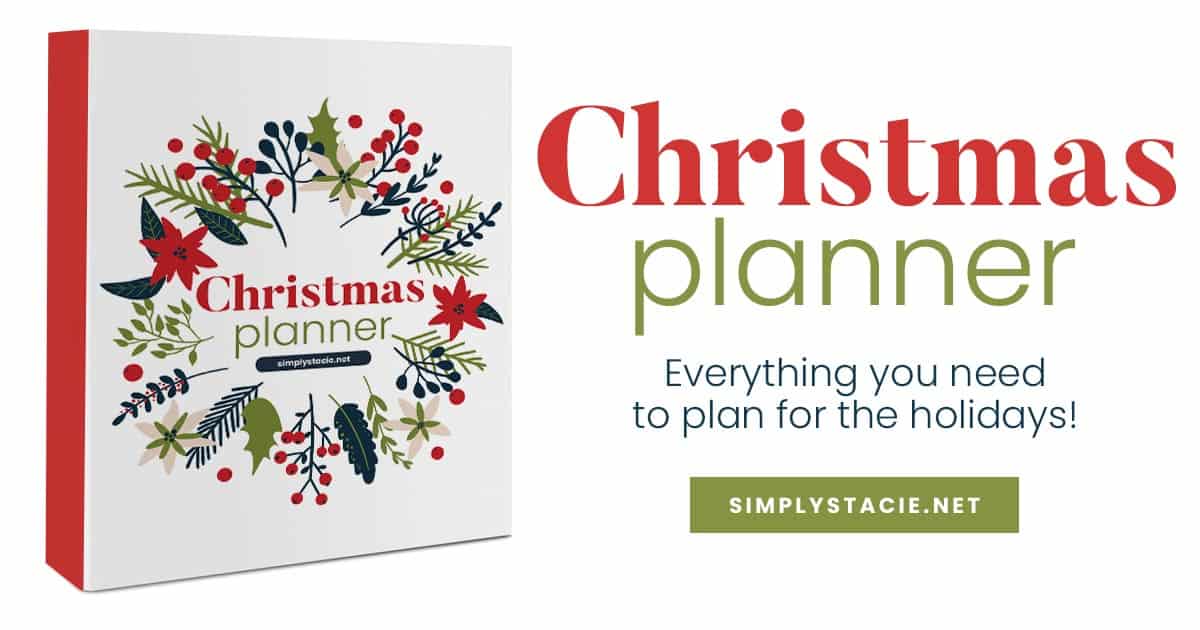 What To Serve With This
Looking for a lighter Asian-inspired dish to pair with these decadent meatballs? Try these Asian lettuce wraps! They're so crunchy and fresh. You could even ditch the chicken in the recipe and just add the meatballs instead.
Love Asian-inspired appetizers? These chicken wings are covered in a sticky and sweet hoisin sauce and some bell peppers for extra crunch.
I love bite-sized appetizers. It's so easy to munch and mingle! These stuffed bacon rolls are the perfect salty and sweet savory combo, filled with ground beef, tomato sauce, onions, mushrooms, and garlic. Yum!
More Easy Recipes You'll Love
Do you have any amazing slow cooker recipes? I'm always looking for more recipes to try! Follow me on Instagram @simplystacieblog, on Facebook at Simply Stacie, and on Pinterest @SimplyStacie and let me know how you liked this and my other recipes!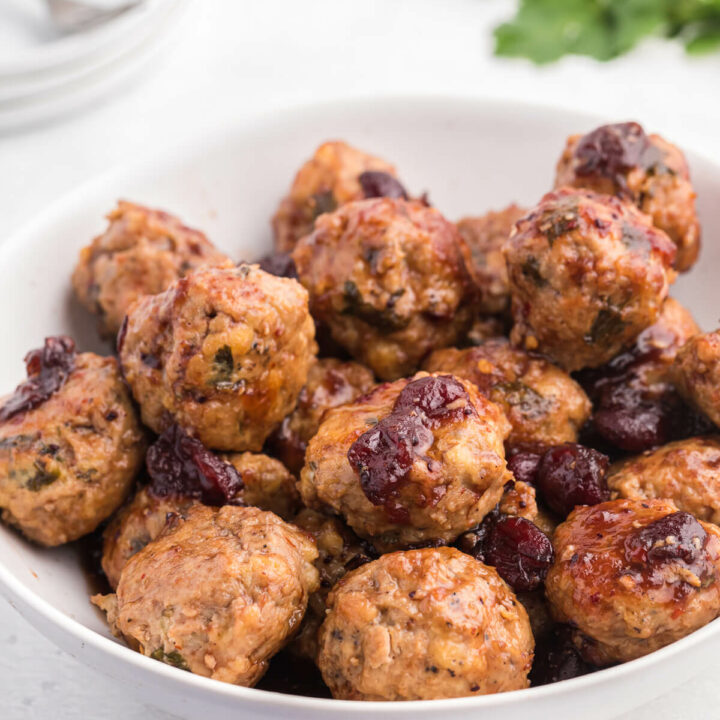 Chili Cranberry Fusion Meatballs
Cook Time:
2 hours
30 minutes
Total Time:
2 hours
45 minutes
A delicious holiday appetizer! The comforting flavors of cranberry and chili combine for these slow cooker chicken meatballs.
Ingredients
2 lb extra lean ground chicken
2 eggs
1/2 cup fresh cilantro, minced
2 slices bread, finely-torn
4 cloves garlic, minced
2 tsp sesame oil
1/2 tsp Chinese five-spice powder
1/2 tsp black pepper
1 can (348ml/14oz) cranberry sauce
2 tbsp soy sauce
2 tbsp oyster sauce
2 tbsp rice vinegar
1 tsp red chili pepper flakes
Instructions
Combine eggs, ground chicken, cilantro, bread, garlic, sesame, Chinese five- spice powder and pepper in a large bowl. Mix well by hand.
Preheat oven to 400F. Spray a baking sheet with cooking spray.
Roll chicken mixture into one inch balls and place on the baking sheet. Bake for 15 minutes and then flip over. Bake an additional 10 to 15 minutes or until inside is no longer pink (meat thermometer temperature of 165F). Transfer meatballs to a slow cooker.
In a medium bowl, stir together cranberry sauce, soy sauce, oyster sauce, rice vinegar and chill pepper flakes. Pour over top of meatballs. Gently stir to coat. Cover.
Cook on high for 1 to 2 hours. Serve immediately or keep warm on low setting for up to two hours.
Recommended Products
As an Amazon Associate and member of other affiliate programs, I earn from qualifying purchases.
Nutrition Information:
Yield:

24
Serving Size:

1
Amount Per Serving:
Calories:

94
Total Fat:

2g
Saturated Fat:

0g
Trans Fat:

0g
Unsaturated Fat:

1g
Cholesterol:

42mg
Sodium:

157mg
Carbohydrates:

6g
Fiber:

0g
Sugar:

4g
Protein:

13g