Pap tests are not something I look forward to, but I know firsthand how important they are. I had a cervical cancer scare when my oldest daughter was only a few months old. My first Pap test after her birth was part of my checkup with my family doctor. I didn't even give it another thought. I was young, healthy and had just started a family. I had lots of years ahead of me.
My Cervical Cancer Scare Story
You can imagine my shock and surprise when the doctor called me in to tell me that my Pap test showed abnormal results. Specifically, they had found precancerous cells on my cervix. I remember feeling panicked and wondering if this was it. Did I have cancer and was I going to leave my baby without a mother? I broke down into tears in his office.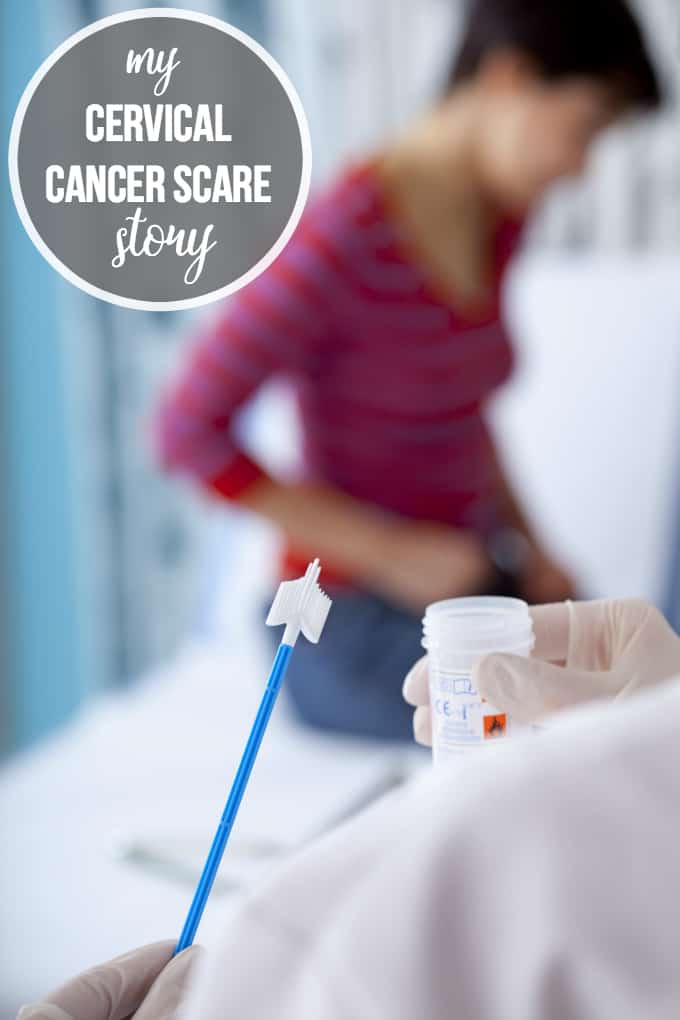 © Pap test image via Shutterstock
My doctor was reassuring and told me that abnormal cells did not mean I had cancer, but that they needed to follow up with another test. He said it was good that I had gone in for a Pap test because cervical cancer is almost entirely preventable and can be treated if caught early enough. His words gave me some relief and I relaxed a little.
I was booked in for a procedure called a "colposcopy" with a gynecologist at the local hospital. It's a procedure used to closely examine your cervix, vagina and vulva using a special instrument, a colposcope, and take a biopsy of the cells. My family doctor said this was the next step and would allow the gynecologist to get a better look at these abnormal cells and see if I needed further treatment.
The colposcopy went well. It hurt a little, but I was glad I was finally going to get some answers. It was terrible waiting and not knowing what was happening with my body.
A couple weeks later, I met with the gynecologist to discuss my results and received the news I had been praying for. I did not have cervical cancer and he did not think I would need further treatment! I wanted to jump up and hug him, but knew that wouldn't be appropriate so I simply thanked him with a huge grin on my face. He informed me that I would need to follow up with my family doctor for another pap test in six months to make sure there were no other changes.
You can bet that I followed up in exactly six months for my next Pap test with my doctor. I wanted to know if the abnormal cells spread and if I would need to go back for another colposcopy. My doctor called me personally with the news. My results were normal and the abnormal cells went away on their own. He still recommended I follow up again with him in six months for another Pap test.
It's been 18 years since my cervical cancer scare and I now go for a pap test every three years. I'm due this November according to my calendar. I'll be phoning my doctor's office in October to book an appointment. There's no way in the world I wouldn't go after what I've been through!
Cervical Cancer Facts
This month, Cancer Care Ontario has partnered with the Canadian Cancer Society to raise awareness about cervical cancer prevention and the importance of regular screening. They recommend that women aged 21 to 69 be screened for cancer with a Pap test every three years if they are or have ever been sexually active. I was around 21 years old when I had my cervical cancer scare. It can happen at even a young age as in my case!
Cervical cancer is almost entirely preventable with regular screening along with a timely follow-up of any abnormal results and HPV immunization. Let's look quickly at some numbers. In 2015, 640 women in Ontario were diagnosed with cervical cancer. Sadly, an estimated 150 died from the disease. Don't become a statistic! Most cervical cancers were diagnosed in women who have never been screened or have not been screened regularly. I know Pap tests are not fun, but they are crucial to have done. Your life can depend on them.
Cancer Care Ontario recently commissioned a survey of Ontario women and the findings were eye-opening. Here's a brief look at what they found out:
74% incorrectly believe that a Pap test detects sexually-transmitted infections like HPV, chlamydia, gonorrhea and bacterial vaginosis.
48% believe that a Pap test screens for vaginal cancer.
90% of women know that Pap tests screen for cancer, but 48% incorrectly thought it tests for vaginal cancer, 37% thought it tested for ovarian cancer and 34% said uterine cancer. All are incorrect. It tests for cervical cancer.
61% of women know that they should get a Pap test every three years. However, 75% do not know when they should stop getting one or if they should continue indefinitely.
Let's get the facts straight.
A Pap test is a simple screening for cervical cancer. Women aged 21 to 69 should have one done every three years if they are or ever have been sexually active.
A Pap test looks for abnormal cervical cell changes. It does not screen for vaginal, uterine or ovarian cancer or sexually-transmitted infections.
Your family doctor can perform a Pap test. If you don't have a family doctor, visit a walk-in clinic or sexual health clinic to get one done.
For more information about Pap tests and why they matter, please visit Cancer Care Ontario.
Book Your Pap Test Today
Please do me a quick favour. Think back to when you had your last Pap test. Are you due for another one? If you are, call your doctor and book your Pap test TODAY. Don't wait. If you're not due for a while, mark a reminder in your calendar now so you don't forget. Your health matters.
When are you due for your next Pap test?
Connect with Cancer Care Ontario on Facebook and Twitter.
Disclosure: I was compensated for this post. All opinions and experiences are my own.