Disclosure: I was compensated for this post. All opinions expressed are 100% my own.
I consider myself a proud Canadian. I love my country and its unique cultural icons that sets us apart from the rest of the world. Canada is a great place to live. We're home to the birthplace of hockey, the Loonie, poutine, the Mounties and of course, the maple leaf. I also recognize that I'm lucky to have had the opportunity to live in a variety of locations across our nation. As a military spouse for the past 15 years, we moved every few years to different bases from coast to coast. I spent one year in Fredericton, NB, four years in Edmonton, AB, five years in Petawawa, ON and the past five years living in the Annapolis Valley, NS. Surprisingly, I enjoy moving because it gives me the opportunity to travel and see different parts of the country.
One of the highlights of living in Western Canada was that we were so close to the mountains! We spent a few weekends in both Jasper and Banff. The scenery is spectacular. I also walked on a glacier at Columbia Icefields and dipped my toe in the turquoise water of Lake Louise. Another thing that was pretty neat was that we could often see the Northern Lights on clear nights if we drove north of Edmonton. I was mesmerized by their beauty and I still consider it one of the most fantastic experiences I've ever had.
You know what else is distinctly Canadian? You can find it in the chocolate bar section of the grocery store and convenience stores…..COFFEE CRISP! It's made only in Canada. John and I went to Texas last year and we brought a bunch of COFFEE CRISP bars with us to share with our American friends. COFFEE CRISP is John's favourite chocolate bar and he didn't realize that his Texas friends had never tried it. He told them they were missing out and that he would bring a few down for them to try. COFFEE CRISP was a hit and our American friends loved them. They keep asking us when we are coming down next because they want to see us. I think it's just because they want us to bring more COFFEE CRISP bars!
2014 is a big year for this Canadian classic: COFFEE CRISP is celebrating its 75th Anniversary! They've got a bunch of fun surprises in store to mark the occasion.
Introducing COFFEE CRISP Latte bars
For its 75th anniversary, COFFEE CRISP launched a brand new Limited Edition flavour: COFFEE CRISP Latte bars! Picture a combination of rich chocolate, smooth coffee and a crispy wafer. Mmmmmmm I can't wait to try this one!

COFFEE CRISP Through the Years
I thought it would be fun to take a quick trip back through the history of COFFEE CRISP and share some of their important moments.
1939: The original coffee-flavoured chocolate bar is born as COFFEE CRISP.
1948: COFFEE CRISP becomes one of the most popular chocolate bars on the Canadian market.
1980s: COFFEE CRISP becomes the #1 chocolate bar brand for Canucks. Its first TV commercial debuts in Canadian homes with its signature "Makes a Nice Light Snack" tagline. This tagline remains on COFFEE CRISP bars today.
1991: The first Limited Edition flavour, COFFEE CRISP Triple Chocolate, hits the chocolate bar section of the grocery store.
2000: COFFEE CRISP introduces the tagline "How do you like your Coffee?…I like my COFFEE CRISP" on TV. To this day, the tagline still resonates strongly with Canadians.
2001-2002: Fruit flavoured COFFEE CRISP bars, Orange and Raspberry, launch as new Limited Edition products.
2003: Nestlé introduces "Peanut Free Promise" on COFFEE CRISP Treat-Size Bars, a commitment to producing products in a peanut free facility.
2003-2004: New Limited Edition flavours join the COFFEE CRISP family: French Vanilla, Mocha and Café Caramel.
2006: COFFEE CRISP Singles bars launches with a funny TV spot of a COFFEE CRISP "singles" character searching for dates.
2007: COFFEE CRISP launches its first big promotion "TransCanada Cabin Search: inviting Canadians to obtain clues to find the hidden cabin for a chance to win a cabin for the summer.
2009: COFFEE CRISP comes out with a crispier wafer and is now made with all natural flavours. The "Our best goes in before our checkmark goes on" ad campaign launches. COFFEE CRISP Bites launch as an on-the-go snack option.
2008-2010: Limited Edition flavours, French Vanilla and Chocolate Crunch, return to shelves at Canadian grocery stores.
2014: Happy 75th Anniversary COFFEE CRISP!
COFFEE CRISP Recipes
I think 75 years deserves a few recipes don't you think? I've got two to share today. The first one is my own creation: COFFEE CRISP Cookies. They are similar to a chocolate chip cookie, but instead of chips I used roughly chopped COFFEE CRISP bars. They tasted amazing and were an instant hit! Plus, they were easy to make and you only need to buy two regular COFFEE CRISP bars to make about 3 dozen cookies. Yum!
Coffee Crisp Cookies
Like a chocolate chip cookie, but made with Coffee Crisp chocolate bars!
Ingredients
1 cup butter, softened
3/4 cup brown sugar
½ cup sugar
¼ cup light corn syrup
1 egg
2 tsp vanilla extract
2½ cups flour
1 tsp baking soda
¼ tsp salt
2 COFFEE CRISP bars, roughly chopped (measures to a little over 1 cup)
Instructions
Preheat oven to 350°F. In a large bowl, add the butter, brown sugar and sugar and beat until fully combined and mixture is light and fluffy.
Add in corn syrup, egg and vanilla and beat until combine.
In another bowl, mix together the flour, baking soda and salt. Add dry mixture to wet mixture and beat until fully blended.
Stir in COFFEE CRISP chunks.
Drop rounded balls about a tbsp big onto a greased cookie sheet. Bake for 15 minutes or until golden brown.
Cool on a wire rack.
Recommended Products
As an Amazon Associate and member of other affiliate programs, I earn from qualifying purchases.
Nutrition Information:
Yield:

36
Serving Size:

1
Amount Per Serving:
Calories:

125
Total Fat:

6g
Saturated Fat:

4g
Trans Fat:

0g
Unsaturated Fat:

2g
Cholesterol:

19mg
Sodium:

99mg
Carbohydrates:

17g
Fiber:

0g
Sugar:

10g
Protein:

1g
This next dessert recipe was provided to me by COFFEE CRISP. It's a COFFEE CRISP Birthday Cake. What a delicious way to celebrate 75 years!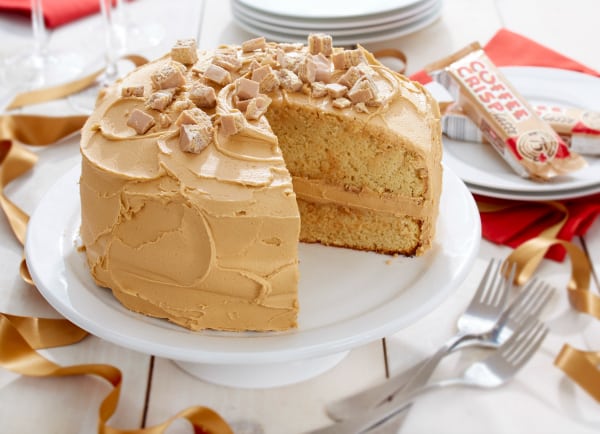 Image Courtesy of COFFEE CRISP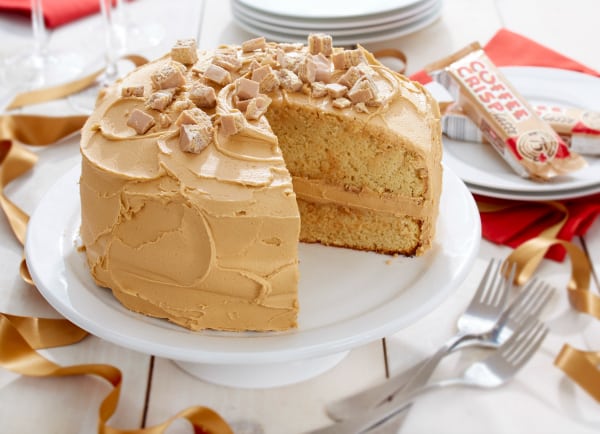 COFFEE CRISP Birthday Cake
Birthday cake for a coffee lover!
Ingredients
1/2 cup butter, softened
1 cup sugar
3 large eggs
1 tsp vanilla
1 Tbsp instant coffee powder
1¼ cup all-purpose flour
1/2 tsp baking powder
pinch of salt
1/3 cup sour cream
1 king size COFFEE CRISP bar, chopped finely
frosting of choice
Instructions
Preheat the oven to 325°F. Beat the butter and sugar until smooth. Add one egg at a time, beating after each addition.
Dissolve the instant coffee in 1 Tbsp of hot water and add to the egg mixture along with the vanilla. Mix the flour, baking powder, and salt in a separate bowl and add half to the egg mixture, mixing briefly. Add ½ of the sour cream and mix briefly before adding the rest of the flour mixture. Mix again before adding the remaining sour cream. Add the batter to a round 9" pan and spread evenly. Bake for 30 minutes, or until a toothpick comes out clean. Allow cake to cool completely, remove from pan and top with your favourite frosting flavour – we recommend mocha! Lastly, sprinkle with finely chopped COFFEE CRISP.
For a double layer cake: Double ingredient quantities and bake two cakes according to recipe. Cool the cake layers completely, and remove from pans. Frost cooled cakes with your favourite flavour, then place them directly on top of each other. Top with finely chopped COFFEE CRISP and enjoy!
Recommended Products
As an Amazon Associate and member of other affiliate programs, I earn from qualifying purchases.
Nutrition Information:
Yield:

8
Serving Size:

1
Amount Per Serving:
Calories:

370
Total Fat:

18g
Saturated Fat:

10g
Trans Fat:

1g
Unsaturated Fat:

6g
Cholesterol:

106mg
Sodium:

185mg
Carbohydrates:

48g
Fiber:

1g
Sugar:

32g
Protein:

5g
Uniquely Canadian Moments Contest
COFFEE CRISP is currently hosting the Uniquely Canadian Moments Contest where they are inviting Canadians to create their own memorable travel experiences in our great land. You could win one of three Canadian experiences, each worth $10,000! Where would you want to go? Skiing at Whistler, BC, Whale Watching in Peggy's Cove, NS or shopping and dining in Old Quebec City? The lucky winner gets to create his or her own Canadian Experience – so the options are endless!
To enter, visit www.coffeecrisp.ca and fill out the form. You get bonus entries when you input UPC codes from eligible Nestlé Confectionery. The contest runs until May 31, 2014 and is open to Canada.
COFFEE CRISP bars are available at grocery stores and retail stores across Canada and come in a variety of sizes and flavours including COFFEE CRISP Latte ($1.29), COFFEE CRISP Bites ($3.99), COFFEE CRISP Treat-Size Bars ($5.49), COFFEE CRISP King Bar ($1.79) and the original COFFEE CRISP Bar ($1.29).
Which Canadian experience would you choose? If I won, I think I'd pick Whistler since I've never been there and I miss the mountains!
Don't forget to take your warmest wishes to Twitter and wish this Canadian classic a Happy Birthday. Just use #HBDCoffeeCrisp to join the conversation and celebration!