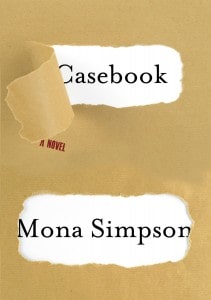 *I received a copy of this book for review, but was not compensated financially in any way. The opinions expressed are my own and are based solely on my experiences while reading this book.*
Title: Casebook: A novel
Author: Mona Simpson
Synopsis:
From the acclaimed and award-winning author of Anywhere But Here and My Hollywood, a powerful new novel about a young boy's quest to uncover the mysteries of his unraveling family. What he discovers turns out to be what he least wants to know: the inner workings of his parents' lives. And even then he can't stop searching.
Miles Adler-Hart starts eavesdropping to find out what his mother is planning for his life. When he learns instead that his parents are separating, his investigation deepens, and he enlists his best friend, Hector, to help. Both boys are in thrall to Miles's unsuspecting mother, Irene, who is "pretty for a mathematician." They rifle through her dresser drawers, bug her telephone lines, and strip-mine her computer, only to find that all clues lead them to her bedroom, and put them on the trail of a mysterious stranger from Washington, D.C.
Their amateur detective work starts innocently but quickly takes them to the far reaches of adult privacy as they acquire knowledge that will affect the family's well-being, prosperity, and sanity. Burdened with this powerful information, the boys struggle to deal with the existence of evil and concoct modes of revenge on their villains that are both hilarious and naïve. Eventually, haltingly, they learn to offer animal comfort to those harmed and to create an imaginative path to their own salvation.
My Review:
I really wanted to like Casebook a lot more than I actually did. For me, the book started off on a weird vibe with a note to the customer, sort of like a preface only not a preface. I read it and was confused by it. It wasn't until I was halfway through the book and went back to re-read it that I fully understood what was happening. It would have helped for me to understand that note before I actually read the book. So, the note is basically from the publisher explaining about what Casebook is, but these are fictional publishers. Casebook is a book written as a 'prequel' to a comic that they published that was written by Miles, the narrator of Casebook and his friend Hector. Miles wrote Casebook and gave it to Hector to read and Hector went through it and added footnotes throughout the book. I had noticed these footnotes but didn't fully understand who was writing them until halfway through the book. Confused yet? It makes sense once you finish the book, but you have to finish it for everything to come together.
The problem is that Miles narrates as if everyone who's reading the book knows everyone he is writing about. There are no real introductions and people just appear on the pages and it's hard to keep everyone straight. He had been talking about a character named Maude and how he could kiss her and I was like, Whoa, he's going to kiss Maude?! But that's because in my head Maude was Marge, his mother's good friend who was older than her and overweight. I hadn't realized that Maude was a new character that was actually Miles' age. There names are so similar and Maude just showed up out of the blue so my mind kept her as Marge. (Especially since Maude is also overweight.) It's written so much like a journal even though it was written as a book. I think Simpson did a good job capturing how scattered a fifteen year old would be, but it wasn't a journal. It was a book. And he wrote it when he was older so it shouldn't have felt like he was fifteen.
I was intrigued with the investigation that took place in the story and I wanted to keep reading to figure out the depth of the deception. There was more to it than I expected but it also wasn't quite as bad as I was expecting either. The whole relationship with Eli felt weird from the beginning which made Hector's uncertainties about him believable but it was frustrating that Miles and his mom didn't see it for so long.
Over all I didn't hate the book. Once I understood everything it was easier to read but up to that point it was pretty exhausting trying to keep things straight. I think it's one of those books you enjoy more the second time around, when you already know how it ends and who the characters are so you can pay closer attention to the small details of when they appear in the book. If I had the time I'd reread it now, but as it is I may never get to it again and by the time I do I'll have forgotten all the details that have become clear since finishing the book. I'm sure there are plenty of people out there who won't find it as exhausting as I did, but I just don't think you should work that hard to be entertained.
Check out the other blogger's reviews of Casebook.