I consider my home a "work in progress". It's got potential, but still has a long way to go before it gets there. In fact, we have been renovating our home since we moved in two years ago. Our kitchen was the first room we started on because it was the one that needed the most work. It's come a long way since then, but still is not complete.
Do you know how hard it is to keep my kitchen clean with all the activity? Not only do have the day to day food prep, cooking, dishes, eating, but I also have to deal with construction mess. This just means MORE to clean for me!
I was so excited to be asked to be part of the Canadian Tire Home Crew because it's one of my favourite stores. John and I go there almost every week and I'm always scouring their flyers to see what great deals they currently have.
However, now my kitchen is looking so much better thanks to Canadian Tire!I tackled my kitchen mess with the Shark Portable Steam Cleaner from Canadian Tire and was so pleased with the results.
This product cleans, sanitizes and deodorizes in one step on sealed hard surfaces and uses only the power of steam to do it! I think that was my favourite feature. I despise using harsh chemical cleaners because my skin is so sensitive and I get light headed when I breathe in the fumes. I love that the Shark Steamer uses only WATER to do the job.
It comes with different attachments that each serve its own purpose:
Nylon Bristle Brushes: great for scrubbing and tackling those hard to clean messes.
Large Area Cleaning Pocket: works well on cleaning large areas quickly
Detail Cleaning Pocket: a smaller version of the large cleaning pocket that is good for smaller areas
Steam Duster Pocket: Perfect for tight spaces like vents and corners as well as dusting surfaces
Squeegee Cleaning Pocket: Super absorbent and works well on smooth, glossy surfaces like windows and mirrors.
Scrubbing Cleaning Pocket: Works like a mild abrasive for scrubbing stuck on messes and also finishing.
Garment Steamer Bonnet: Great for de-wrinkling fabrics
My mission was to tackle three dirty kitchen jobs with my new steam cleaner and I couldn't wait to get started. I had a hard time deciding where to even start! I ended up choosing our microwave, fridge and storage cabinet. I picked the messiest jobs and the ones that I had been procrastinating about doing the longest.
I started with my microwave….ohhhh my! The last time John's mom was here she mentioned it needed a cleaning and I was so embarrassed. I don't really use it that often so I forget that it's there sometimes. John and the kids are the ones who use it the most. I know I'm to blame too because I let it get so bad (hangs head in shame).
Since there was stuck on food in there I selected the nylon bristle brush attachment for my Shark. I filled it with water, plugged it in and pressed the nozzle. Presto- steam! I couldn't believe how well it worked on the stuck on food mess! I would have to use some serious elbow grease on my own to get rid of that mess. With the Shark, it literally wiped away just like that!
I don't think my microwave has ever looked this good.
I headed for my fridge next because it was due for a cleaning. It was a big job and took more a lot more time to accomplish than the microwave so I did it in steps.
I started on the inside door of the fridge. I removed all the jars and containers and then took out each shelf and brought them to my kitchen sink. I scrubbed with the nylon bristle brush attachment and wiped out any stuck on food.
The big job was the actual shelves in the fridge because some of them had food stains. It was pretty gross.
Again, I used my nylon bristle brush to dislodge the stuck on mess so I could easily wipe it up. The results were impressive! My fridge looked like new and a little empty because I ended up throwing away a bunch of expired condiments. I kept looking in and admiring work calling John in to check out what I had done.
I also ended up doing the outside of my fridge as well. It's shiny and black so it shows all the smudges and fingerprints. I knew this would be a job for the Large Area Cleaning Pocket attachment. I went up and down and steam cleaned the front and sides of the fridge and was amazed at the results. It left the surface streak free, shiny and dry! There was no need for me to dry it off with a paper towel which was great!
Can I tell you it's so much nicer now having a clean fridge? I love my Shark steam cleaner!
My kitchen storage cabinet has seen better days and seems to collect the most dust out of any of the surfaces in the kitchen especially when John is working on the renos. It stores all my pots and pans and some odds and ends until I can afford a nicer storage cabinet. It is quite large so I wanted to use the large area cleaning pocket attachment to get the job done quick.
I started at the top and worked my way down. It was actually a pretty easy job and my steamer worked wonders. I love that the dust just melts away and leaves the surface so shiny and clean.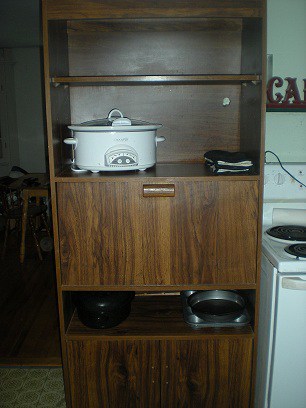 I even went that extra mile and washed all my pots and pans that hadn't been used in awhile to get them sparklin' clean too! The result? A clean, organized (and a little empty because I threw out a bunch of junk!) kitchen storage cabinet!!
I can't wait to try out my Shark steam cleaner on other rooms in my home. It was such a breeze to use that I actually enjoyed cleaning my kitchen! Out of all the steam cleaners I've tried in the past, this one tops my list!
As a Canadian Tire Home Crew member I was provided with a free product (Shark Portable Steam Cleaner) and an honorarium for my participation in the program. All opinions expressed are my own.
This Home Crew post highlights my stories & tips with promotional consideration made possible by Canadian Tire. If you want to uncover your home's true potential, stay tuned to the Home Crew for my missions.