I have many American friends and we are the same in many ways, but different in so many others! For example, I talked to my friend, Cindi in California about the delicious donairs that John and I had from King of Donair. She was like what the heck is a donair?! I was shocked she had never heard of them. Then last night, I was chatting away with Yolanda from Sassy Mama in LA about my butter tart addiction and she had no clue what they were. I figured I should write a quick post sharing these Canadian favourites with my US friends and readers!
Poutine
Ohhh the poutine! This was a staple in my high school cafeteria and I still enjoy them from time to time now. The best ones are from the chip trucks. Poutine is french fries topped with cheese curds and gravy and is sooooo delicious! It originated in Quebec but is enjoyed across the country.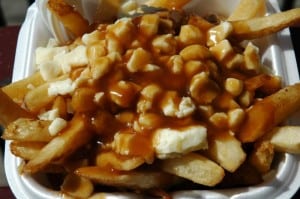 Source
Butter Tarts
These are my addiction! My favourites are the ones with pecans. It's kind of a like a pecan pie but without the crunchy top. The best ones are the homemade ones that John and I buy from our local farmer's market.
Source
Beaver Tails
They sell these in my hometown in a truck down at the marina. It's basically fried dough and you can add your choice of sweet toppings like icing sugar, cinnamon and sugar, whipped cream, etc.
Source
Montreal Smoked Meat
My #1 choice at the deli counter! It's similar to pastrami but with aromatic spices and less sugar. It makes for a mean sandwich.
Source
Sugar Pie
Super sweet pie made from brown sugar or maple syrup. I ate my first piece at a restaurant in Montreal and it was simply divine!
Source
Donair
The King of Donair in Kingston, NS makes the best donairs EVER! They were actually the first to serve the Canadian version in 1973. It's a pita with slices of beef, onions, tomatoes, and a sweet garlic sauce (aka donair sauce). It is a MUST try if you come to Atlantic Canada!
Source
Have you tried any of these favourites? If so, which ones and what did you think?