Did you know that September is National Chicken Month? Now is the perfect time to celebrate all the wonderful things about Canada's #1 protein choice! Of course, chicken is delicious and we eat it several times a week in our home. I've been working with the Chicken Farmers of Canada for the past few years so regular blog readers will know I share a ton of chicken recipes.
My fave so far this year is this mouthwatering Sweet Heat Salad. It's fresh, healthy and bursting with flavour. It's a meal in itself!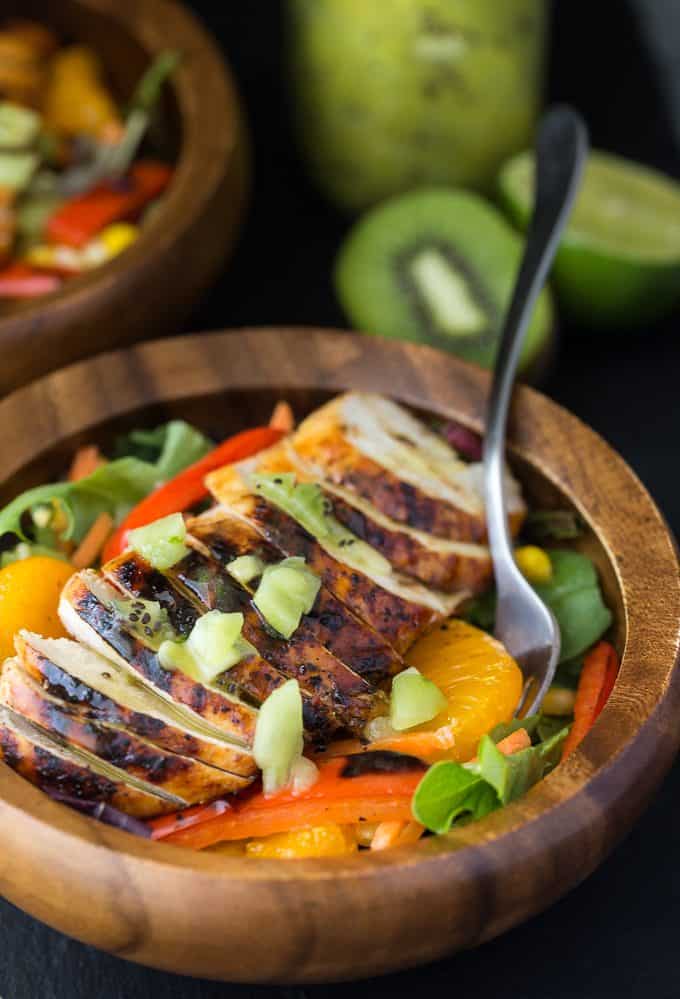 Let's also remember to celebrate the hardworking chicken farmers. Without them, we wouldn't have this yummy chicken to enjoy. Their dedication to producing the best chicken in the world, in my opinion, does not go unnoticed.
Today I wanted to share with you the reasons why I love Canadian chicken farmers. Some of these may be pretty obvious and others you may not have known about till now.
1. Chicken is DELISH. Yes, it's an obvious reason, but I couldn't leave it off this list. Chicken is so versatile and can be prepared in a variety of ways creating some of the most mouthwatering and satisfying meals for your family to enjoy.
2. Chicken is healthy. It's an excellent source of lean protein and healthy fats. If you follow our monthly #ChickenChat, you'll already know many of the health benefits of chicken. Check out this nutritional comparison to see how each cut of chicken stacks up against the other types of protein.
3. High standard of care from coast to coast. Canadian chicken farmers follow strict regulations in relation to the care and handling of the birds. These national standards ensure consistency no matter where you are getting your chicken from in Canada. For instance, Canadian chicken farmers must follow the auditable Animal Care Program and On-Farm Food Safety Assurance Program (OFFSAP).
4. Canadian chicken farmers help our economy. They help to create and sustain 78,200 jobs, contribute $5.9 BILLION to Canada's Gross Domestic Product, pay $2 billion in taxes and purchases 2.5 million tons of feed from other farmers. Their contribution adds a lot of value to Canada's bottom line!
5. Canadian chicken farmers give back to the community. They make regular donations, both in cash and in kind, to food banks all over the country. Plus, they are also partnered with Swimming Canada to support Canadian swimmers! They are the official protein of swimming in Canada.
6. Canadian chicken farmers ensure we always have access to fresh, high-quality chicken. The stability is from their supply management system. Farmers meet regularly to determine how much chicken Canadian consumers are asking for and then carefully match their production to meet this demand.
7. Chicken is reasonably priced. If you look at the prices in the meat section of your grocery store, you'll see that chicken is very affordable especially when compared to other proteins. Since 2013, beef prices have increased 34% and pork prices have rose 18%. Chicken, on the other hand, has only increased by 5%.
8. Chicken farmers are families just like us. Did you know that 90% of chicken farms in Canada are 90% family owned and operated? I love being able to support other families.
Because of all these factors, we can trust that the chicken on our plates is raised to world-class standards. You know when you are getting chicken raised by a Canadian farmer that you are getting fresh, high-quality chicken that you can feel confident eating and enjoying with your family.
Connect with the Chicken Farmers of Canada on Facebook, Twitter, Instagram and Pinterest.
Disclosure: I am participating in the Chicken Farmers of Canada campaign managed by SJ Consulting. I received compensation in exchange for my participation in this campaign. The opinions on this blog are my own.