The weather is getting nicer and I'm wanting to spend more time outside enjoying it. However, I want to do so in style! Now is the time to start thinking about sprucing up your backyard and turning into a summer oasis.
Don't worry – it doesn't need to cost a fortune. With a few simple, budget-friendly tips and tricks, you'll have your backyard looking fabulous in no time at all.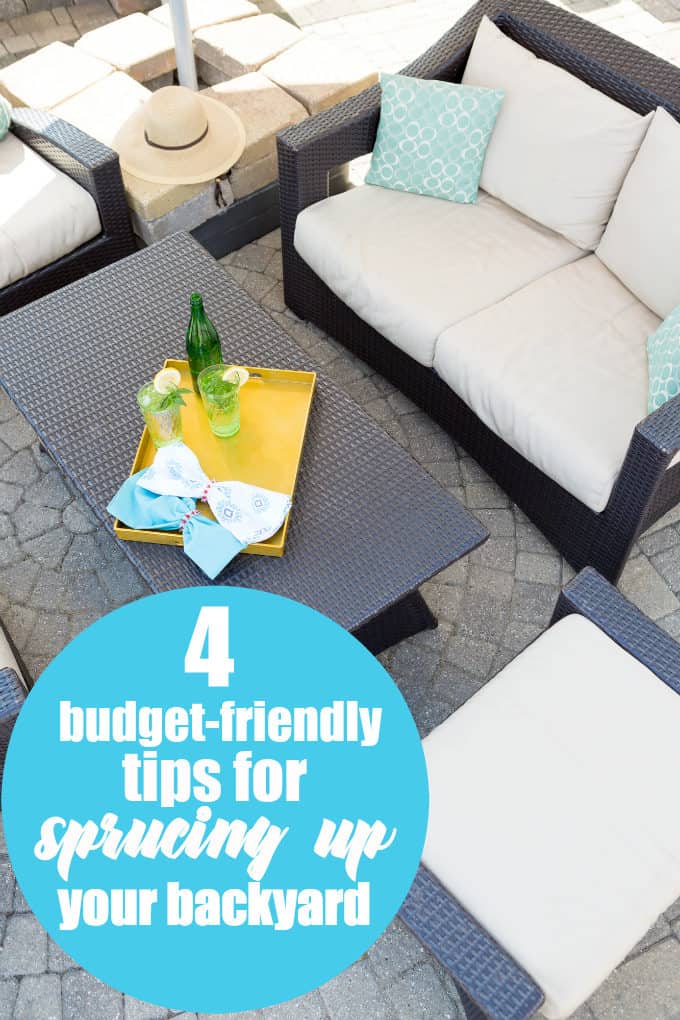 1. Make old, new again. Stains happen especially if your patio furniture has been tucked away in storage all winter long. Instead of throwing them to the curb for spring clean-up, simply give them a good clean. Mix OxiClean Versatile Stain Remover with water and let the cushions soak for 1 to 6 hours, depending on the severity of the stain. Wash as normal and your cushions will come out stain-free and looking brand new.
2. Win the weeding war. Watering your weeds makes them easier to pull out. You could wait till it rains or simply bring out the hose and give them a quick watering before you start to yank. Also, if the soil is moist, you're less likely to disturb any nearby plants.
3. A little scrubbing goes a long way. Looking for an easy way to remove dirt, grime and stains from patio furniture and your deck? Mix OxiClean Versatile Stain Remover with water (following the instructions on the package) and apply the solution to almost anywhere. Let stand for a few minutes and scrub as needed.
4. Use your wheels. The simple act of rearranging patio furniture and planters can breathe new life into your outdoor space. If the item has wheels, use them and save your back.
If you're feeling sore after all your hard work, try some Rub A535 Extra Strength Heating Cream to soothe sore, tired muscles. It works fast and is non-greasy so you don't have to worry about it staining your sheets or clothes.
Do you have any budget-friendly tips to getting your outdoor space ready for summer?
Disclosure: I was compensated for this post. All opinions are my own.