Broccoli Casserole is simple and classic side dish that is great for your weeknight meal or potluck dish. Picture cheesy broccoli in a creamy mushroom sauce topped with a buttery cracker topping. I'm not sure what is my favourite part: the topping, broccoli or the sauce.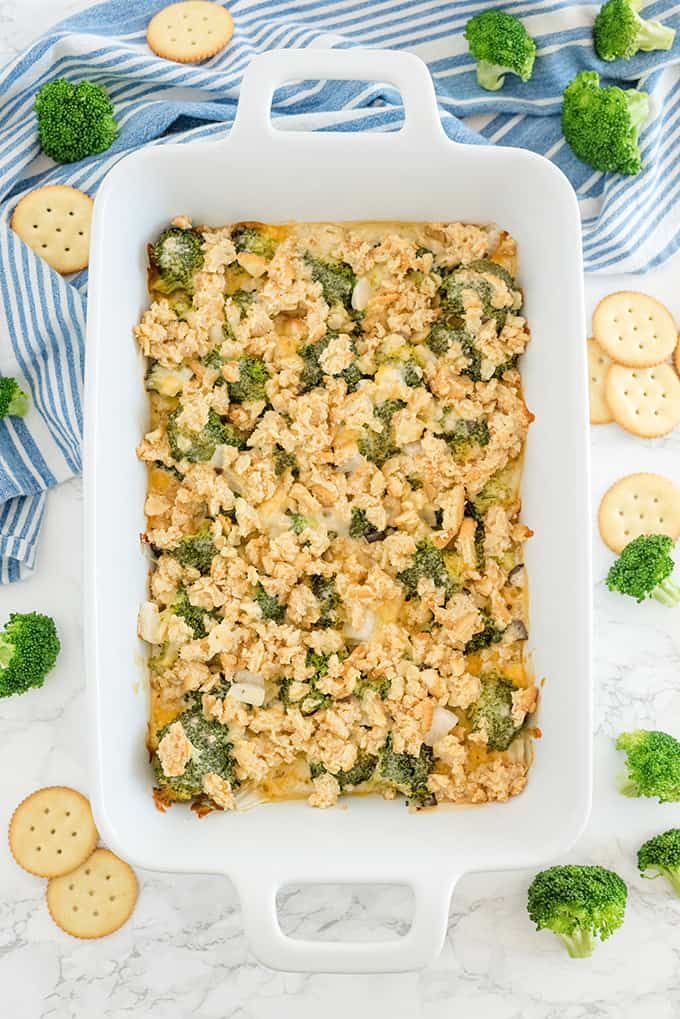 This Broccoli Casserole recipe has been a staple in my family for as long as I can remember. My mom used to make it as a vegetable side dish for our Thanksgiving and Christmas dinners. When I moved out on my own, I asked her to write down the recipe for me so I could make it too. It's not low on calories, but it sure is good.
Broccoli Casserole
My daughter loves this casserole and even asks for seconds. When I make it for supper, there are rarely any leftovers. It's gone before you know it!
I've only ever made it with broccoli, but I'm curious to see how it would taste with cauliflower.
You might also like this Cheesy Zucchini Bake or Cheesy Corn Casserole.
Can I Use Frozen Broccoli for Broccoli Casserole
Sure, you are more than welcome to use frozen broccoli. You might find you need to cook the casserole a little bit longer to ensure the broccoli fully warms up and is baked all the way through.
But, you can use fresh or frozen in this recipe. If you use fresh make sure to rinse and prep your broccoli, and then cut off the stalks. Then toss in the baking dish.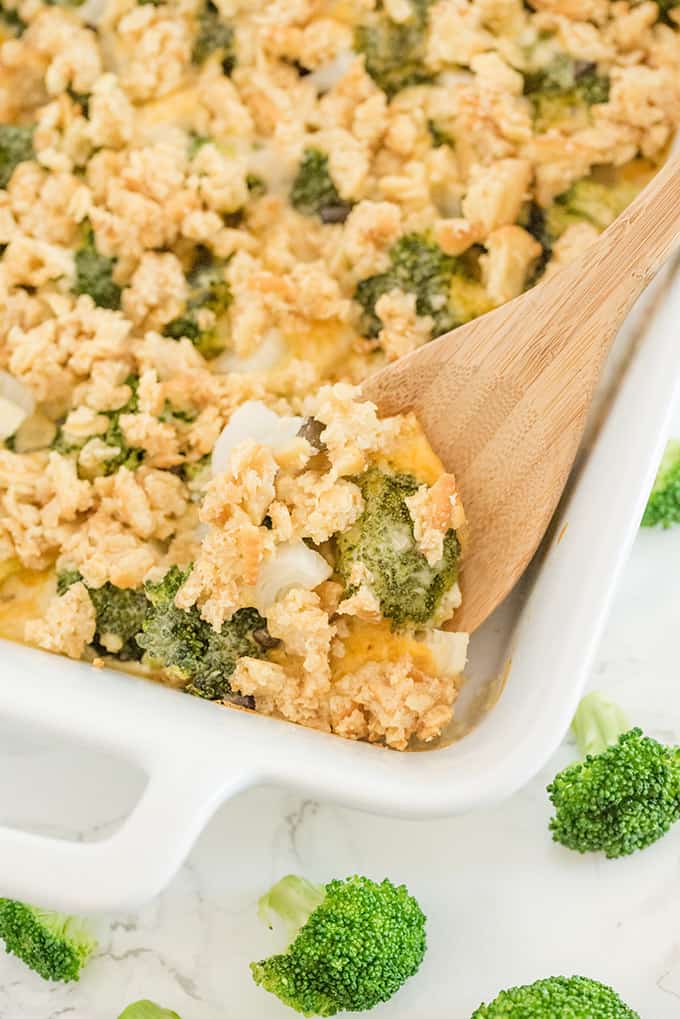 Can I Substitute Ritz Crackers
If you don't have Ritz or care for them, you are more than welcome to use another type of salted cracker. Saltines, potato chips, or gluten-free crackers can work great. The topping will add a nice crunch.
You could even use seasoned bread crumbs with a bit of melted butter to sprinkle on top of this casserole. The crispy topping adds a dimension in the texture and adds flavor.
Can I Use a Different Cream Soup in this Broccoli Casserole
Yes, you can use cream of celery, chicken, or cheese. Any will work. Just know that each cream soup will vary the flavor of this broccoli casserole slightly.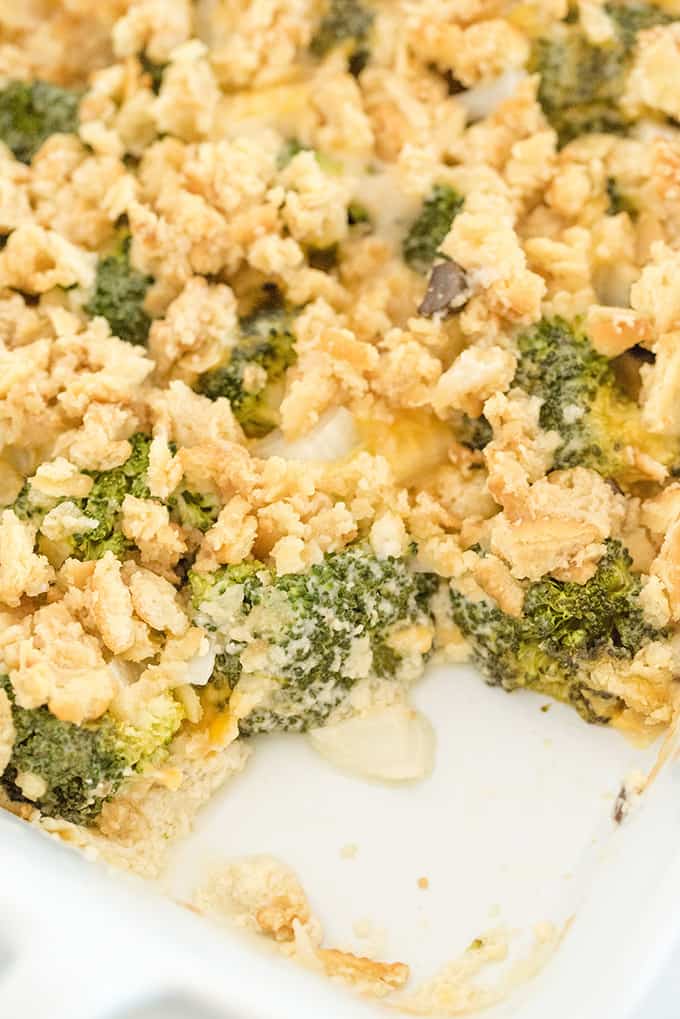 I tend to reach for mushroom or celery but I have ventured out since and tried others and they are not too bad.
Can Broccoli Casserole Be Frozen
You can freeze your casserole if you don't plan on eating it all. The only thing is I would not sprinkle on the Ritz topping as it will become mushy once it thaws. The other thing is with freezing casseroles they can change slightly in the form of texture. It will still taste great it will just be slightly softer in texture.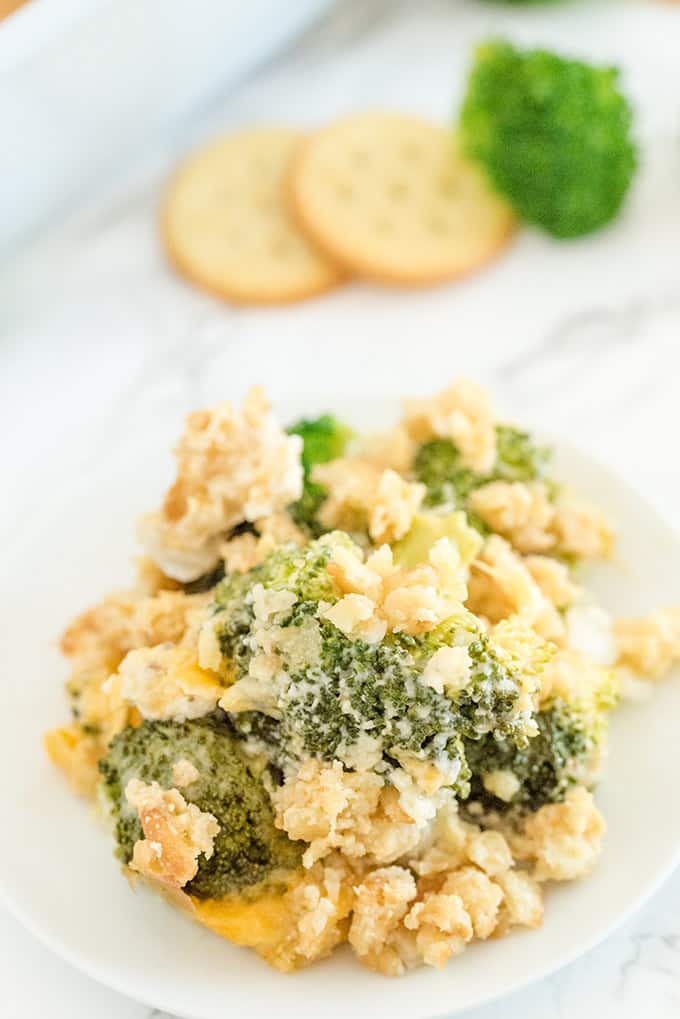 If you freeze make sure it is in a freezer-friendly container, and that it is wrapped up really good. Then store in the freezer for up to three months. You can cook it straight from the freezer. Just ensure it is covered with foil and you will want to bake for a longer time to ensure it warms all the way through.
Here are more great side dishes to consider
Creamy Carrots | Here is another dynamite vegetable dish. Creamy carrots are unique and different and will leave you wanting one more bite. I highly suggest this recipe if you love carrots.
Cauliflower Bake | A lower carb side dish that is just as good as this broccoli casserole. You can make up this dish and serve for a weeknight side dish or take to your next potluck.
Sweet and Sour Cabbage | This sweet and sour cabbage is incredible. You have tender wilted cabbage that is loaded with tons of flavor in each and every bite.
How Do You Make Broccoli Casserole
Start by preheating your oven and then spread your broccoli and onions in your pan. Top with your cheese. Now in a new bowl mix in your liquid ingredients and then pour over the broccoli, and then top with your Ritz topping mixture. Bake until fully cooked. You will find the full directions below in the printable recipe card.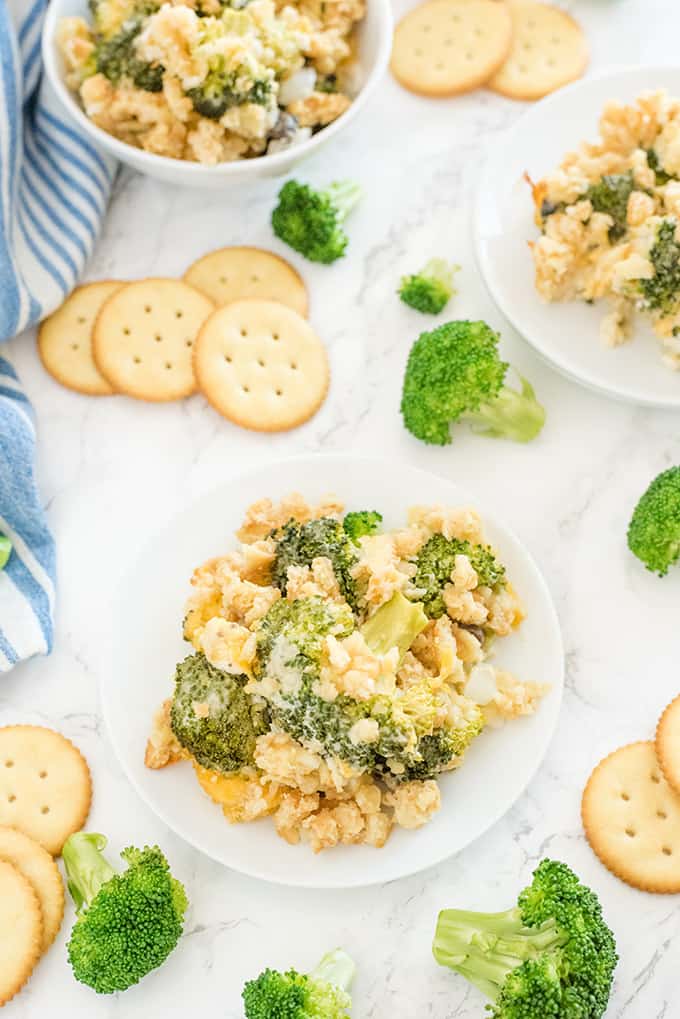 Can I Make Broccoli Casserole Ahead of Time
What I recommend is making this fresh as it has the best flavor. But if you need to you can bake the night before you plan to eat it. Then warm it back up in the oven and serve. I wouldn't go over 24 hours of letting it sit in the fridge before heating and serving. It will get more tender as it sits.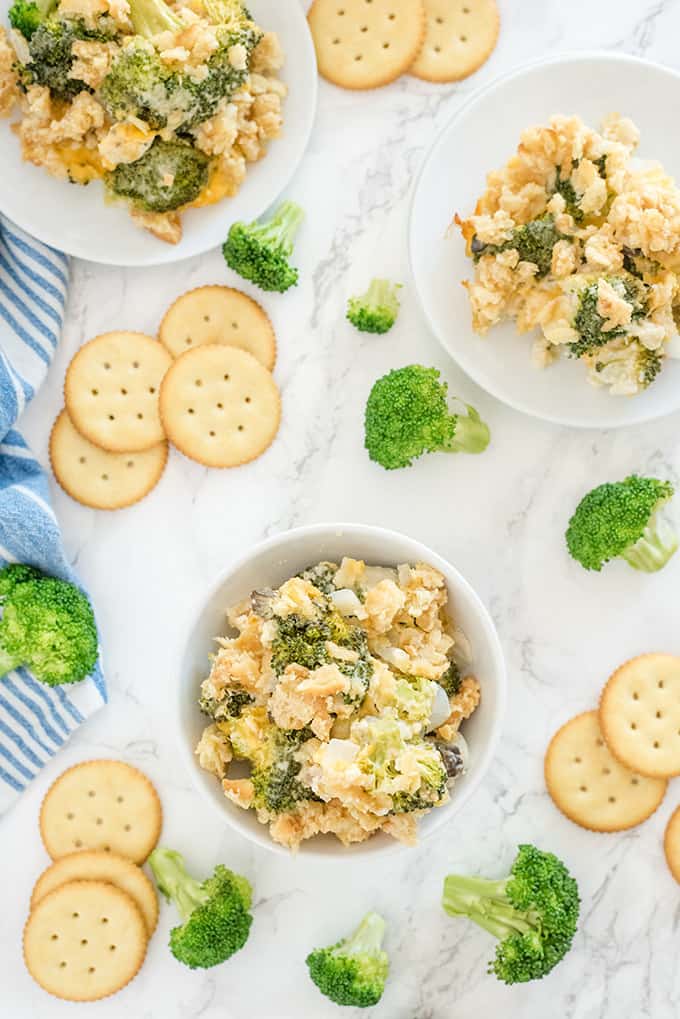 You can store leftover broccoli casserole in the fridge for up to 3-4 days.
If you are a fan of broccoli-like we are in our home, I think you will truly enjoy this easy but satisfying broccoli casserole recipe.
Do you like Broccoli Casserole?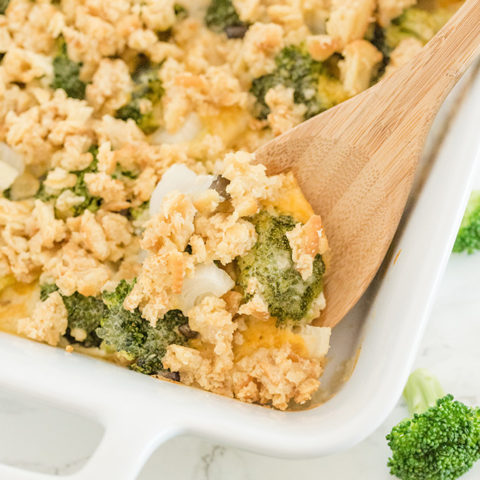 Broccoli Casserole
Tender broccoli and creamy mushroom sauce, topped with cheese and a crispy cracker topping - this side dish is a classic for a reason! This is easy comfort food, that everyone in the family is sure to love.
Ingredients
2 heads broccoli, chopped
1 onion, chopped
1 cup cheddar cheese, grated
1 can cream of mushroom soup
¼ cup milk
¼ cup mayonnaise
1 egg
1 ½ cup Ritz crackers, crushed
¼ cup milk
¼ cup butter, melted
Instructions
Preheat oven to 350 F.
Spread broccoli and onions over the bottom of a 9×13 baking pan. Top with grated cheddar cheese.
In a medium sized bowl, stir together soup, milk, mayonnaise and egg. Pour over the broccoli mixture.
In a small bowl, mix together Ritz crackers, milk and butter and crumble on top of baking pan.
Bake for 40 minutes until topping is lightly browned.
Recommended Products
As an Amazon Associate and member of other affiliate programs, I earn from qualifying purchases.
Nutrition Information:
Yield:

6
Serving Size:

1
Amount Per Serving:
Calories:

407
Total Fat:

29g
Saturated Fat:

12g
Trans Fat:

1g
Unsaturated Fat:

16g
Cholesterol:

75mg
Sodium:

826mg
Carbohydrates:

27g
Fiber:

5g
Sugar:

4g
Protein:

11g