My bathroom is the smallest room in the house, but it seems to take the longest to clean. I enjoy cleaning the other rooms in my home, but the bathroom? Let's just say I leave it the end of my list!
I'm always on the lookout for ways to speed up the process and get my bathroom company-ready. I can't stand when it's messy, so it's a necessary evil. Good thing I've learned a trick or two over the years.
Cleaning your bathroom doesn't have to take forever. Use these bathroom cleaning hacks to save time and money.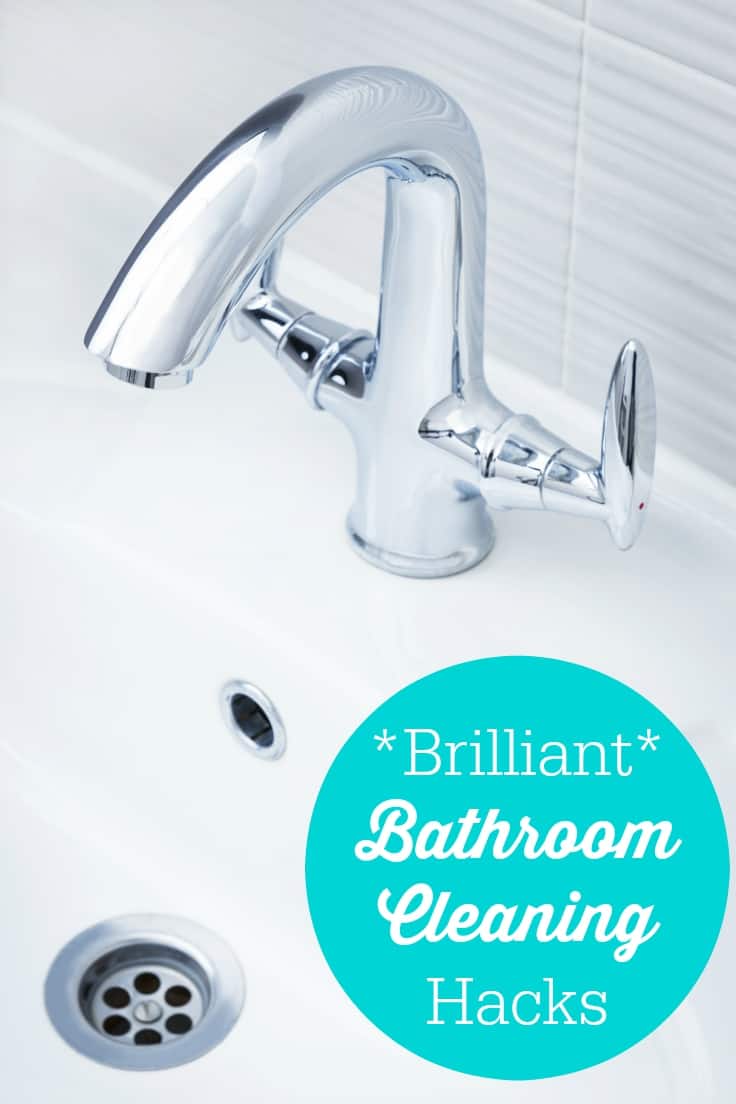 Bathroom Cleaning Hacks
Cleaning the Toilet
To increase your plunger's suction, add some petroleum jelly to the rim of the bell. Bonus: This helps prevent cracking and drying, too.
Use Alka Seltzer to clean your toilet AND to unclog your drains! To unclog the drain, simply drop an Alka Seltzer tablet down the drain, followed by ½ cup of vinegar. Follow up by flushing with hot water. To clean your toilet, drop a tablet in, and let set for about 10 minutes. For stuck on grime, you'll need to wipe down with a scrub brush, and then flush.
Use a straw to suck up the dirt around the toilet – and in other small spaces. I got this tip from the Huffington Post, and it works!
Cleaning the Sink, Bath, and Shower
Clean your shower head by pouring 1 cup vinegar and 1 cup water into a plastic shopping bag. Secure the bag over the shower head with a rubber band, and let it set for about 30 minutes. Rinse by running the shower head on HOT.
Grapefruit and salt will clean your tub, believe it or not.
Use an extra shower rod (placed on the inner wall of your shower) for extra storage! You can hang baskets with shampoo, conditioner, loofahs, razors, and more.
Polish chrome fixtures by rubbing shaving cream (or baby oil) on them, then wiping off with a cloth. You can also keep mirrors from fogging up by wiping them with shaving cream (or bar soap).
Oh, and one last bathroom cleaning hack that I haven't tried yet but want to: clean your shower doors by wiping them down with cooking spray! It sounds weird, but people are talking… let me know if it works for you!
Do you know any time or money saving bathroom cleaning hacks? Please share. I'm all ears 🙂