Disclosure: I was not financially compensated for this post. I received a sample of the product for review purposes. The opinions are my own, based on my personal experience with the product.
Over the last two years, I've been moving away from processed foods and eating more healthy, balanced meals. I'm really having fun with trying new recipes and sharing them with my family. One thing I've noticed is that it's more of an effort to eat healthy. I'm spending more time in the kitchen preparing meals, but the results are so worth it in the end.
My newest addition to my kitchen arsenal of tools is Breville the All-In-One. I find it's really helped me in saving time in the kitchen and has allowed me to make things that I normally would have just skipped over in my cookbooks for lack of the right tools. It's one appliance with many functions. It chops, blends, whisks, mashes and slices all in one station with little effort on my part. It's quickly become one of my favourite kitchen tools.
Cleaning it also a breeze. The gear box is removable so you take that off before putting the parts in the dishwasher. It has a storage tray for all the attachments which saves precious countertop space.
It comes with six attachments:
Anti-Suction Immersion Blender
Adjustable Slicing Disc
Reversible Shredding Disc
Variable Masher
Micro-Serrated S Blade
Whisk
I decided to jump right in and use the attachments right away for a few of our meals with a couple of the recipes featured in the Instruction Booklet.
I normally buy prepared guacamole and have never attempted to make it at home. I enjoy using it on fajitas, tacos, nachos and I've even used it on steak. I figured with the Breville the All in One it was about time I made my own to see how it compared to the store bought brands. The Variable Mashing Leg was exactly the tool I needed to make my own guacamole. It saved me time and was perfectly mashed in under a minute. That would have taken me a long time trying to do the same thing with a fork.
The Variable Mashing Leg has three settings for texture: Fine, Medium or Coarse. You simply turn the adjustable head to the setting of your choice. For this particular recipe, I kept it on coarse to make sure there was still lots of texture.
You don't use the food processor bowl for the Mashing Tool. I grabbed a large bowl for my avocado to go in. I made sure it was a large enough bowl to fit the Mashing Tool.
Turn it on by pressing the trigger button and mash away!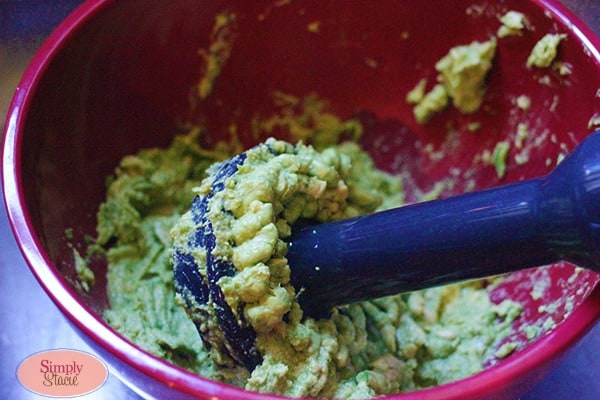 I then stirred in my other ingredients and my guacamole was ready to serve. It was seriously easy and so good. There's no need to buy the store brands now that I can make my own in a matter of minutes.
I also love pesto, but have never made my own and only used the store bought brands. I decided it was also time to try my hand at making pesto now that I had my fancy new food processor! For this recipe, I used the S Blade and the 6 cup food processing bowl. The S Blade is micro-serrated so it reduces the processing time and gives you a finer, more even chopping.
I was nervous setting it up because my last food processor I owned gave me a lot of grief trying to set it up. I was pleasantly surprised to see how easy it was to use the food processor on Breville the All-in-One! Everything literally fits into place and all I had to do was plug it in and turn it on. If I can set it up, then anyone can! Trust me, it normally takes me a long time to initially set up new appliances.
I added in all my ingredients to the food processing bowl….basil, pine nuts, garlic, Parmesan cheese, olive oil and lemon juice. I click the trigger button on the gear shift attachment and it processed away.
My pesto was ready! I had a quick taste to make sure the flavour was right and it was sooooo good!
I know pesto is normally served as a sauce for pasta, but I like mine on steak! It was amazing! John turned up his nose at first because he wasn't sure about the colour, but after he tried it, he asked for a second helping. I'd say that's a success!
One thing I didn't own before was an Immersion blender. I'd have to pour hot soups in the blender to puree them and it always made such a mess. Breville the All-in-One also has an Immersion Blender. Is there seriously anything this product can't too? It's simply awesome!
I love Leek & Potato Soup so decided to make a batch using the Immersion Blender. To set it up its basically just attaching the gear box, plugging it in and blend right in my post on the stove. It was easy to control and made zero mess.
The soup was perfect. It was flavourful and the perfect texture. John said it looked like green slop, but loved the taste. Men!
There's also the Adjustable Slicing Disc to slice up your veggies. It has 18 thickness settings so you can easily customize the thickness of your slices anywhere from 0.5mm to 6.0mm. I'll be using this feature to whip up some fresh summer salads full of garden veggies!
The Reversible Shredding Disc is used for both coarse or fine shredding. Next time I need to shred some cheese for a recipe, I'm using this!
The Whisking Attachment can be used to make eggs, whipped cream or anything where you need to add some air to the mixture.
Breville the All-in-One has a MSRP of $229.99 and folks, it's worth every penny. I've been using mine practically every day since I got it! Visit Breville to purchase online or find a retailer near you.