This post contains affiliate links.
This coffee mug describes my mornings to a tee!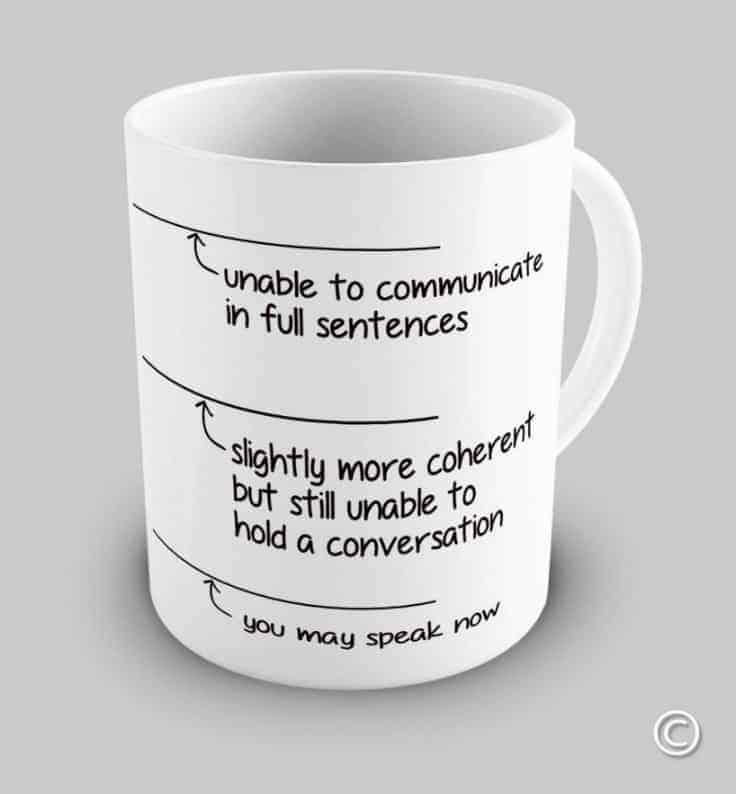 Making myself a coffee first thing in the morning is a MUST. No if's, and's or but's about it! I get very cranky without a hot coffee in hand. I trudge into the kitchen, still half a sleep, and go through the motions of making myself a cup. The first sip is always the best! Drinking coffee will never get old for me.
I didn't start drinking coffee until my early 20's. I used to make my mom her coffee in the microwave. She drank instant coffee and the one time I tried a sip, I decided that I never wanted to drink coffee. I'm still not a fan of instant coffee, but I sure do love my coffee made with freshly ground beans. It's the best way to drink it, in my opinion!
I've been using my new Breville Grind Control™ coffee maker for the last while. It was a welcome addition to my morning routine (scratch that – all day routine….) and making myself a cup of coffee with it quickly became second nature. The Grind Control is the first household coffee maker with an adjustable grinder and distinctive calibration function. These key features allow you to customize the grind size of your coffee beans and adjust the coffee volume to your personal liking!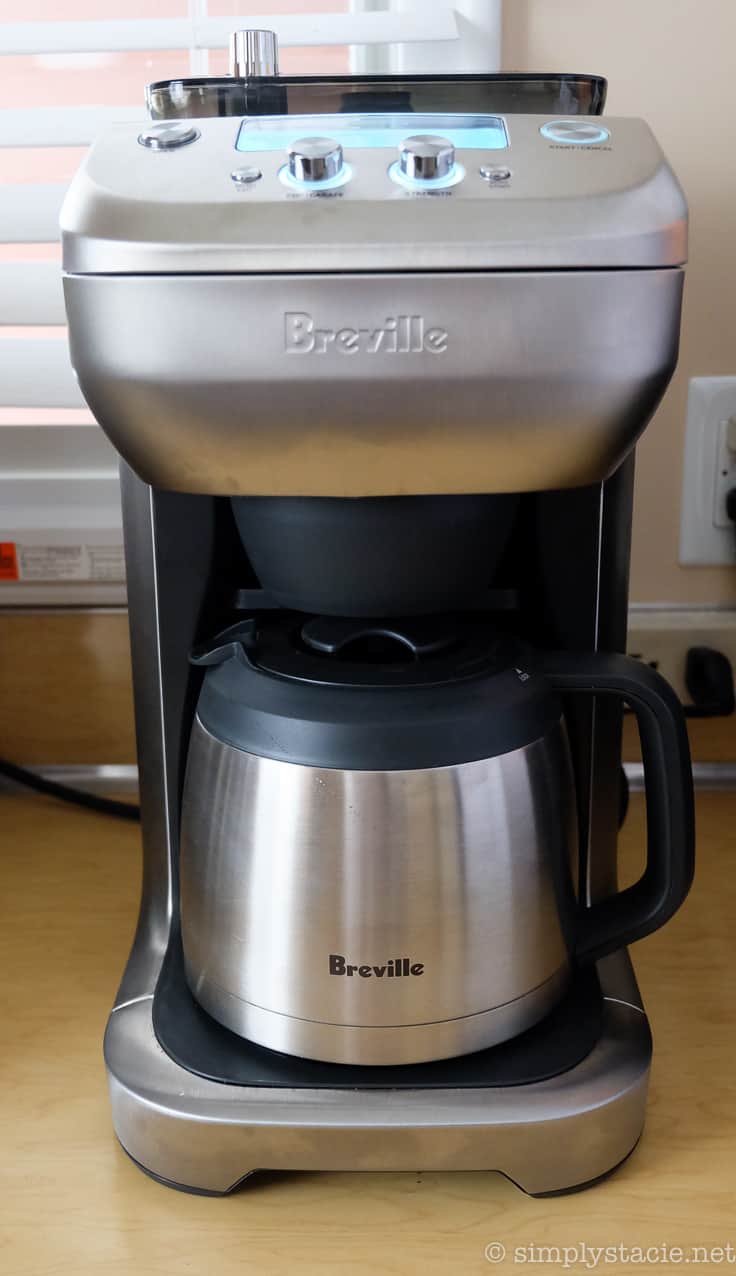 Did you know that ground coffee should be brewed within a minute of grinding? If you wait too long, you'll lose the delicious, but volatile aromatics. With the Grind Control, the beans are ground on demand and brewed immediately. The delicate aromatics are infused into your cup. When you're buying coffee beans, check the roasted on date and look for beans that have been roasted within the last 14 days. Whole beans begin to lose their flavour between 5 to 20 days after roasting. Good to know!
Let's take a look at some of the key features of the Grind Control to give you a better idea of how it works.
Adjustable Grinder
The adjustable grinder allows you to customize the grind size for lighter or dark roasts. The machine has precision machined stainless steel burrs that grind whole beans to maximize flavour and aroma. To adjust, turn the Grind Adjustment dial to make it coarser or finer.
Intuitive Calibration Function
This feature allows you to adjust the coffee grinder output to suit the type of beans you are using: light or dark roasts, age and the different origins of coffee beans. Play around with it until you find one that suits your tastes.
Pre-Brew Temperature Control
The 12-cup Water Tank is conveniently located at the top of the machine. You'll be able to see how much water is in it on the display. I fill mine up with the carafe. It uses a pre-brew temperature control to make the perfect cup. Water goes in cold and comes out hot. A tip for hotter coffee is to warm your cup or carafe with hot water before brewing and let it sit about 30 seconds before discarding the water. I find the temperature to be just right for me when it's done brewing. I don't want my coffee too hot so I burn my lips, but it needs to be hot enough so I can comfortably drink it. Cold coffee and me don't jive well together.
Brew a Single Cup
I mainly keep mine at the single cup setting on the LCD screen. I can choose my size depending on the cup I'm using. There are seven size options and the Grind Control has a 7.5″ cup height clearance. It works great for tall mugs or travel mugs!
After I've selected the size, I can now choose the brew strength out of 8 strength settings. I'd encourage you to play around with it till you find one you like the best. 1 is the weakest while 8 is the strongest.
Brew a Carafe
The Grind Control comes with a 12-Cup Stainless Steel Thermal Carafe. I use it mainly when we have company over and everyone wants a coffee. It's quicker to just brew a carafe than make individual cups. I like that the coffee stays hot and fresh in the carafe thanks to its dual walls. I was surprised the first time I used the carafe at how hot the coffee an hour after I'd made it. I was expecting lukewarm or cold!
Like with a single cup, you can select the amount of coffee you want brewed and the strength.
The Brew Cycle
The amount of time for the brew cycle varies depending on if you are brewing a cup or carafe. With my settings right now for a single cup, it's done in four minutes. You can see what the machine is doing by looking at the LCD screen.
The Brew Cycle steps:
Pre-heating. Water is heated to the optimal temperature. This also the stage where you can hear the machine grinding the fresh coffee beans.
Infusing. Water is delivered to the ground coffee.
Brewing. Coffee is dispensed into the cup or carafe.
It will beep when the cycle is complete and you can add cream or sugar to your coffee like you normally do. If for some reason you need to pause the cycle, press the Start/Cancel button on the top.
Programmable Auto-Start
Save yourself a step in the morning by using the Programmable Auto-Start feature. You pick the time and the machine will brew your coffee for you automatically! It's a handy feature if you get up at the same time every morning.
Cleaning
You will have to clean out the coffee basket and gold tone filter on every use. If you use a paper filter that saves you a bit of time because you can throw it away. Otherwise, rinse the coffee basket and gold tone filter under running water.
Use the cleaning brush that comes with the machine to clean the grinding burrs and coffee grinds chute. The instruction book has lots of info on cleaning so I'd recommend keeping it nearby in a drawer so you can refer to it.
The Coffee Experience
Each cup tastes hot, fresh and perfect as coffee should. I love the smell of freshly brewed coffee! It's the ultimate air freshener.
If you use the gold tone filter provided, you may end up with a few grounds in the coffee. I don't mind it, but if you like a cleaner cup, use a paper filter.
Where to Buy
Visit Breville.ca to purchase online or find a retailer near you. It's listed for $399.99 on the Breville site. I also found it on Amazon.ca. USA readers check out Amazon.com.
Have a coffee lover on your holiday shopping list? Get them a gift they'll use (and love): the Breville Grind Control!
Do you know anyone who would love a Grind Control?
Disclosure: I received product for review purposes. All opinions expressed are my own.