Put me just about anywhere with a good book and I'll forget where I am…if the book is a good one, of course! Summer is coming up and I'm getting my list together for books I want to lose myself in. It's such a great feeling to be able to kick up your feet and relax. At the cottage swinging in a hammock, on the beach under an umbrella or even on the boat while the guys fish, these are all spots I've spent hours reading. Pure bliss.
I've been asked for recommendations on good summer reads and have come up with this list of 25 books you should read this summer. Most of them are books I've read from summers past. A couple of them are on my personal summer reading list this year and have heard good things about them.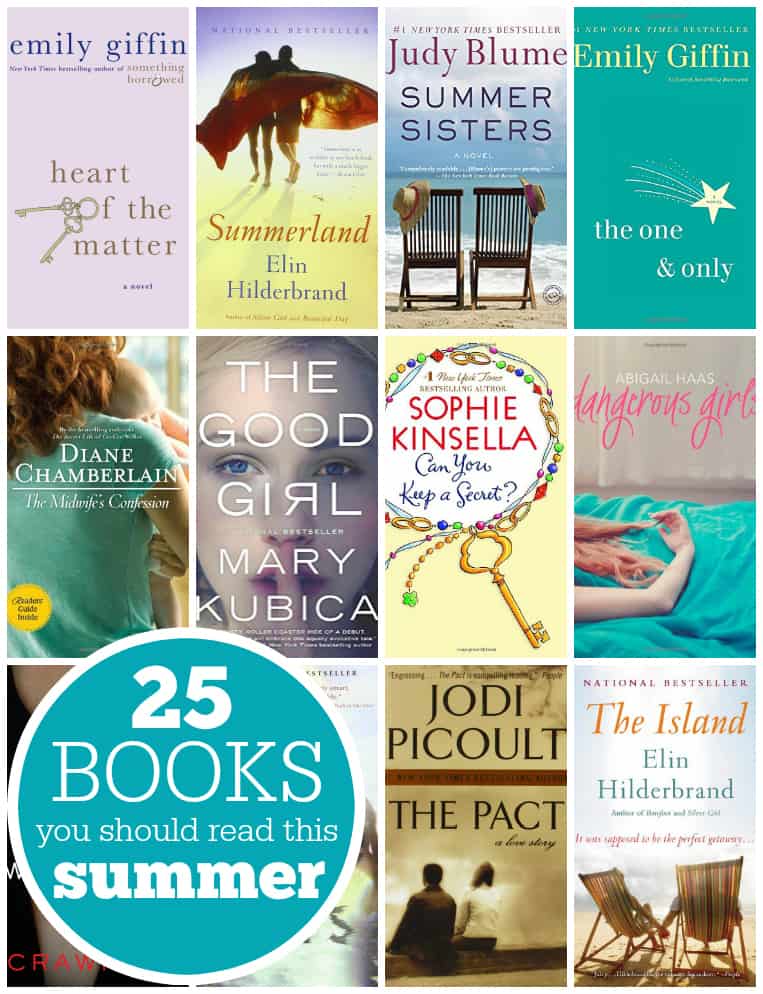 Books To Read This Summer
This post contains affiliate links.
Here are my summer picks!
Heart of the Matter by Emily Giffin
Summerland by Elin Hilderbrand
The Island by Elin Hilderbrand
Confessions of a Shopaholic by Sophie Kinsella
Calling Maggie May by Anonymous
Dangerous Girls by Abigail Haas
The Fault in Our Stars by John Green
The Midwife's Confession by Diane Chamberlain
Fifty Shades of Grey by EL James
Can You Keep a Secret? by Sophie Kinsella
The Pact by Jodi Picoult
Twilight by Stephanie Meyer
Summer Sisters by Judy Blume
Good in Bed by Jennifer Weiner
The Devil Wears Prada by by Lauren Weisberger
Eat, Pray, Love by Elizabeth Gilbert
The Girl on the Train by Paula Hawkins
The Nanny Diaries by Emma McLaughlin
The One and Only by Emily Giffin
Let's Pretend This Never Happened by Jenny Lawson
Flowers in the Attic by VC Andrews
We Were Liars by E Lockhart
Third Degree by Greg Iles
The Good Girl by Mary Kubica
The Pocket Wife by Susan Crawford
You can also find these books on Amazon.ca and Kobo.
You'll also like this books to read in 2022.
Have you read any of these books? What books are on your summer reading list this year?