And if you haven't read Girl on the Train, what are you waiting for?
The mystery / thriller novel that has recently been made into a movie, starring Emily Blunt, is a real page turner. Essentially, the story follows a woman named Rachel Watson who catches glimpses into the lives of a young couple—Scott and Megan—she sees out the window, as she rides the train for her daily commute. One day, the wife is gone and Rachel struggles with the authorities and the conflating of her own memories and imagination, of the events that unfolded.
The best suspense books are more than the sum of their parts. In other words, the story is richer than just the twists and turns of a classic 'whodunnit'. There are lives at stake, relationships on the edge and real people and real problems, all intermingling in the best stories.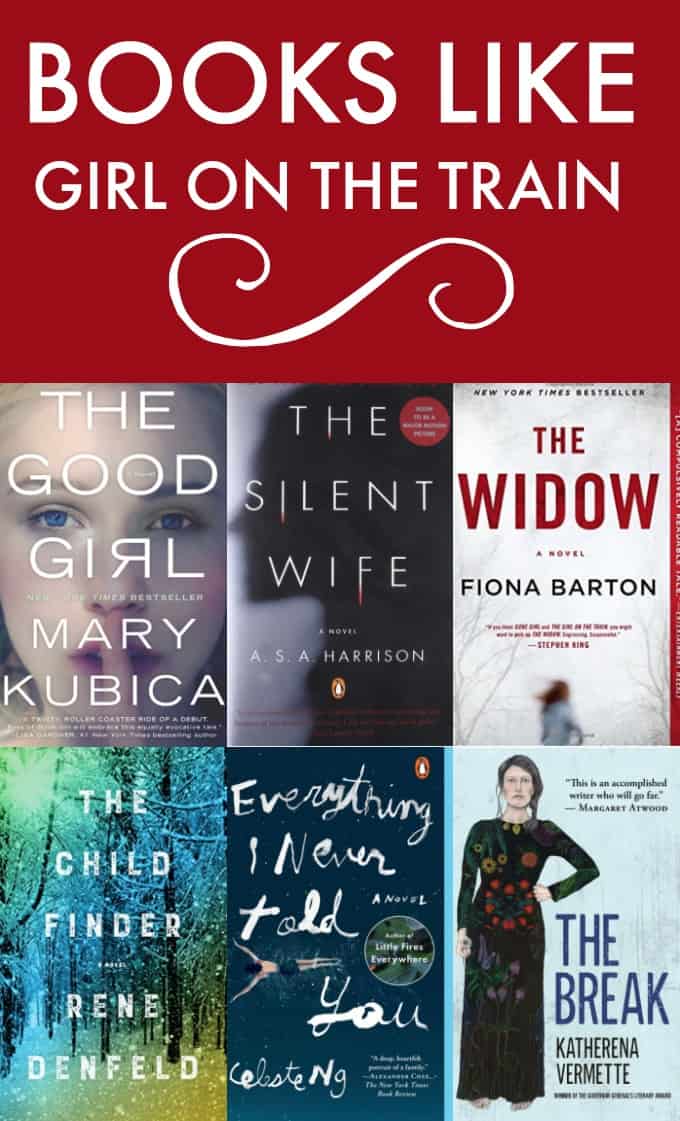 Books Like Girl on the Train
This post contains affiliate links.
If you haven't already read Girl on the Train, go out and get it! It's a perfect weekend or beach read, that you won't be able to put down. If you have read it and are looking for something in a similar style, here's a few suggestions to keep your reading list full:
1. Mary Kubica's The Good Girl
"I've been following her for the past few days. I know where she buys her groceries, where she works. I don't know the color of her eyes or what they look like when she's scared. But I will."
If you've ever thought about having a one night stand, this book might put you off the idea entirely! What could have been a standard tale of girl gone missing and the ensuing investigation morphs into so much more. Her captor chooses to hide her away in a remote cabin instead of handing her over to the man who hired him, but why? The surprise ending makes sense, when you get there, but you'll be wondering and loving the journey to that point!
2. A.S.A. Harrison's The Silent Wife
"You make your choices when you're far too young to understand their implications, and with each choice you make the field of possibility narrows."
How far will you go to keep your family intact? That might depend on how much is at stake, as it does for Jodi and Todd, a married couple on the rocks. Readers will learn right at the outset that Jodi will go so far as murder to keep her life intact. What makes the book so compelling, despite that early reveal, is that you are pulled, on tenterhooks, along in their world, waiting to see what it is that will finally push Jodi over the edge.
3. Liane Moriarty's Big Little Lies
"If she packaged the perfect Facebook life, maybe she would start to believe it herself."
Liane Moriarty is the queen of melding hilarious lines and elegant thrills. The lives of three very different women are intertwined in the telling of this tale. Someone has died at the school their children attend but it isn't until the thrilling ending that you discover who it is and why. In the meantime, you get three stories about the lies that people tell to get through their everyday lives unscathed. The problem ends up being, as it always does, that some lies are bigger than others!
4. Fiona Barton's The Widow
"I remember looking at him lying there in a small pool of blood and thinking 'oh well, that's the end of his nonsense"
How many lies would you tell to protect your husband, and yourself? Knowing that he has done something unforgivable? And if he died before it was all over, would you keep lying? After a certain point, Jean Taylor is having trouble distinguishing fact from fiction, particularly as she is pursued long and hard for information by crime reporter Kater Waters and Detective Bob Sparkes. While Jean's character isn't what you call 'warm and fuzzy', she's compelling nonetheless and you'll definitely want to know how things turn out!
5. Rene Denfeld's The Child Finder
"This is something I know: no matter how far you have run, no matter how long you have been lost, it is never too late to be found."
When a little girl named Madison disappears while out in the woods, looking for a Christmas tree, her parents finally call on Naomi, a self-proclaimed 'child finder'. She is a private investigator with a particular gift for finding missing kids. It's her own childhood that provides her with this gift and it's through her search for Madison that Naomi finally sorts through some of her own memories, unlocking some she long thought were gone.
6. Celeste Ng's Everything I Never Told You
"Before that she hadn't realized how fragile happiness was, how if you were careless, you could knock it over and shatter it."
When Lydia Lee's body is found in the local lake, the unravelling of her remaining family is inevitable. At first, it's all about the life Lydia seemed to be living, but was not. This reflection into her unhappiness forces the parents, Marilyn and James, to look into their own lives and revisit their own lost dreams. It's a sad but beautiful portrayal of the lives led in the wake of tragedy.
7. Katherena Vermette's The Break
"The dead don't hang on, the living do. The dead don't have anything to hang on to. Our bodies become nothing, and we just float around the people who love us. We go back to nothing. That is all we ever were or should ever be."
This book has many narrative streams, but it begins and ends with a young Métis woman seeing something untoward happening on the Break, a desolate piece of land near her house. She calls the police and in the ensuing investigation, the lives of several people who knew the victim are intersected by those individuals telling their stories: A social worker, an artist, a single mother, a homeless teen. Within the context of this one story, the trials of the lives of many are layered, giving readers not only a gripping tail but a view of the difficult lives lived by these residents of Winnipeg's North End.
They are all the kinds of books you can buy or borrow, sit in a comfy chair with and get lost in, while your cup of tea or coffee gets cold on the table beside you. Which one will you read first?
You might also like 30 Books You Should Read in 2022, 30 Books You Should Read in 2019, Books to Read if You Loved Gone Girl, Gifts for Books Lovers and 30 Books You Should Read in 2018.
Check out this Harry Potter Gift Guide.