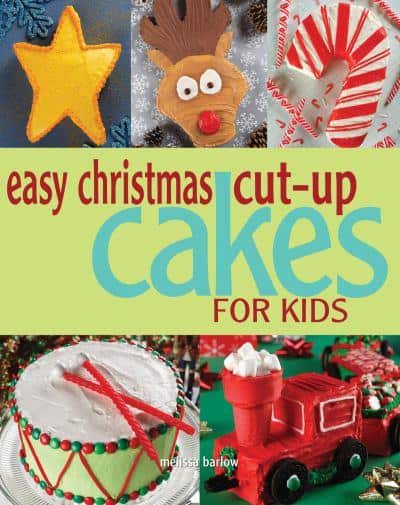 This post contains affiliate links. I received a copy of this book for review.
Title: Easy Christmas Cut-Up Cakes for Kids
My Review:
I am not the craftiest or most creative person in the world. In fact, I'm neither of those things. But, this Christmas, I will be putting together some of the cutest cakes I've ever seen.
Easy Christmas Cut-Up Cakes for Kids (ahem) is a darling of a book. I am not immune to the creativity bug when it comes to cakes, especially in light of the wildly popular Cake Boss. With Easy Christmas Cut-Up Cakes for Kids, I'll be able to take the initial step toward making spectacular creations.
But, first things first.
The beauty of this cute little cookbook is that it's simple. The most difficult thing I have to do is cut the cake into shapes, and even that isn't rocket science, given the instructions. The biggest challenge I'm faced with is that I need to buy a handful of mini loaf pans so I can make the Toy Train cake. It's adorable…a frosted ice cream cone goes on the front of the engine, with mini marshmallows in the cone to look like smoke. And Oreos are used for wheels. How cute is that?
Wait til you see the Fuzzy Mitten…it's so easy but so charming. You just cut a 9 x 13 cake into the shape of the mitten and use white frosting across the bottom to look like the cuff of the mitten and then sprinkle the whole mitten with coconut…super easy but super adorable!
How about a Red-Nosed Reindeer cake? You just need two round cake pans and a little patience to cut the antlers. And, I don't mean the patience of a saint, either. This is do-able, even for me!
My daughters will be so excited to make these cakes for the holidays — the only problem will be stopping them from making ALL of them! With Easy Christmas Cut-Up Cakes for Kids, you will be able to make charming cakes that will serve as centerpieces at holiday gatherings…and you won't need a kitchen full of special pans, either. These cakes can be made by anyone (even me!) and they won't have you so stressed out that you're hitting the nog to take the edge off.
*I received a copy of this book to review but I was not financially compensated in any way. The opinions expressed are my own and are based on my observations while reading this novel.*