This post contains affiliate links. I received a copy of this cookbook for review.
Title: 201 Healthy Smoothies and Juices for Kids: Fresh, Wholesome, No-Sugar-Added Drinks Your Child Will Love
Author: Amy Roskelley
My Review:
My oldest son isn't exactly a picky eater. He likes fruits and veggies and eats a pretty balanced diet. However, he does go through phases of only wanting to eat hot dogs and mac and cheese (not exactly the healthiest of choices!). When he does go through those phases I try to incorporate healthy snacks and drinks into the mix just to make sure he's getting some essential vitamins. I'm glad to have found a new weapon in my healthy eating arsenal – 201 Healthy Smoothies & Juices for Kids, by Amy Roskelley.
201 Healthy Smoothies & Juices for Kids is just that – 201 fresh, wholesome ways to help your child enjoy getting their recommended daily serving of 1 ½ cups fruits and 1 ½ cups vegetables. No need for juice boxes (which are loaded with sugar and preservatives), this book is filled with yummy drinks that are great for a snack or even as a meal if you have a particularly picky eater. Each recipe is short and simple and every page offers a great dietary, shopping, or general health tip – everything from how to choose a mango to the proper way to wash vegetables. What I like is the index at the back of the book – it offers an easy way to find specific recipes for ingredients you have on hand.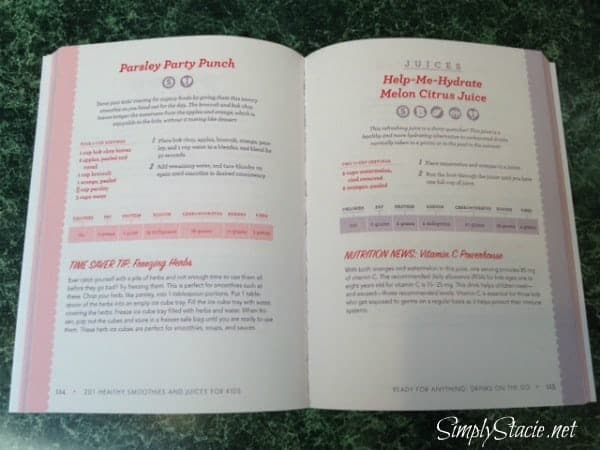 There are a lot of health books on the market – for adults and for kids. It's hard to know which one is best, but I think 201 Healthy Smoothies & Juices for Kids is a great book to have in your home. The author is the founder of SuperHealthyKids.com and has only the best nutritional interests of your child in mind with this book.