I was pleased to learn recently that BlueWater Seafood's Grilled Fish is gluten-free. I used to follow a gluten-free diet when we trying to figure out if my chronic pain was related to gluten sensitivity. I remember how limited my diet was and how expensive gluten-free food was! Much of what I tried back then did not taste the greatest either. There's 3 million people in Canada who suffer from either Celiac disease or have gluten sensitivity so it's always good news to hear they have more options at the grocery store.
Many people in the BlueWater Seafood family follow a gluten-free diet so they know first hand what it's like trying to find high quality, great testing gluten-free foods. Plus they recognize that some people choose to follow a gluten-free diet not because of a specific disease or sensitivity, but because they like how it makes them feel. I probably would have been more likely to continue with my diet had their been more options available to me at my local grocery store (which was pretty small).
BlueWater's Grilled Fish taste is the same as it was, but because of new procedures at its production location to avoid cross-contamination and other measure, it is now gluten-free. The gluten-free selection includes Grill Haddock, Grill Salmon, Grill Tilapia, and Grill Fillets made from flaky, white Alaska Pollock, in a wide range of flavours.
I wanted to try a recipe I found in BlueWater's Gluten-free recipes section: Gluten-Free Grilled Tilapia Tacos. The recipe is very easy and looked like something I could quickly whip up for the family.
I was given a coupon to try out Bluewater's Grill Fish so I headed out to our local grocery store with coupon and list in hand. Unfortunately our store did not have any Grill Fish in stock (guess it's a popular item!) so I picked up the next best thing that would go with my recipe: Simply Bake Tilapia. It is not gluten-free so for the recipe I'm about to give you, you would need to substitute the Grilled Tilapia instead of the Baked Tilapia. Hopefully they have some in stock the next time I visit!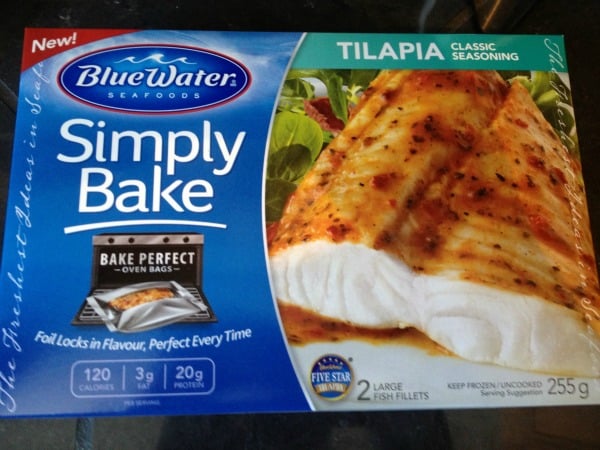 The Simply Bake Tilapia looked delicious though and I thought it would still suit the recipe. It's baked in the oven for about 30 minutes right inside the Bake Perfect Oven Bag. It smelled wonderful! It cooks in its own sauce with flavours of red pepper and garlic. I love the easy clean up too! It cooks in the bag so you don't even dirty the pan.
The tacos turned out great! They didn't even need any extra sauce because the fish already had some on it. Now that I've discovered the recipe section on BlueWater Seafood's website, I'll be planning to include fish in my diet more often. I just never really knew what to do with it before! And it's also got many health benefits as shown below.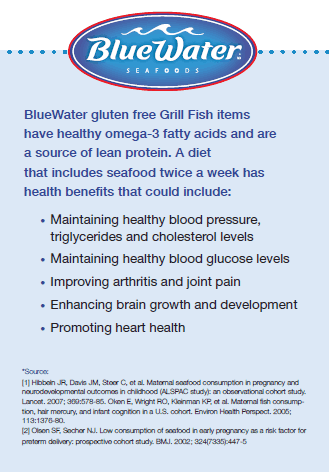 Use the Grill Tilapia for gluten-free and add in whatever veggies/ingredients to suit your taste.
Disclosure: I was not financially compensated for this post. I received a sample of the product for review purposes. The opinions are my own, based on my personal experience with the product.
Baked Tilapia Tacos
A fresh twist for Taco Tuesday.
Ingredients
1 package BlueWater Simply Bake Tilapia (2 fillets) or Grill Tilapia (2 fillets) for gluten-free
5 taco shells (gluten-free if needed)
1 cup lettuce shredded
2 tomatoes chopped
1/2 cup marble cheese, shredded
Instructions
Prepare Simply Bake Tilapia Fillets according to package directions. Cool slightly. Cut each fillet lengthwise into 5 strips.
Fill taco shells with lettuce and lettuce. Place 2 fillet strips in each taco. Top with shredded cheese.
Recommended Products
As an Amazon Associate and member of other affiliate programs, I earn from qualifying purchases.
Nutrition Information:
Yield:

5
Serving Size:

1
Amount Per Serving:
Calories:

119
Total Fat:

7g
Saturated Fat:

3g
Trans Fat:

0g
Unsaturated Fat:

3g
Cholesterol:

11mg
Sodium:

120mg
Carbohydrates:

11g
Fiber:

2g
Sugar:

2g
Protein:

4g