Blueberries are teeny tiny powerhouses. They are packed with vitamins A and C, antioxidants and phytochemicals. Normally, we eat blueberries to enjoy their benefits, but there is another way you can consume blueberries: your skin!
I've made fruit sugar scrubs in the past because they are super simple and affordable to whip up. If you want to save money on beauty products, try making your own. You can save a bundle! You don't need any fancy equipment or ingredients. You can find the ingredients in this Blueberry Exfoliating Sugar Scrub at your local grocery store! If I can find them in my small, rural area, I'm sure you can too.
For this particular recipe, you'll need three ingredients: fresh blueberries, olive oil and sugar. I used raw sugar because it has large granules that will hold it's shape when mixed with the other ingredients. If you don't have any, feel free to substitute white or brown sugar in its place.
I mashed my blueberries with a fork. If you wanted to use a food processor to puree them up completely, go ahead. I don't mind the little bits of pulp.
If you find the mixture too runny, add a little more sugar into the bowl to adjust to your desired consistency.
Mason jars are the perfect way to store your new scrub. Keep it in the fridge, when you aren't using it, of course, for up to a week.
Ingredients
This post contains affiliate links.
To use, scrub into wet skin in the shower and rinse off completely.
I like using this scrub on my feet, legs and hands since they seem to be the driest and roughest skin. My legs are prone to ingrown hairs and I find exfoliating them regular helps to keep them at bay.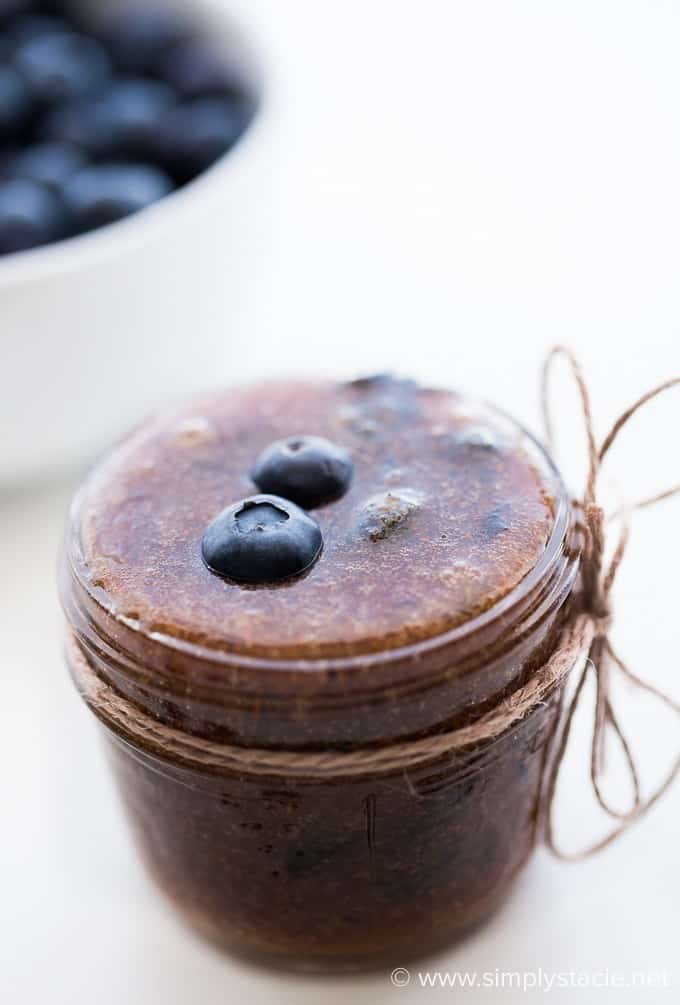 My skin feels soft, smooth and moisturized afterwards. I especially need to use this scrub in the winter because the moisture is sucked right out of my skin. My poor hands!
This easy DIY beauty scrub would also make an excellent gift. Check out my other DIY scrubs including Sea Salt & Olive Oil Scrub, Pumpkin Spice Sugar Scrub and Homemade Coffee Sugar Scrub.
How do you keep your skin soft and smooth in the winter?
Blueberry Exfoliating Sugar Scrub
Super simple DIY sugar scrub you can make with easy to find ingredients! Skin feels so soft and smooth after just one use.
Materials
1/2 cup raw sugar
2 tbsp olive oil
2 tbsp blueberries
Instructions
Mash up blueberries in a small bowl with a fork. Mix in sugar and olive oil, stirring to combine.
Spoon scrub into a small mason jar. Store in the fridge for up to a week.
Recommended Products
As an Amazon Associate and member of other affiliate programs, I earn from qualifying purchases.