A friend of mine asked if I was all exfoliated now. I've been sharing the scrubs I've been making lately on my Facebook profile with my friends and family. My answer was yes – my skin is very happy right now. Plus, I've been having fun creating these DIY sugar scrubs and sharing them with everyone. Today I have another one – a Blackberry Mint Foot Scrub. Sore, tired feet begone!
The inspiration for this scrub started with the blackberries in my fridge. My daughter calls them grape berries because they look like a bushel of grapes. Not only are they yummy and nutritious, they are also good for your skin. Blackberries contain Vitamin A, C and K and are powerful antioxidant.
This post contains affiliate links.
You'll need four ingredients to make this foot scrub: fresh blackberries, coconut oil, raw sugar and peppermint essential oil.
Mash up four blackberries with a fork. I wouldn't bother using a food processor here. A fork gets the job done with little effort.
I'm loving raw sugar in scrubs! It holds itself up well to the wet ingredients and doesn't completely dissolve. It gives a nice bit of grit you need in an exfoliating scrub.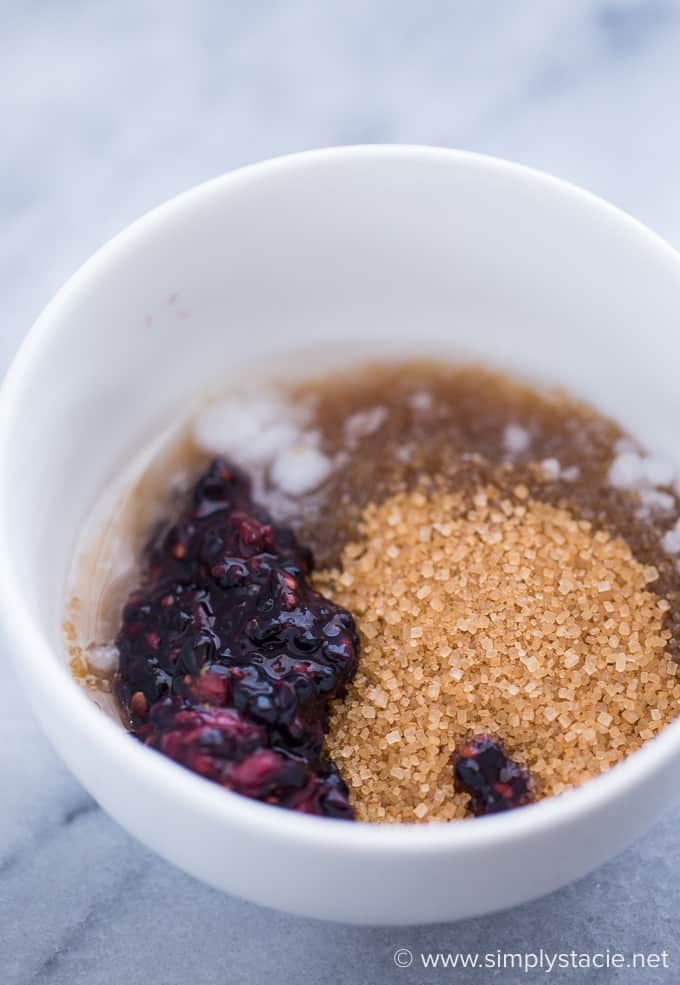 I had a jar of coconut oil in my pantry that I totally forgot about. I heated a couple tablespoonfuls in the microwave to liquify it. You can pick up a jar at most grocery stores or health food stores. My aunt eats this stuff on toast…. The coconut oil, not the scrub!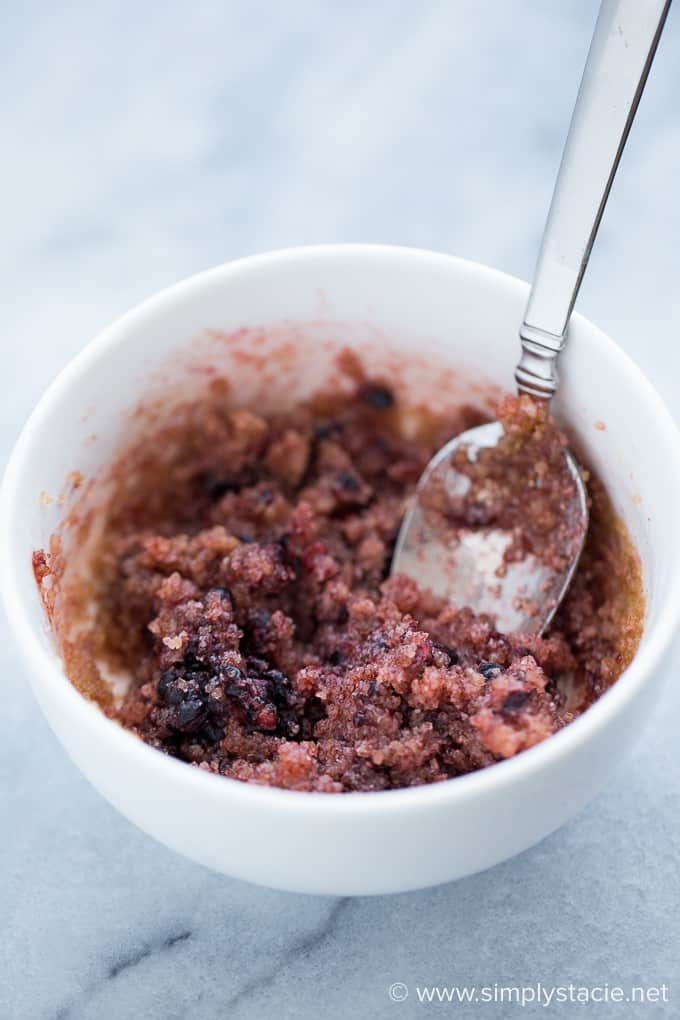 Peppermint is invigorating and is wonderful to use on aching feet. I used this scrub after a long day of shopping and walking around a huge mall in Ottawa. My feet felt so much better! Plus, they were a lot softer too. They needed some TLC.
Ingredients
To use, massage into wet feet and rinse thoroughly. Pat feet to dry.
Store in a small mason jar in your fridge for up to a week. I use a few tablespoonfuls for each foot. It doesn't last long so I wanted to make sure to use it up!
Do your feet need a little TLC?
Blackberry Mint Foot Scrub
Pamper your feet with this easy homemade sugar scrub. It's invigorating, refreshing and soothing on sore, tired feet.
Materials
1/4 cup raw sugar
1 to 2 tbsp coconut oil, melted
4 blackberries, mushed with a fork
10 drops peppermint essential oil
Tools
Bowl
Mason jar
Fork
Spoon
Instructions
Add all ingredients into a small bowl and stir to combine. Add in extra coconut oil and/or sugar to achieve desired consistency. Scoop into a small mason jar.
Store in the fridge for up to one week.
Notes
To use, massage into wet feet and rinse thoroughly. Pat feet to dry.
Recommended Products
As an Amazon Associate and member of other affiliate programs, I earn from qualifying purchases.