Last year I had a high school graduate and this year, my youngest daughter graduates from grade 8! I'm in the middle of finding the perfect graduation gift for her.
If you are looking for a graduation gift, you've come to the right place. I've sourced out the best graduation gifts to show your graduate how much you care. It's a big accomplishment! Whether he or she is graduating high school or college, you'll need to find a gift that is either meaningful or practical – and I have both types!
This Graduation Gift Guide has 12 gift ideas that I think you will love! At least, I hope you'll love them anyways. I know I do!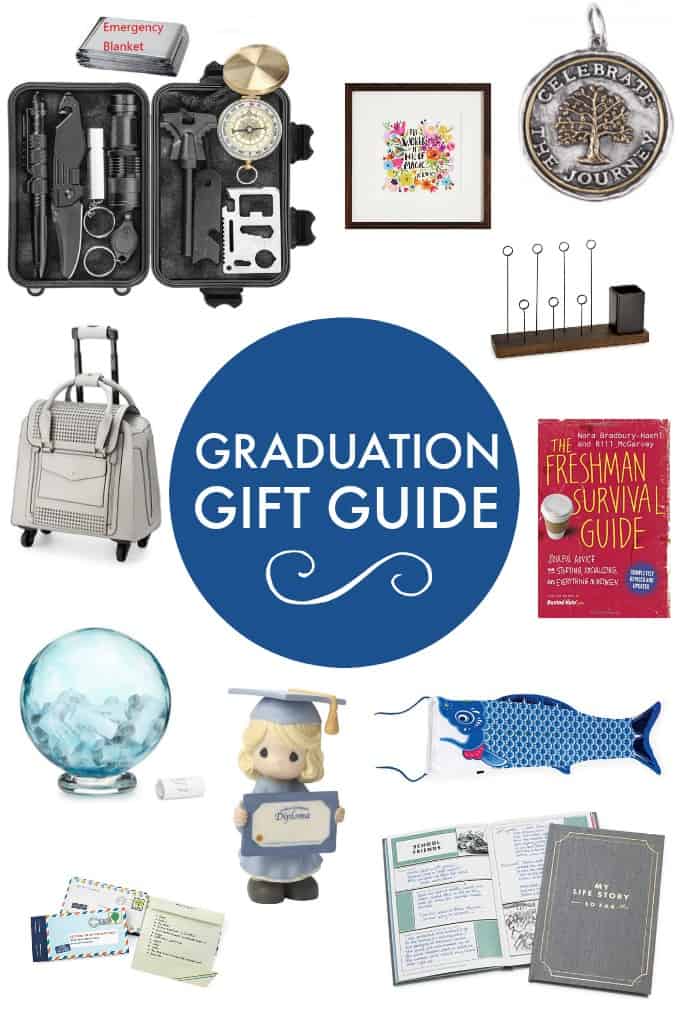 Best Graduation Gifts
This post contains affiliate links.
1. Celebrate the Journey Medallion. This beautiful keepsake represents life's journey and how far a person has come. It's perfect for a new graduate to reflect all the work he or she has done.
2. The Freshman Survival Guide. A must-read for any new college student to hep them navigate their new world with practical advice.
3. Emergency Survival Gear Kit. Keep them safe and prepared! This kit can be used in many situations because you just never know…
4. Letter to My Future Self. This time capsule lets you write yourself letters to open, enjoy and reflect upon later in life.
5. My Life Story – So Far Journal. A journal that will take you through all life's precious moments. It's a keepsake to start when you are young so future generations can heed your wisdom and experiences.
6. Wishing Ball. Add weekly wishes or thoughts of gratitude to this unique decorative piece.
7. Decision Paperweight. Decisions, decisions! This fun paperweight will give you a second opinion on all important decisions ahead.
8. Traveler Rolling Tote. Be stylish and organized! This travel tote is great for weekend trips back home or wherever life takes you.
9. Laundry Bag. Perfect for bringing dirty laundry back home to do or use whenever you are traveling to keep dirty clothes away from the clean ones.
10. Gala Photo Display. Cherish your favourite photo memories with this unique decorative piece.
11. The World is Full of Magic. This fun botanical print has an inspiring quote from W.B. Yeats and would look lovely in a dorm room.
12. Precious Moments Graduation Figurine. A sweet porcelain figurine to share how proud you are! It's a keepsake that can be treasured for years to come.
For more gift guides, check out my gifts for book lovers and gifts for coffee lovers.
Who is graduating this year that you know?