The topic of pets as holiday gifts is one that is quite heated, to say the least. People have different ideas on the subject. Some are adamant and say, "No way!" while other people may reply, "Sure, why not?". Personally, I think pets should not be given as Christmas gifts without very careful consideration. I've witnessed first hand what happened when a pet was given as a surprise gift with my parents about 11 years ago. They love the dog and she is part of the family, but her beginning was rough.
My dad was visiting us in Edmonton while he was in the city for a conference. We took him around and showed him the sights and one of those places was the West Edmonton Mall (no surprise there!). We went into the pet store and my dad spotted the cutest little Boston Terrier puppy. She had one blue eye and one brown eye and was the sweetest thing. It was love at first sight. My mom's favourite dogs are Boston Terriers and my dad thought he would surprise her and bring her home with him.
I think it would be an understatement to say how shocked my mom was when my dad came back home. A new puppy wasn't the kind of souvenir she was expecting! Of course, she loved the dog, but also knew that puppies were a TON of work, almost like having an infant in the home. She named her Maude after her beloved grandmother.
Unfortunately within a few days of Maude's return home to Ontario, she got very sick. My parents rushed her to the veterinarian and she was diagnosed with a parasite, Coccidia. The vet told them it was a good thing they brought her in because she would have died. Maude was in the hospital for about a week and was nursed back to health. My mom and dad had already developed a bond with her and were relieved she was going to be ok.
Vet bills are very pricey and after Maude's emergency care and all her medications, the bill was over $1,000. I know my dad meant well buying her as a gift and certainly did not expect the dog to get sick. Maude is still alive today, but does have some cancerous lumps. She's a sweet old girl that has lived a good life despite the rough start.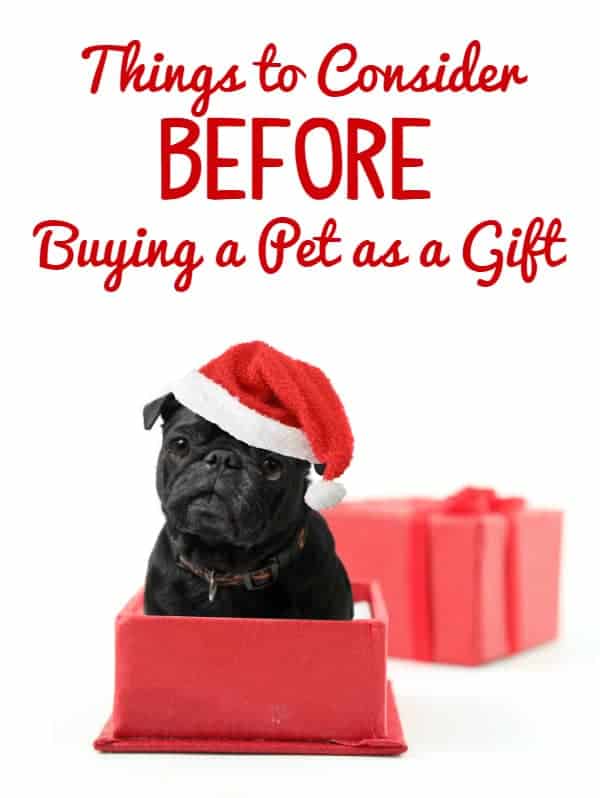 © Depositphotos.com/[gvictoria]
If you are thinking about buying a loved one a pet for Christmas, please think about the decision carefully. Here are a few important items to note BEFORE you buy a pet as a gift.
1. Time commitment. Pets (especially dogs) are a huge responsibility to take on and require a lot of time for their training and care. Even if you think the recipient has oodles of time, you don't know that for sure. Do they even want a pet? Talk to the person FIRST about your idea and get their thoughts on the subject. They will be the ones taking care of the pet, not you. It isn't fair to the person or the animal. There is always an increase in pet adoptions and returns to the SPCA this time of year and a lot of the hassle can be saved with a simple conversation.
2. Financial commitment. Pets aren't cheap. You have to consider the costs of owning which go far beyond just buying the food. There is also regular checkups, vaccinations, the cost of spaying or neutering and more. These bills can easily creep into the thousands of dollars before you know it. I have two cats and I've spent thousands already just in their care. The spay alone cost over $500 for both cats a few years back. According the SPCA in British Columbia, dogs cost almost $1,200 per year and cats are $900 per year. That amount is much higher for puppies and kittens.
3. Unexpected issues can happen and cost dearly. What happens if the pet gets ill like my parent's dog did? They paid thousands of dollars to save Maude's life, but I know not everyone has that kind of money at their disposal. Having pet insurance is something the recipient should also consider. It's a misconception that pet insurance is very expensive. 47% of Canadian pet owners say they don't have it because of this belief, as discovered on a Western Financial Group study. According to Petsecure, pet insurance is relatively inexpensive to buy and can save you thousands of dollars on regular checkups, treatments as well as life threatening issues. It can also prevent you from having to make a heartwrenching decision about a sick pet's future because of money issues. If you do decide to give a pet as a gift, consider also gifting an insurance policy for peace of mind.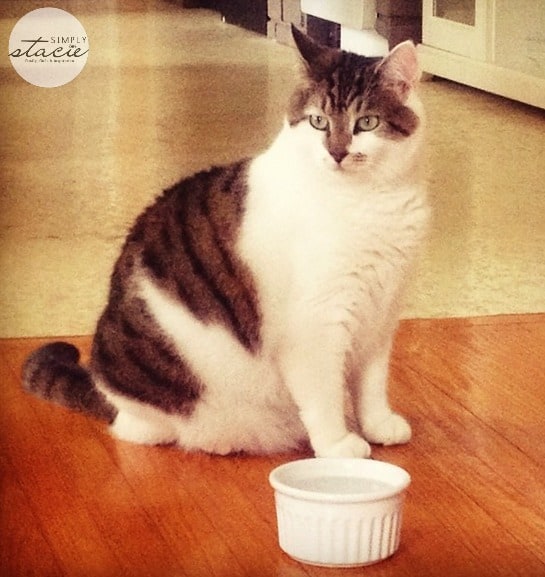 You can also purchase it for an existing pet too! It would make a thoughtful gift for animal lover.
What are your thoughts on giving a pet as a gift?