Disclosure: I was not financially compensated for this post. I received a sample of the product for review purposes. The opinions are my own, based on my personal experience with the product.
It is always an exciting time when children go back to school. My kids belong to a homeschool co-op and look forward to new classes with their friends. I plan to surprise them by putting a few delectable Merci chocolates in their lunch box with a little note so they know how much I love them even when we are apart.
Merci features European German-made chocolates in a luxurious dark and milk chocolate assortment including such flavors as Hazelnut-Crème, Coffee and Cream, Dark Cream, Milk Chocolate, Dark Mousse, Praline-Crème and Hazelnut-Almond. Each individually wrapped chocolate is so creamy with a rich cocoa taste. I love the dark chocolate and indulge my sweet tooth with my favorite, the Dark Cream. One piece is very satisfying so it is the perfect way to end the day relaxing with a cup of tea and a Merci chocolate.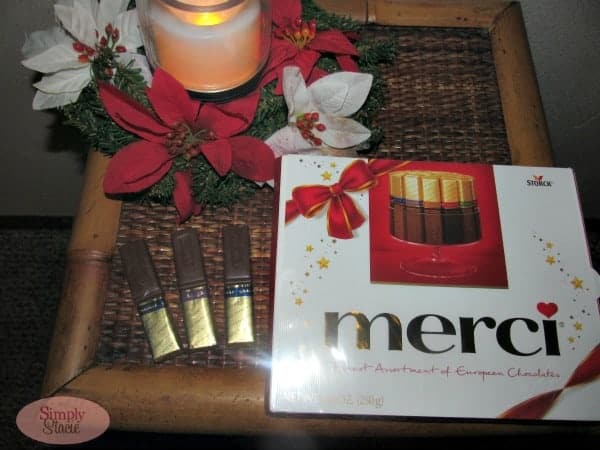 My husband always gets excited when I surprise him with Merci chocolate in his lunch box so I thought it would be a fun way to treat our children too when they return to their co-op classes. A box of Merci chocolates is also a great gift idea especially since it is so affordably priced and comparable in taste and quality to the much more expensive chocolate brands. Consider bringing a box or two of Merci chocolates to back to school orientations or to show your child's teacher your gratitude. I am confident that they will "thank you" for it because who doesn't love fabulous chocolate?!
You can purchase Merci chocolates at Walmart stores for the SRP of only $5.48 for an 8.8 ounce box! It is also available online and can be shipped to you directly. Each box has all seven delicious flavors and a total of 20 decadent chocolates….plenty to share but be sure to save some for you to enjoy!