I was looking at the calendar on my fridge and realized that the start of school is less than a month away. Where did the summer go? Seriously! I know time flies the older you get, but it feels like I just blinked and we were somehow in August. School starts early this year in Ontario – September 1st. That leaves me with even less time to get both my daughters ready! Olivia is going into grade 12 and Bridget into grade 6. It's a bittersweet year for me because it's Olivia's last year of high school.
Thanks to Crayola Canada, we are well on our way for back to school supplies! My youngest daughter loves art and is a creative little soul. She was giddy with excitement when she saw this huge box of Crayola products arrive at our door. Crayola has been around for more than 100 years and is brand parents and teachers trust. My mom used to buy me Crayola crayons and pencil crayons when I was a little girl. When Olivia was in school in Edmonton, they wanted only Crayola crayons. I'm not surprised. They are the best.
Discover the Crayola Difference below!
I didn't realize that Crayola had such a fabulous variety of products. I was blown away by how many different types of products they offer from paints to markers to crayons and lots more. Let your child unleash their inner artist with some amazing Crayola products.
Paint
Try out Crayola Acrylic Paint, Tempera Paint, Washable Kid's Neon Paint, Washable Watercolour Paints, Paint Brushes and a Creativity Smock.
Coloured Pencils
I call them pencil crayons. Look for Watercolour Pencils, Coloured Pencils and Twistables Coloured Pencils.
Crayons
I might borrow Bridget's crayons for a couple adult colouring books I've been eyeing up. Try Crayons 24 ct or 64 ct, Twistables Mini Crayons and Oil Pastels.
Markers
Have fun with these cool markers! Try Metallic Markers, Glitter Markers, Power Lines Washable Scented Project Markers, Doodle Scents Markers and Visi-Max Dry-Erase Markers.
Then there is Crayola Ultra-Clean Washable Markers – look at all the choices! They have Ultra-Clean Washable Broad Line Markers in Classic Colours, Ultra-Clean Washable Stampers Markers, Ultra-Clean Washable Broad Line Markers in Bold Colours, Ultra-Clean Washable Broad Line Markers in Tropical Colours and Ultra-Clean Washable Fine Line Markers.
And more!
Last but not least, Crayola has other school essentials like scissors, construction paper, Project Glue and Glue Sticks.
Shopping Checklists
To help get you prepped for back to school, Crayola has some back to school checklists that you can download and print off at home. Download the shopping checklist for grade 1 to 3 or grade 4 to 8.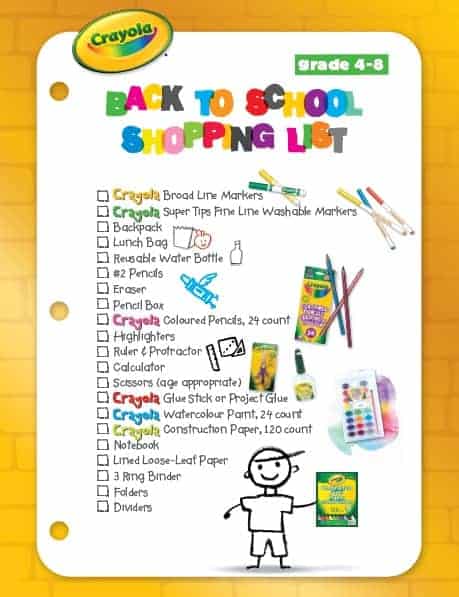 Back to School Tips
Crayola has some great tips for getting kids ready (and excited) for back to school. I need to put these into practice with my youngest daughter!
1. Practice getting up early about a week before school starts.
2. Create excitement around organizing your kids' homework area and purchasing new school supplies. Making back to school preparations special will help them transition from the carefree summer days.
3. Talk to your kids about what they can expect during a typical school day. It's exciting for the first day or two, but kids should also be prepared for the reality of waking up early, rushed mornings, the discipline of sitting at desks and being responsible for getting work done.
4. Prepare a list of favourite breakfast foods that are quick and easy to fix in the morning.
5. Talk to your child about what kinds of healthy foods they can pick out during lunchtime and how to spend their lunch money wisely.
6. Select and lay out clothes the night before school starts.
7. Establish an afternoon schedule that includes snack, homework and personal time that kids can spend in their favourite ways.
I need to mark on my calendar to do tip #1. Bridget loves to sleep in late in the mornings. We also need to work on going to bed earlier! My little night owl needs her rest.
When do you normally start to get ready for back to school?