I was very pleased with the results that I experienced recently while using Amway's Crème LuXury Eye. Therefore, I am really excited to share with you the ARTISTRY® TIME DEFIANCE Skin Care System and Intensive Skincare Renewing Peel. These revolutionary products are specially designed to "help skin act younger" and it is perfect for my sun damaged, aging skin.
My youthful skin has always been something that I am very proud of however I have noticed that since having children and as I approach age 40 next year that my skin is more problematic with dry, dull patches.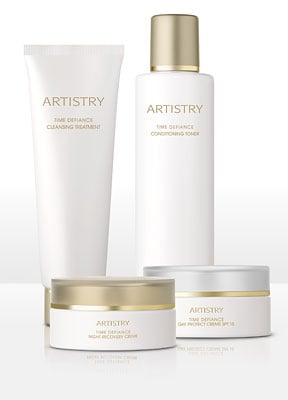 The ARTISTRY® TIME DEFIANCE Skin Care System includes four products that I use every day to keep my skin looking its best. The goal of using this anti-aging system is to reduce visible fine line and wrinkles by using a cutting edge scientific formula.
The TIME DEFIANCE® Cleansing Treatment (4.4 fl. Oz) is a gentle foaming cleanser that efficiently removes dirt, makeup and excess oil without overly drying my skin. It is designed to "improve skin's firmness and elasticity" so it is great for maturing skin. I use a small amount of this cleanser in the morning and the evening and a little bit goes a very long way to cleaning my face and neck.
I don't normally use a toner so I was initially skeptical that I would use the TIME DEFIANCE Conditioning Toner (8.45 fl. Oz) on a consistent basis. After using this product for the first time, I realized that I LOVE how it makes my skin feel so smooth and clean. I use this prior to applying moisturizing cream and I am a new fan of this conditioning toner by ARTISTRY®.
The TIME DEFIANCE Day Protect Crème with SPF 15 (1.76 fl. Oz) uses Defense 4 technology (you canlearn more about how this works by visit ARTISTRY®) with the ultimate goal to "help protect the skin's collagen and elastin." What I can verify is that my skin is softer, smoother and has a lovely glow when I use it. I also appreciate that it has an SPF 15 in this moisturizer because it is so important to protect skin from the damaging effects of the sun.
My favorite product in this skin care line is the TIME DEFIANCE Night Recovery Crème (1.76 fl. Oz). This luxurious crème is thick and absorbs almost instantly into the skin. In fact, it is almost like my skin is "drinking" in the crème and there is no greasy residue. My skin looks calmer with no red flare-ups and it is no longer dry at all.
Additional benefits that you may experience by using the ARTISTRY® TIME DEFIANCE system:
Improves the visible signs of aging by 41% in 12 weeks with a four-product skincare system including a cleanser, toner, day moisturizer, and night crème.
Provides benefits beyond invasive procedures with leading-edge skincare formulas.
Gently cleanses and calms skin.
Pampers, hydrates, and prepares skin to receive maximum anti-aging benefits.
Offers the most powerful age defense available from ARTISTRY® skincare today – to help prevent and repair visible damage, while increasing skin hydration by 181%!
Noncomedogenic/nonacnegenic (won't clog pores or promote acne).
Dermatologist and allergy tested to minimize allergies and irritations.
In conjunction with this skin care system, I use the ARTISTRY® Intensive Skincare Renewing Peel ($99.50). My primary complaint is that my skin has become dull and lack luster. This product has helped me to uncover a more radiant looking skin that I used to have when I was younger. Instead of paying outrageous prices at the dermatologist, I use this peel at home and have gotten similar results to those that I have gotten previously at the professional's office. I was a bit worried that my sensitive skin may react negatively to this peel but instead I had NO irritation and my skin was so soft and smooth….it felt great! I love that it only takes 8 minutes to do its magic and the secret is a breakthrough mushroom enzyme. This is one of my favorite products from ARTISTRY®!
I am so glad that I have found a system that really works for my skin. ARTISTRY® has given me more confidence that I can age more gracefully and keep my youthful looking skin for just a bit longer.
You are invited to visit Amway's ARTISTRY® to purchase your favorite skin care products specifically designed for the needs of your skin. If you are suffering from aging skin then I highly recommend trying the TIME DEFIANCE® Skin Care System and Intensive Skincare Renewing Peel.
Disclosure: I was not financially compensated for this post. I received a sample of the product for review purposes. The opinions are my own, based on my personal experience with the product.