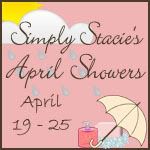 If any of you have wavy, curly, or frizzy hair, you know how difficult it can be to style or even manage. Most products that are available that say they are designed for curls, but they have harsh sulfates that fuzz you up or silicones that weigh you down. It is so frustrating.
MopTop Unruly Haircare has products designed just for our curly heads. Their whole line of products, from shampoo all the way to styling gels, has everything you need and nothing you don't want. Their stuff works on waves, curls, frizz, and any other dry, color treated, chemically treated, or damaged hair. Everything from MopTop is sulfate free, alcohol-free, and free of water-insoluble silicones and waxes. That means that all of their styling products rinse out with just water, so you don't have to over-wash your hair.
I have thin, wavy hair that gets weighed down easily. My mom has thick, coarse, hair that has big big curls and is only a year's worth of growth after chemo. Both of our heads needed taming, so of course I shared the Travel Kit that MopTop sent me with my mom. We liked the fresh herbal-clean scents of the products, and they made my waves bouncy. My mom and I were both skeptical with her hair, because it is so difficult to manage and nothing at all has really worked to her satisfaction in the past.
Mom called me the first time she used the MopTop line and absolutely raved about it. She said her curls were separate, bouncy, frizz-free, and most importantly soft! The next day, when she didn't wash it but continued to use the conditioner and styling products, I got to see the results. I was just as surprised! MopTop really added moisture and her hair looked healthy for the first time in a long time.
In addition to the MopTop Unruly Hair Care line, their is a line of kid's products, to, called FuzzyDuck (how cute is that?!). It has all the benefits of MopTop, but in an even gentler, kid-friendly formulation.
The MopTop website is top-notch, too. There, you will find directions as to how best care for your curly, frizzy, or damaged hair. There are great tips to be learned. I know you won't be disappointed by their products or their advice.

Disclosure: I was not financially compensated for this post. I received a sample of the product for review purposes. The opinions are my own, based on my personal experience with the product.