I'm always looking for ways to save money. I'm the only person working right now in our home so if I can save a buck or two, I want to do it. My friend mentioned on Facebook how she had started couponing. I've seen the American shows about extreme couponing, but didn't think it was possible to do in Canada. I don't ever plan on becoming an extreme couponer, but I'm learning ways to save money on my grocery bill and surprisingly, they work and don't take much time to do. I'm planning to share what I've learned about saving money over the next few months and hope that I can pass the knowledge on to others so they can see how easy it is to save money too.
I could do one huge post and call it how to save money on your grocery bill in Canada, but I think it will be easier to break it up into smaller chunks. It's also less for me to write at one time and less for you to read. I know you're busy!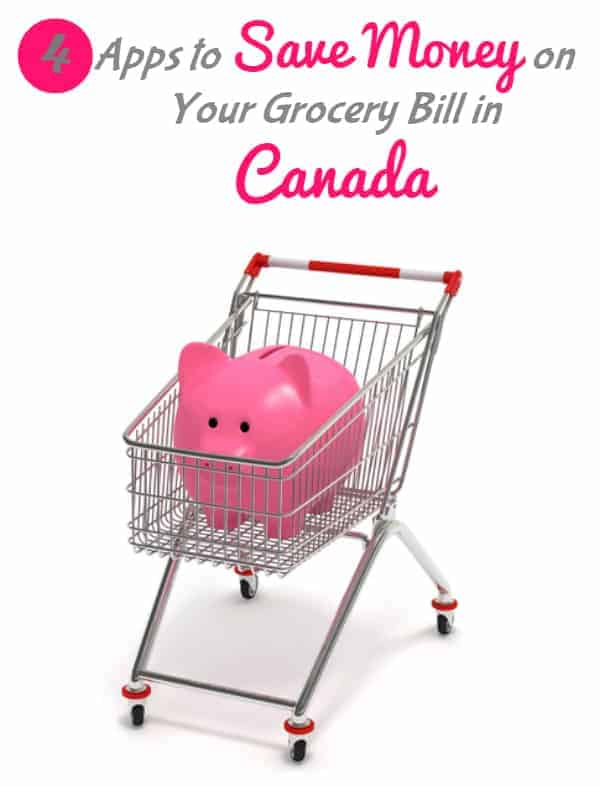 Did you know that there are apps that pay you to buy groceries????? My friend introduced me to a few of them and I've been using them for the last month. Right now I only know of four money saving grocery apps that will send you a cheque when you reach the payout amount (usually is $20). They are all set up pretty similarly. Every week they have offers on a variety of products from fruits and veggies, grocery items, cleaning and beauty products and more. When you purchase one of the products, you get a set amount back. It goes into your account on the app until you reach enough money to cash out. Then they will mail you a cheque.
Let me give you an example. The other week I needed to pick up some Advil. I saw that it was listed on Checkout 51 (one of the apps) and offered $3.00 cash back. When I got home from the store, I took photos of my receipt and uploaded it to the app. After the receipt is verified, the money was in my account! With that particular purchase, I bought the Advil on sale, used a $3.00 manufacturer's coupon and then received $3.00 cash back via the app. I think I only paid about $2.00 for them! It's just so easy!
1. Checkout 51: Every Thursday morning, Checkout 51 updates with a new list of offers. All you have to do is pick the ones you like, purchase them at any store, and upload a photo of your receipt through our mobile app or website. When your account reaches $20, we send you a check.
Checkout 51 is my favourite of the four apps. I find the offers are on many products that I already purchase on a regular basis. Right now I'm at $10.50 in my account and that is all from three shopping trips!
If you don't have a smartphone, you can also use Checkout 51 on your computer. It gives you the option to upload a receipt on the computer. I find using the smartphone the easiest because I take a picture with my camera and instantly upload it.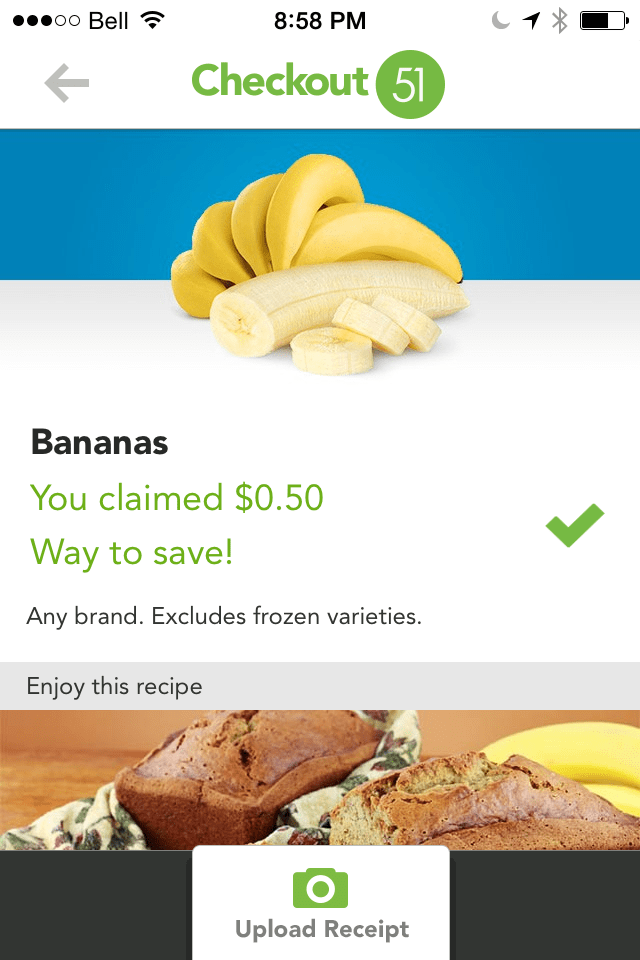 2. Snap by Groupon: Snap by Groupon is your mobile savings tool to get cash back as you shop for your favourite products. As you shop, you gain dollars by simply taking a picture of your receipt and submitting it to us – our software takes care of the rest to process your cash back instantly.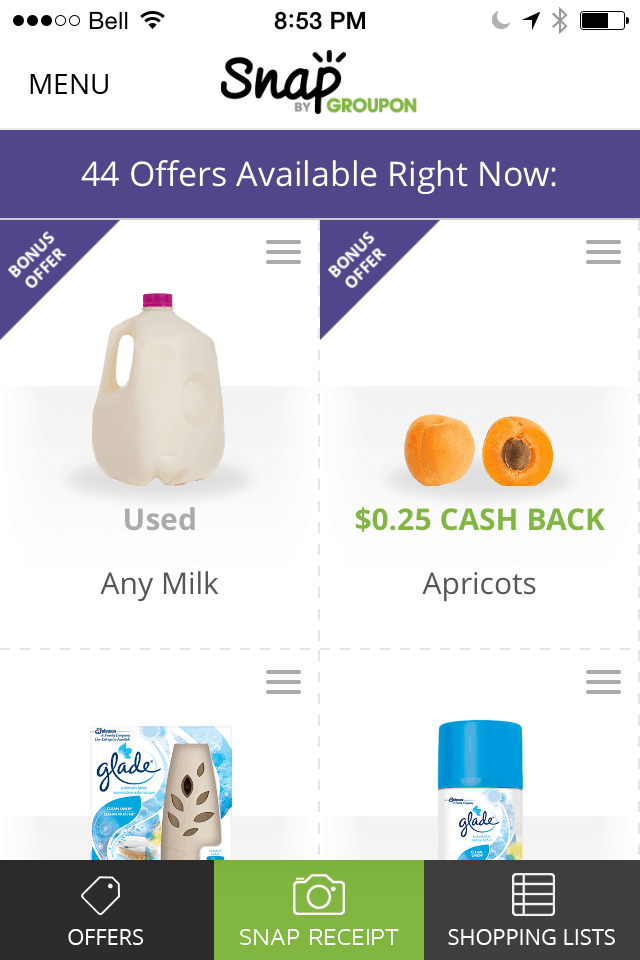 Snap by Groupon (formerly called Snapsaves) is another one I've been using regularly. I'm at $12 in my account right now and the cashout is $20. Fruits and veggies go really fast on this app though. Upload your receipt as soon as you get home or you may miss out on the offer! Other products seem to stay available though and I've never missed out on any yet. It has products that you buy often too like milk. Last week I got $1.00 back just for buying milk!
You don't need a smartphone to use Snap by Groupon. You can use your computer or get the app on iTunes or Google Play.
3. Zweet: Zweet is a revolutionary new way to save on your favorite brands without the hassle of finding, cutting and bringing coupons to the store.
Zweet has a smaller selection of products, but are still items I use regularly. The other day I received $0.50 for buying Comet and $0.25 for buying bananas.
You need a smartphone to use Zweet. You can either download the free app on iTunes or Google Play. I've made $2.25 so far with Zweet.
4. CartSmart: CartSmart is an application that helps smart people (like you!) organize their shopping trips and save money.
I just started using CartSmart and so far haven't redeemed any offers yet. They don't have as many as the other apps, but I check it weekly to see what is new and if there's anything that I need to buy.
I'm looking forward to the day when I see a cheque for my efforts. By the rate it's going, it won't be long!
Do you use any of these money-saving apps?
Update 9/19/14
Save.ca is now also offering cash back on your grocery purchases! I downloaded the Save.ca iTunes app this morning. Cashout is at $5!
Update 10/17/14
Changio: Earn points on grocery purchases, restaurant visits and more.