Winters in Utah are extremely rough on my skin. I always have flaky skin on face especially during the winter months, but my legs get the worst of it because of the combination of cold weather and keeping up with shaving my legs. I always have little red bumps on my skin because of my razors, and no products that I have tried in our local stores have been able to give me any relief. My feet are always miserably flaky and dry as well
I was very eager to try some lotions and scrubs from Angel Minaro, a company founded in 2009 that sells a luxurious line of beauty products containing only natural ingredients. All products are made by hand in small batches, so any product you order is fresh. Everything is paraben-free, and absolutely nothing is tested on animals. Angel Minaro is certainly an eco-friendly company, recycling as many materials as they can to contribute to preserving our environment.
When choosing a product to try for myself, I immediately went to the Mani/Pedi Care section of the site to see what was available for my poor, miserable feet. The Peony and Acai Lotion is what I selected, and I couldn't wait to try it. I was delighted when the owner of Angel Minaro, Angela Heitz, also included several other products for me to try.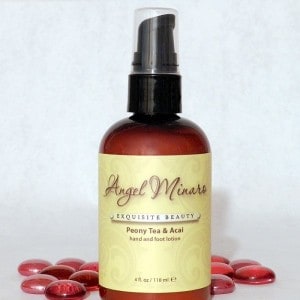 The first thing I noticed when my Angel Minaro package arrived was how gorgeous the presentation is. I loved the containers, the labels, and the luscious smells. Absolutely none of my every day scented products can even compare to how amazing these smell.
Peony and Acai Hand and Foot Lotion ($16.00 for 4 fl. oz.)
This was the first product that I tried from Angel Minaro, and it gave me almost instant relief. The combination of mango butter and peony and acai tea extracts work together to moisturize the skin and make it feel soft and supple all through the day. After just two nights of rubbing the lotion onto my feet and sleeping with some socks on, my feet were looking and feeling so much better. They constantly itch because of the dryness, but the lotion immediately soothed them.
Buriti and Coconut Milk Moisture Créme ($25.00 for 6 fl. oz.)
This moisturizing créme is perfect for use all over the body. I have been using this after shaving my legs because of the bumps I get from my razor. I see an improvement in my skin right after using the lotion; it makes my skin look healthy and alive instead of dull and lifeless. I hate showing off my legs, but after using this créme, I have gained a new confidence.
Acai and Honey Tropical Blend Smoother ($32.00 for 12 oz.)
I love body scrubs! This body scrub is effortless in removing dead skin. It is really effective, so it should only be used at least twice per week. My knees, elbows, and feet are especially grateful for this body scrub. After using it, I like to rub the Buriti and Coconut Milk Moisture Créme on my legs for extra smoothness and moisture.
Romance Ultra Nourishing and Firming Body Lotion ($19.00 for 8 fl. oz.)
I love the way this lotion smells. I have mostly used it on my legs, but you can use it all over your body. It contains ingredients such as shea butter, flower extracts, silk proteins and argan oil. Argan oil contains vitamin E, which is really good for your skin.
Giveaway
1 lucky Simply Stacie reader will win the Buriti and Coconut Milk Moisture Créme, Acai and Honey Tropical Blend Smoother, and the Romance Ultra Nourishing and Firming Body Lotion. This giveaway is open to the U.S. and Canada only.
Check out the list of all my current giveaways!
*I did not receive any financial compensation for this review, though I did review a sample of the product for evaluation purposes. The opinions are based only on my experiences with the product.*