Last week, two very huge things happened in my life: I turned 30 and I got to spend some time at one of my favorite places on earth, Disneyland. This was the first time in 13 years that I had been to Disneyland, and a lot has changed. For example, Main Street is now entirely different than what I remembered. As a tribute to Walt Disney, Main Street has a 1920's theme with music from the era coming through the speakers. And although Disney California Adventure has been directly across from Disneyland since 2001, it was entirely new to me as well. The last time I visited Disneyland, it was 2000, the year I graduated from high school. I'm not even sure I knew then that something new was in the works.
To kick off our Disneyland experience, we checked out the Matterhorn Bobsleds and took a journey through icy caves, underneath waterfalls, and through dark tunnels. The ride has actually been updated since my last visit to Disneyland. The Matterhorn Bobsleds ride is an important part of Disneyland history as well as world history; it was the first roller coaster in Disneyland, but also the first one in the world.
Part of our purpose in Disneyland for the #DisneyInHomeBloggers event was to experience the newest attraction, Cars Land. My daughter is a huge fan of the Disney/Pixar film Cars, and I almost felt guilty getting to experience it without her. But since it only opened June 15th of this year, there is still quite a bit of interest in it–and I'm sure that there will be for many years to come! Cars Land occupies 12-acres of land and made me feel as if I had stepped right into the movie. Being short, I had to stretch my neck or jump up and down to take in all of the sights in Cars Land. Of particular interest to me was Flo's V8 Cafe, which is a real eatery inside of Cars Land, inspired by 1950's style drive-up diners that were popular along Route 66.
During the time we spent in Cars Land, we were able to enjoy the Radiator Springs Racers. Up to 6 people can fit in each car, and I'm very excited to say that I got to take a tour of Radiator Springs in a Lightning McQueen car. Our journey through Radiator Springs starts out pleasantly enough, as we encounter various characters from the film Cars, including Doc and Mater, as well as a terrifying encounter with Frank the Tractor after he caught us participating in some cow tipping. As if this wasn't exciting enough, the ride really began to pick up speed with some really breezy ups and downs on a race track. Our car and another car met at the starting line, and the cars raced to the finish. No one knew who would win until the victor crossed the finish line. It's a seriously thrilling ride, and one I would have loved to go on more than once.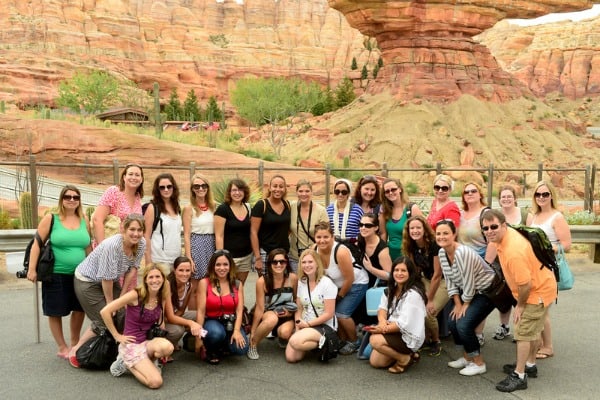 As a group, we also boarded the Finding Nemo Submarine Voyage. Up to 40 people can fit into each submarine. Under the depths of the ocean, undersea voyagers can explore the ruins of an ancient civilization and watch divers seek out exotic fish. Once the submarine goes even deeper, Nemo's story unfolds thanks to the use of "sonar hydrophones".
We also had around 3 or so hours that were entirely our own to enjoy the attractions in Disneyland, California Adventure, or both. I had been compiling a list for weeks of the rides and other stops that I wanted to make while we were there, but had no idea how I was going to be able to experience it all. We were in luck, because our Fairy Godmother gave us an incredible gift: the services of one of Disneyland's VIP Tour Guides. We were split into 3 different groups, each one with a different outline for our Disneyland experience. I took off with Drew's group, which was hitting up as many of the "adventurous" rides as we could fit in. I had no idea that there was even such a thing as a VIP Tour Guide, but now having experienced this, I think it is one of the very best ways to enjoy Disneyland.
Drew was able to answer all of our questions about the park, even dating back to when it first opened. We also got to know what it would be like on an average day for a VIP Tour Guide through his personal stories. With Drew at the helm of our group, we were able to get very quickly onto every ride that we wanted to try.
Here's a very brief run through of what we were up to:
Indiana Jones Adventure I LOVE this ride! As a kid, I watched all three of the Indiana Jones movies over and over, and it even became the theme of one very cool sleepover. This ride really made me feel as if I were in my very own Indy movie…and in grave danger!
Star Tours-The Adventure Continues A continuation of the George Lucas Films, Star Tours is a journey through space and throws you right in the middle of the battle for the Empire. Hold on to your stomachs for this one; you might be a little dizzy when you exit.
Space Mountain Completely in the dark, spiral up, down, in, and around the stars. Another great ride that left me breathless.
The Little Mermaid~Ariel's Undersea Adventure The lovable seagull, Scuttle, tells the story of how Ariel and Eric fell in love in this scenic trip under the sea. It was nice checking out this ride not only because I love mermaids, but because my stomach needed a rest from all of the crazy rides!
The Twilight Zone Tower of Terror This was one of my most anticipated rides, and it was worth every second! There was lots of screaming and hand holding. Check out my face in the picture; I've seriously never laughed harder at myself.
California Screamin' I love a good, classic roller coaster. Lots of twists and turns on this one; my legs had turned to jelly by the time it was all over.
With only about half a day spent in Disneyland, we got a full day's worth of activities. After walking around with a VIP Tour Guide, I cannot think of a better way to do Disneyland. Each VIP Tour Guide can take around a group of up to 10 people, so if you don't know even know where to start with your Disneyland vacation, you may want to check out the guided tours. Someday I'd love to return to Disneyland with a large group of friends and go around with a VIP Tour Guide.
I even managed to sneak in some photo ops with some of my favorite Pixar characters!
*I received an all expenses paid trip to Los Angeles in order to participate in group interviews and the Disneyland experience. All thoughts and opinions expressed in this post are entirely my own.*