Laundry can quickly become the biggest – and most dreaded – chore in the house. The problem is, the more you avoid it, the worse it gets! Luckily, there are some tricks and shortcuts you can use to make doing your family's laundry less overwhelming and easier.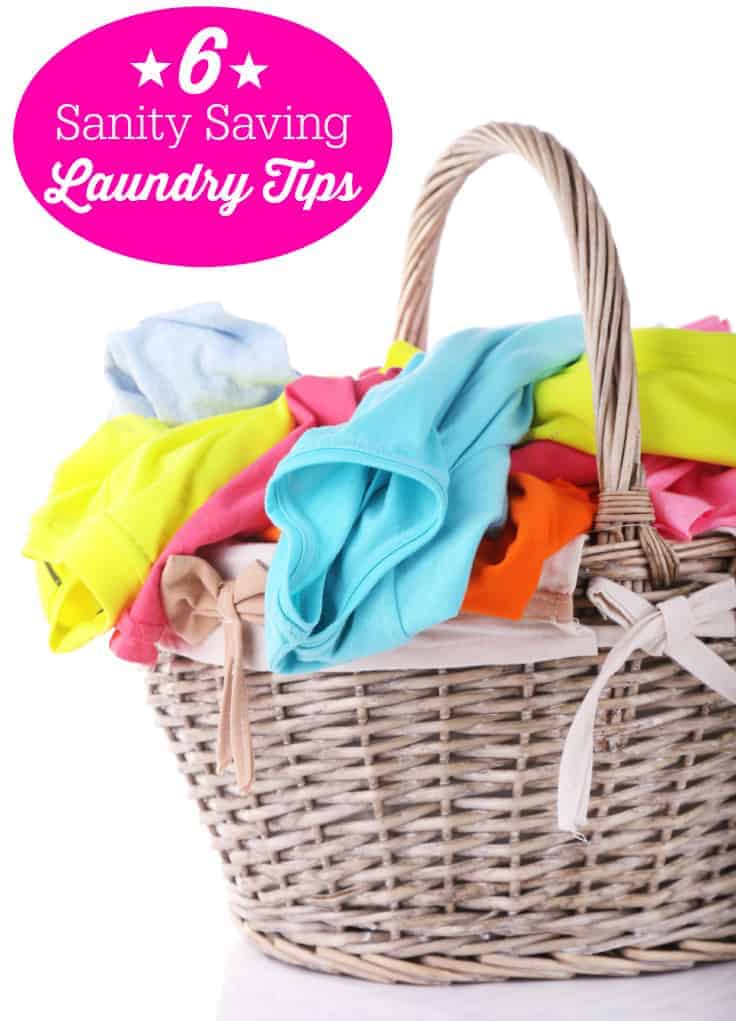 Laundry Tips
This post contains affiliate links.
Here are six sanity saving laundry tips for you to put into practice in your home!
1. Sort as much as you can beforehand. Sorting dirty laundry can take up so much time so it's important to separate your colours from whites as you toss them in the hamper. The trick? A laundry sorter cart! This cart allows you to sort your clothes as you take them off every day. Keep one handy for the kids too, and teach them to separate by labeling each bag.
Bonus tip: Keep a hamper in each bathroom for towels and washcloths to keep them separate from your other laundry.
2. Avoid the dreaded "Laundry Day". Letting your dirty clothes pile up is a surefire way to feel overwhelmed. While some may think it's better to wash, dry, and fold eight loads of clothing in a single day, it can be exhausting! Remedy this by washing one to two loads each day. Create a schedule so you don't put off the chore until the weekend when your hampers are overflowing!
3. Let kids fold and put up their own laundry. Folding laundry is so easy that children can begin doing it when they are three or four years old. Start them with the basics of matching socks and folding towels, washcloths, and undergarments. Teach them where their folded clothes go and let them put their clean laundry away. As they grow, give them more instructions on how to fold until they are putting away full loads by themselves.
4. Enjoy your laundry time. No one said the chore of washing, drying, and folding clothes had to be boring! If you are folding alone, bring your basket to the living room and catch up on your DVR queue or Netflix favourites while you work. If possible, get your spouse or children involved so you can chat as you do the laundry.
5. Reuse to Lessen the Laundry Load. The best way to make laundry more manageable? Have less laundry to do! Reuse bath towels two to three times before tossing them in the hamper. Pajamas can usually go an extra night as well. Assuming they don't get sweated in or stained, take advantage of little worn clothing by reusing them multiple times before tossing them in the wash.
6. Give up on folding everything. Not everything needs to be neat and folded before it is used. Baby bibs, burp cloths, undergarments – they can all just be tossed in a basket or drawer until needed. The time you cut down on your folding gives you more time to do other things!
How to do you make laundry easier and more manageable in your home?