If you're anything like me, and you love shoes, you eventually have to find a place to put them all. And because throwing them in a big pile in the back of your closet isn't exactly practical, I'm going to share some of my favourite ways to organize shoes.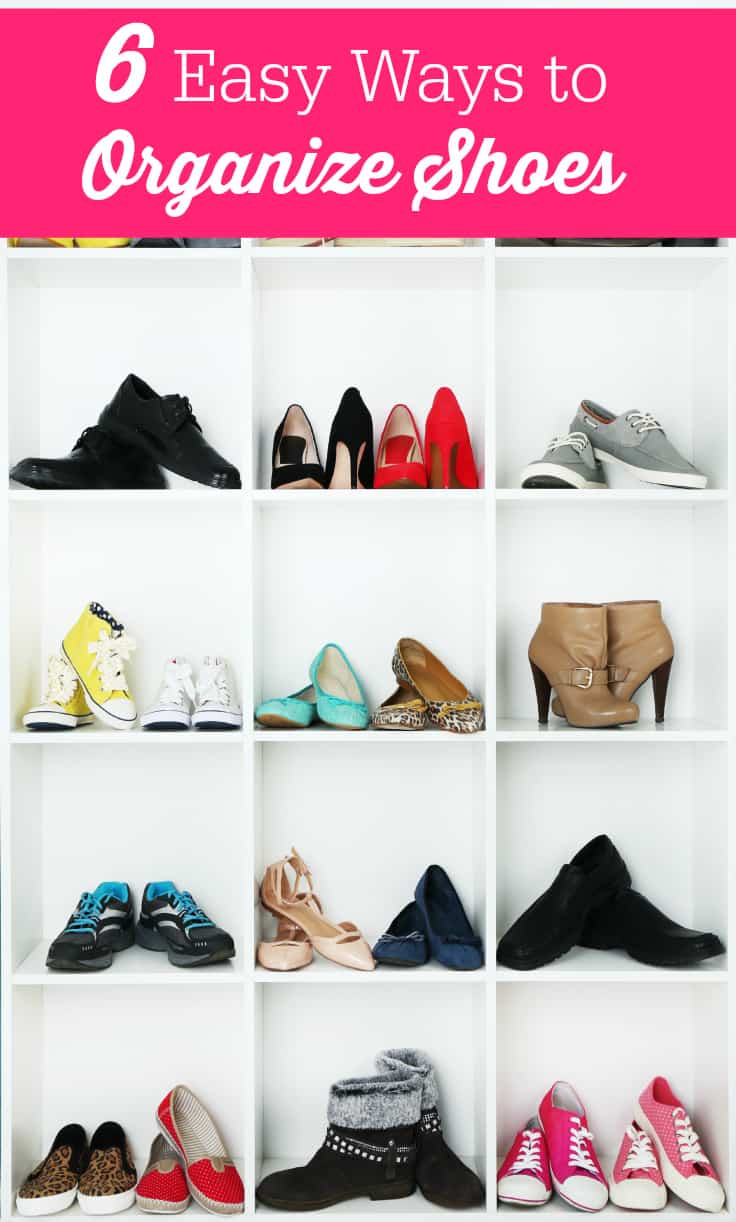 Ways to Organize Shoes
1. PVC Pipes – You can use PVC pipe for a lot of things, and organizing shoes is one of them! Simply cut – or have the hardware store cut – PVC pipe in long enough lengths to fit your shoes. Bring a pair to the store to measure, so you know which length and width they should be. When you get home, stack them together by using some glue or screws, depending on how sturdy you need them to be. If you want to get fancy, you can also spray paint them – before you bring them inside, of course! Check out this tutorial on how to build a low-cost shoe rack with PVC Pipes.
2. Paint Cans – For flip flops, paint cans are perfect! Sometimes for sandals, too, but they're a little small so it really depends on the size of your shoe. Again, you can spray paint these cans if you want them to be pretty instead of just functional. Using screws and washers, attach paint cans to the wall – you can do this discreetly in your closet, in the garage, or have them out for everyone to see. A paint can shoe organizer is definitely a conversation piece!
3. Over the door organizer – I love anything that hangs over the door, because it saves space. However, the cheap and clear over-the-door organizers for shoes can look a little tacky sometimes. Fix that by covering the entire door with a curtain! Add some decorative ribbon for a nice look – and for functionality! The ribbon can tie the curtain back when you're looking for shoes.
4. Boxes – So using boxes to organize your shoes doesn't sound like the best idea, right? Wrong! Take a photo of each pair of shoes you own, and place the matching shoes inside the box. You can use shoe boxes that you've decorated with paper, or use photo boxes. Stick the photo to the front of the box, and stack all of the boxes in your closet. Who needs closet organization on an iPad when you have shoe boxes like that?!
5. Bookshelves – If you have some cute high heels you'd like to display, use a bookshelf that is out in the open. If you want to use the bookshelf to display all of your shoes, and you don't want everyone to see them, simply use a curtain to cover the entire bookshelf. Again, using a decorative ribbon and hook can be both functional and a nice little decoration. You could even use a shower curtain!
6. Under the bed – There are many storage devices you can use to organize your shoes underneath your bed. I personally like making things myself, so I have a few ideas I want to try. After measuring your bed, create a shallow "box" to hold your shoes – and add wheels! Especially if you have hardwood floors, this is great. Take a thin piece of wood as your base, then add 1 x 1's to the sides (just enough to where there's a "lip"). Add wheels (they have kits for these at hardware stores), and you'll have a pull-out under bed storage system for your shoes. You can add a handle, and obviously you can paint it but nobody will ever see it so it's not something you have to make look pretty.
Do you have any easy organizational ideas for storing shoes?