Did you know that a cluttered pantry can cause you to spend more money than you need to? It sure can, but aside from that? It can also make your life incredibly hard. Menu planning becomes a disaster, lunch becomes a hunt for it yourself type of meal and dinners are typically a "whatever is unthawed" I'll make. Keeping your pantry organized allows you to know exactly what you have on hand and what you need to buy. When you are grocery shopping, you won't be buying things you don't need and when you plan your meals, you won't be rooting around for 20 minutes. These five pantry organization tips will help you in all the ways I mentioned, but they might also save your sanity in the long run.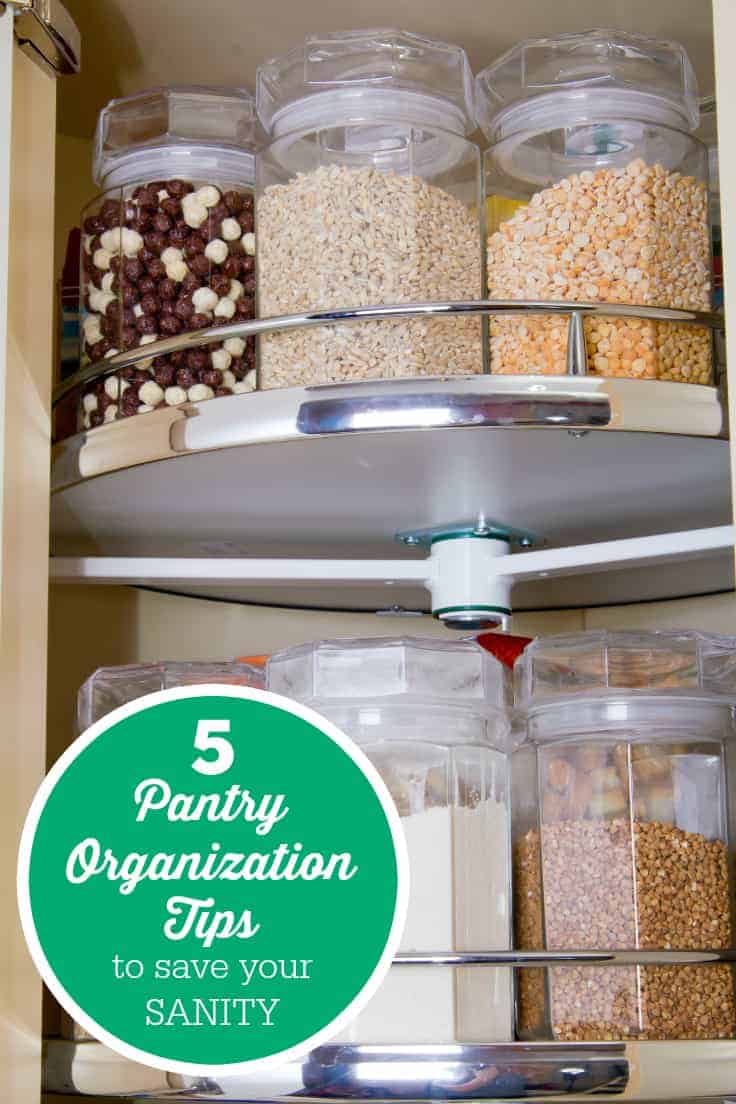 This post contains affiliate links.
1. Packets, Packets Everywhere. It seems like everything comes in either a packet or pouch. Unfortunately, those packets seem to be EVERYWHERE when you open up the pantry. Instead of leaving them laying around on random shelves, buy an over the door shoe organizer to keep them in check. Hang it on the back of your pantry door and you'll be able to see everything you have at a glance. If your pantry is like mine with sliding doors, you can instead use packet organizers.
2. Like with Like. One of the biggest clutter issues in a pantry is keeping like items together. If you need four cans of a particular kind of soup and only have two together, you could easily overlook the other two that are in a different area. To keep things like that from happening, group your items together and keep them stacked neatly. I love my three tier can organizer! I can fit more cans in my pantry and am able to see them all at a glance.
3. Use dollar store baskets. Cheap baskets are a great find and are perfect for the pantry. Pick up a few to store smaller snacks, breakfast bars or other foods that you want to be able to find and grab quickly. You can pick up chalkboard labels pretty cheap on Amazon if you want to be a little fancy!
4. Put the canisters to work. Yes, canisters will take up counter space. However, if your ultimate goal is to organize your pantry, they can be a huge help. Use them for the regular things like flour and sugar, but also get creative with what can be stored. Things like seasoning mixes that you use on a regular basis, baking mixes and more are all great for keeping this way.
5. Tame the spices. If you like to cook, your pantry is likely full of spice bottles. To keep them organized easily without spending a ton of cash, grab and install a pull out spice rack. They're easy to install and can you can get your spices organized in minutes.
Implement these five simple tips and I promise you'll notice a big difference next time you go to prepare a meal. Having an organized pantry feels great! Once you have it organized the way you want it, make sure to maintain it. Make a conscious effort to keep it organized and don't allow clutter to take over again.