My makeup used to be a big horrible mess! I had everything thrown into a drawer in the bathroom. Every day, I'd hunt through my pile to find what I needed. It was a pain especially on the days where I was in a rush. Plus, I hated how my fingers were always dirty after rooting around in the drawer. I was ready for a change.
When it comes to makeup organization, there are lots of DIY options – which of course makes me happy! Here are some of my favourites: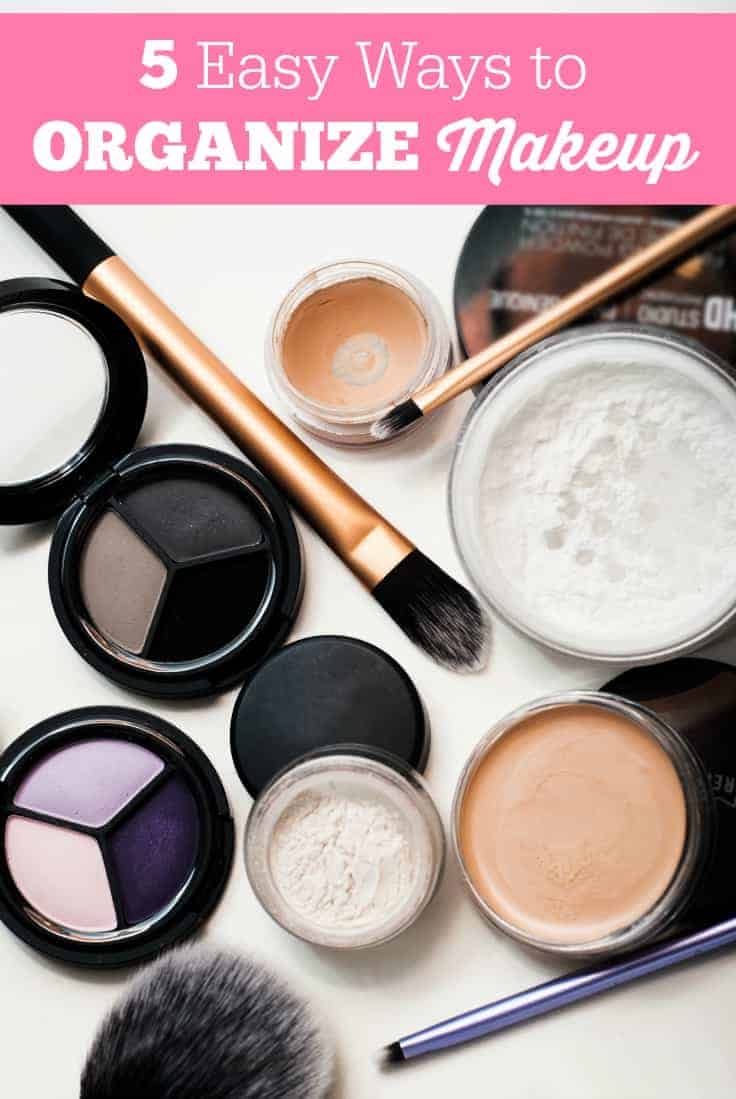 Easy Ways to Organize Makeup
1. PVC Pipe. – Sounds kind of weird to use PVC to organize makeup, but you can get PVC in different widths (and cut it to different lengths), which makes it perfect for organizing pretty much all of your makeup.
Take 4" wide PVC and cut it into small sections tall enough to store brushes and mascara wands. You can spray paint them if you want to add some color, and you can even connect them easily with hot glue. They stand up straight, or you can lay them down – they're extremely versatile!
2. Recycled candle jars. – Using old candle jars is fun because, well, it's upcycling! You could also use mason jars in the same way – or old tin cans, even. I like to use these for brushes, eyeliner, mascara, and eye and lip pencils. These cans and jars can be placed on the counter, in drawers if they're deep enough, or even hung on the wall.
3. Drawers. I like to use drawers to organize my makeup because it's easy to hide my huge stash, but I don't just want to throw everything in there. So, I use drawer dividers! You can either make them yourself using cardboard and tape, you can use drawer dividers, or you can buy a utensil holder for like a buck, and use it.
4. Magnets. You can use a magnetic white board or a cookie sheet to organize your makeup with magnets. Simply attach small magnets to the back of your eye shadows, brushes, etc and stick them onto the board/sheet. Follow this easy makeup board tutorial for full details.
5. Sew a travel case. If you're looking for a way to organize your makeup so you can travel, I love this travel roll for makeup brushes! While you can definitely buy one of these – either at a big name store or on a website like Etsy – I think it'd be fun to make one! The sewing doesn't look too terribly complicated, and if you make your own you get to choose your own fabric.
How do you keep your makeup under control at home and while on the go? Leave your suggestions in the comments!