I know it seems crazy to think about Spring when snow is still on the ground. However, I wanted to get this info out early so you could prepare. Once the snow starts to melt, I get in the mood to declutter, organize and clean. Spring cleaning is a ton of work, but it's so worth. It feels amazing to walk into a clean, organized and fresh home. I also feel accomplished after undertaking such a big task.
The key is to prepare and have a game plan. If you'd prefer to do it all in one or two days, that is great. I prefer to spread it out over the course of a month and do small chunks of work every day. It doesn't seem as big of a job and fits easier into my busy schedule.
I have another printable today to help you on your spring cleaning quest! In 30 days, you'll have a clean home with this simple to follow Spring Cleaning Calendar. Every day for 30 days, you'll work on one task in your home. Print off this free printable and put it on your fridge or in your household binder. Cross off the task as you complete it.
Don't feel you need to go in order. Pick and choose the task and do whatever you feel up to that day. Just remember to cross it off when you are done. There is something so satisfying about crossing off tasks on a list…
Spring Cleaning Calendar
Is it weird that I'm anxious to get started? Call me nuts, but I like cleaning. I find it relaxing in a way! My friends always laugh and ask why I don't come over and clean their house. Don't tempt me people!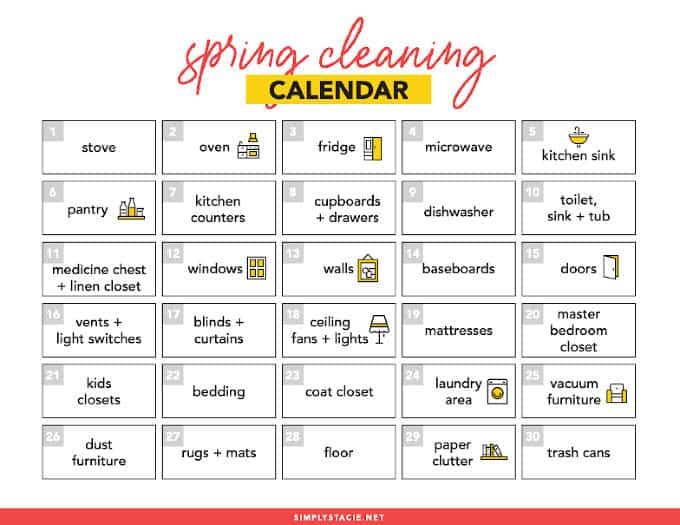 I've got my printable ready to go. Get yours today and feel free to share with your friends and family so they can join you in your cleaning mission.
For more cleaning posts, check out How to Clean Your Child's Stuffed Animals, 25 Things You Forgot to Clean, 6 Ways to Clean Your Home with Hydrogen Peroxide, 10 Tips to Reduce Dust in Your Home and a Laundry Stain Guide.
Fill out the form below to get your 30 Day Spring Cleaning Calendar delivered right to your inbox.

When do you normally start your Spring Cleaning?