Here we are again friends: the start of another year. That's 365 days of events, big and small. Fifty-two weeks of family dinners, packed lunches, and trips to the store. (If you can get away with only one trip to the store a week, please, tell me your secret.) And, in case you're still counting, that adds up to another 1,095 meals to plan for, purchase, and put away.
When you read a big number like that, it seems rather, well, daunting doesn't it? How can you possibly consider all those meals for not only yourself but for everyone in your household, too? The good news is, it's not insurmountable. You know I love printable planner pages for everything, so why would meal planning be any different? Sure, you have to set aside a couple of hours at beginning of each week (or month) ahead for the actual mapping out of your meals. But once that's out of the way, you'll find it's soooo much easier to take weekly stock of your pantry, make an itemized list of everything you need, and head to the grocery for easy shopping. No more wondering what's for dinner (or breakfast or lunch).
Hang a fresh 2019 Weekly Planner page on your fridge on Sunday and know at-a-glance what's on the menu every day for the rest of the week.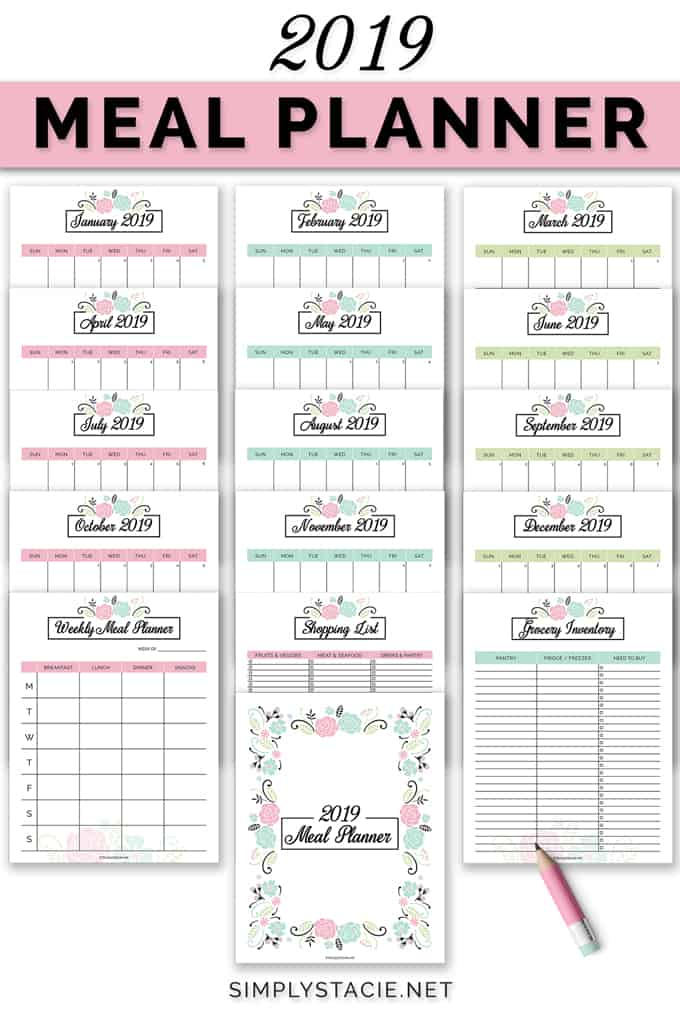 If you're still not convinced you can plan for the whole year, just give it a try for one month or one week, even. I promise you'll soon be a convert!
2019 Meal Planner
12 Month-by-Month Calendars
Of course I realize there's no way you could know now what you want to eat December 3rd. However, printing out and looking at 12 months of meal planning calendars can help you at least mentally prepare. For example, if you want to try the Meatless Monday thing, then that's easy enough to pencil in on every Monday of the year. Then, you can plan the actual meal as you get closer to that month.
Or, you might find yourself using the calendar planners as a way to track which dishes your family loves (or hates) in the early months and start writing those down for another round a month or two in advance. That way, you don't have to try to remember in September the name of that "bean thing with the red sauce" that everyone loved so much in June.
Weekly Meal Planner
Now that you know what your month (roughly) looks like, use the weekly meal planner to fine-tune your daily dishes. If you are mainly a dinner planner, then don't sweat the other meals. Or, maybe breakfast is big in your house. Whatever you want to plan, use the weekly planner to inform your family what's on the menu, even if it's just "fend for yourself."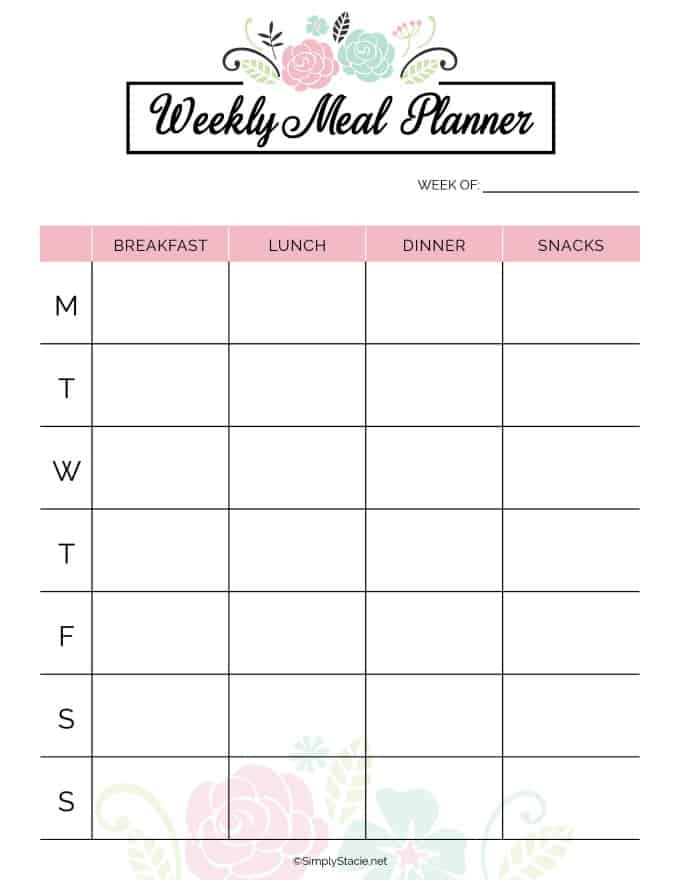 Shopping List
Here's what can take up the bulk of your planning time, but, again it's going to be so worth it — trust me. What are you eating for the week? Print out 52 (or more) of these pages and then every week you can write down every ingredient you'll need that's not already in your pantry or refrigerator. When you're at the grocery, you'll be able to stick to your organized list, check off the items as you put them in your cart, and stay in your budget.
Grocery Inventory
How often you inventory your pantry and your fridge/freezer is up to you. I like to do it every couple of weeks, just because I find things tend to move, shift, or get eaten that I don't notice if I don't take inventory. Before I started taking inventory, I'd often end up with a freezer full of chicken and no pork, or three loaves of garlic bread and no pasta. Trust me, it's hard to remember the contents of your kitchen while you're at the grocery store.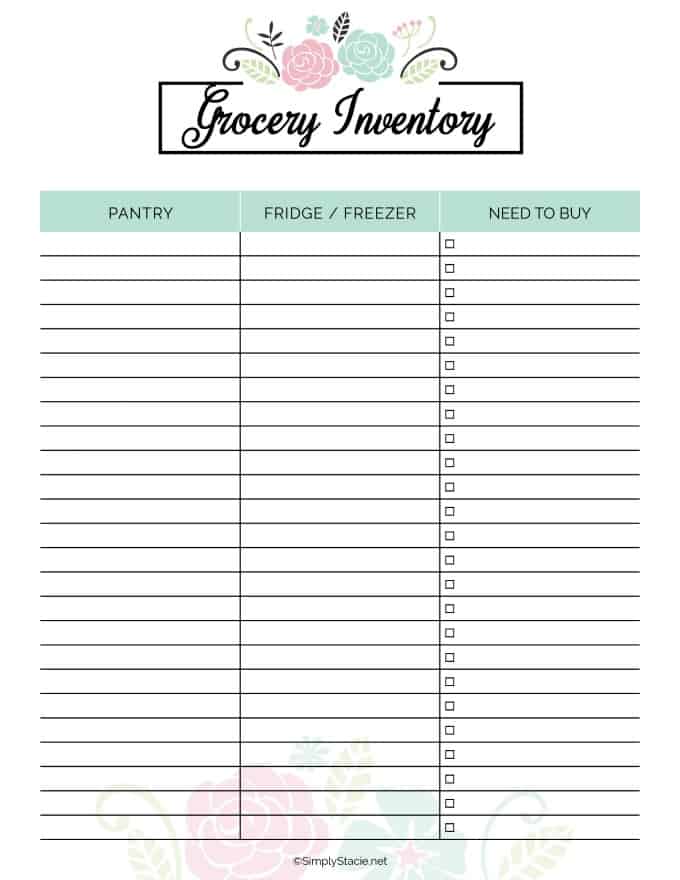 I hope this helps you plan your meals and that you'll enjoy this new way to organize for 2019.
You might also like this 2019 Yearly Calendar, 2019 Household Planner, 2019 Fitness Planner and 2019 Financial Planner.