By now, you've probably gotten the feeling that I enjoy planning. From birthdays to doctor's appointments and from monthly budgets to meals, I find solace in knowing I am as organized as I can be. Planning everything out keeps me from waking up at night, wondering what I'm making for dinner. It helps me to know that that dream vacation is slowly, but surely, going to become a reality in a couple of years. However, it doesn't matter how organized I am if I'm not also taking care of my body and mind. What good does it do me to plan a party if I don't have the stamina to host an all-day fete?
This is where my fitness planner printables comes into play. Just like everything else, knowing the when, where, and what keeps my days, weeks, and months on track and helps me to keep working toward my goals. Whether your fitness goals for 2019 include losing weight, gaining muscle, finally getting over that plateau, or simply to maintain your health, these pretty printables will definitely help you get there.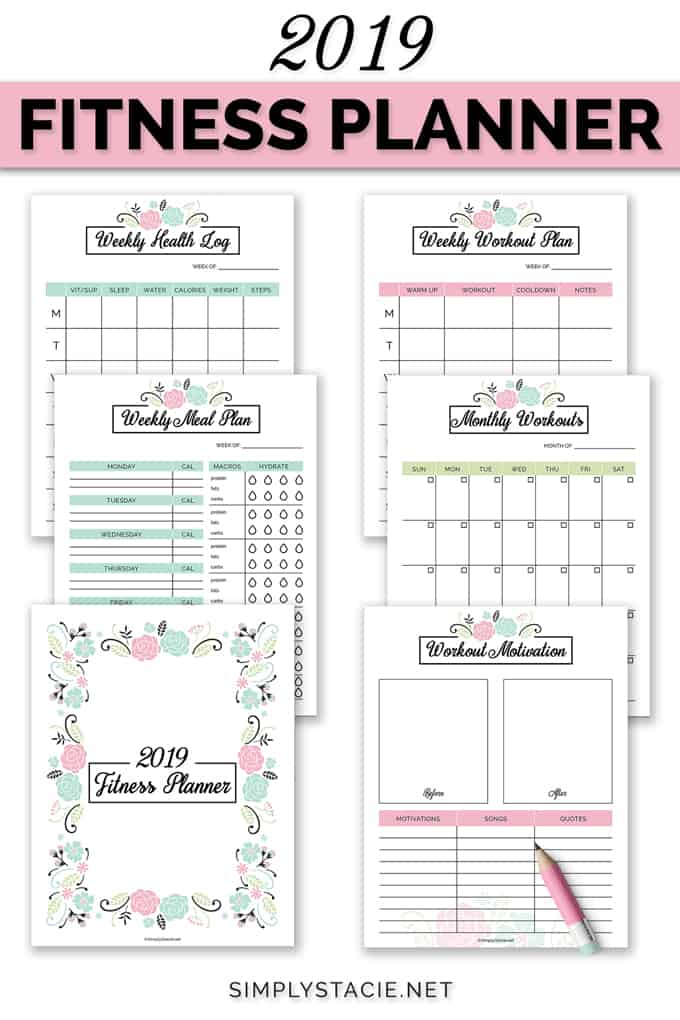 2019 Fitness Planner
Workout Motivation
Everyone needs motivation. What's more motivating than before and after photos? Especially the ones that you don't have to post on social media for the world to see. Print out a photo of yourself on January 1st and put it in the "before" space. You don't have to wait a whole year for the "after" photo, either. When you reach your goal, be sure to print out another photo of yourself to hang up. Seeing is believing — and so motivating!
In addition to the photos, there is space on this printable for writing down other things you find motivating — quotes, songs, or other inspirational thoughts or ideas. Whatever gets you going, use it!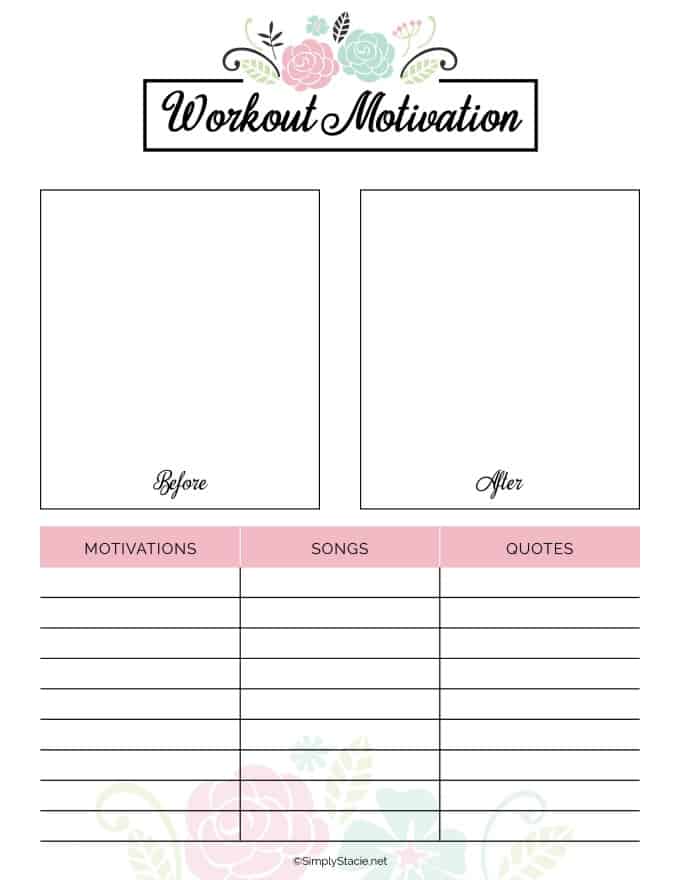 Weekly Meal Plan
If you are using my meal planning printables, feel free to copy the work you've done for each week to this form as well. When you copy the meal, see if you can look up the calorie count and your macronutrients for that meal, too (if that is a way you prefer to manage your weight). This form also has a spot for keeping track of your water consumption. Color in or cross off a drop every time you drink a glass of water — a sure way to get in your eight glasses a day.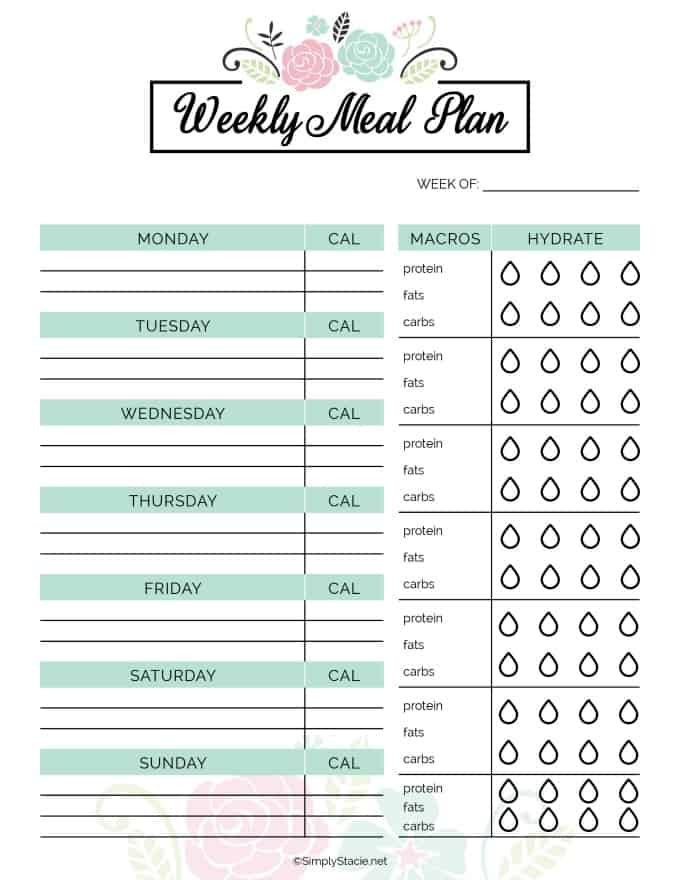 Monthly Workouts
Now comes the best part — the workouts. If you plan on working out three to four times a week, write it down. What will you do those days? A mixture of cardio and weights? Yoga and running? Make time for your workouts, write them down, and put this schedule where you'll see it every day.
This printable is an easy way to check in to see if you need to make any adjustments to your workout plan as well. If you're too sore from yesterday's run to go to aerobics class, cross that off and see at a glance what's missing. Notice it's been too long since you last swam laps? Now you can easily adjust your workouts on the fly, depending on your needs.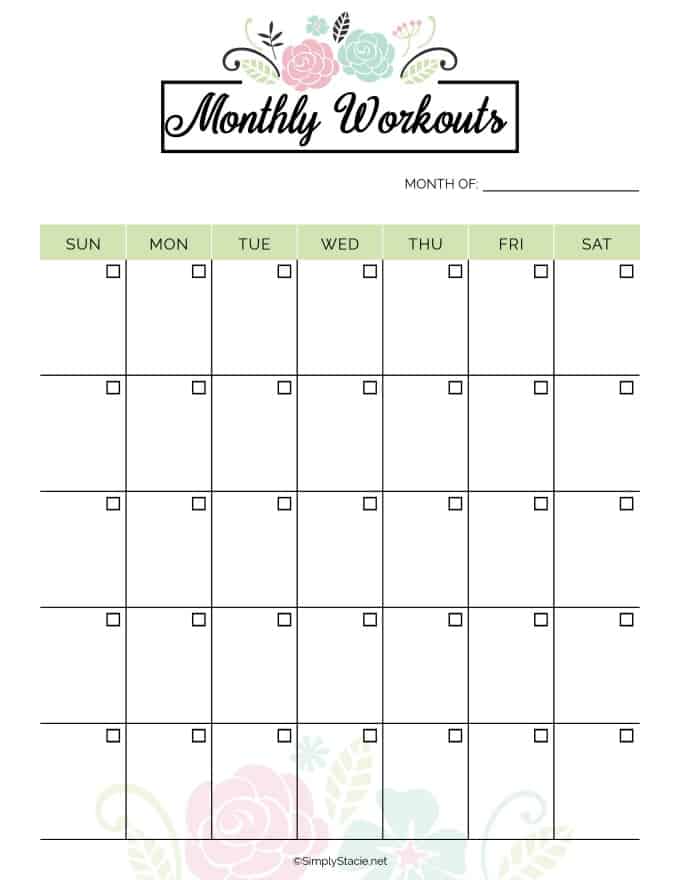 Weekly Workout Plan
Take your monthly plan and break it down even further. If Mondays, Wednesdays, and Fridays you walk around your neighborhood, write it down. Will you stretch before and after? How far will you go? How did you feel? Make notes, then compare how you've been feeling week to week. Are you getting stronger? What's working and what's not?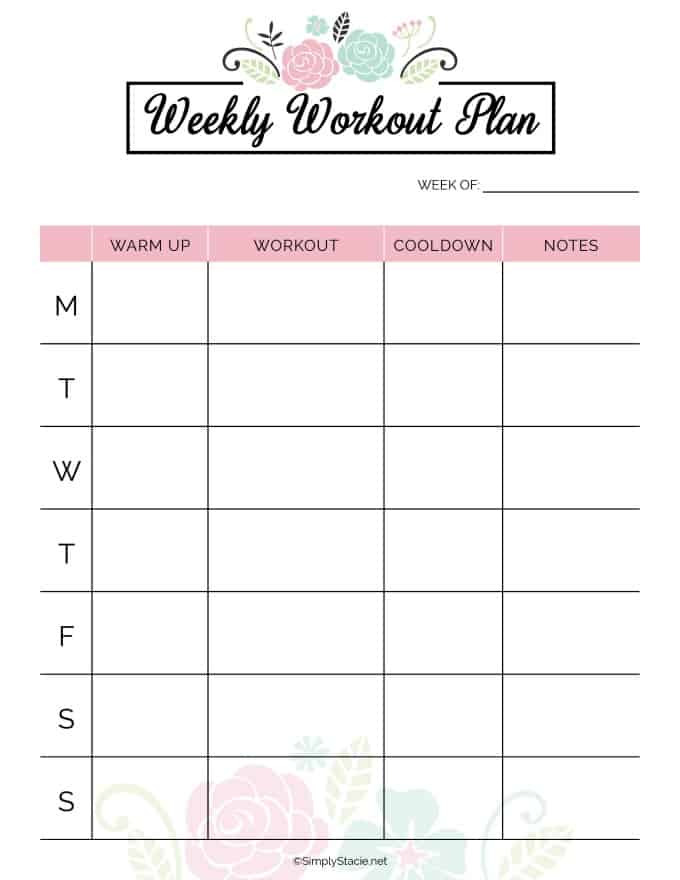 Weekly Health Log
And finally, my favorite form, the day-by-day recording of everything — your workout, your water, any supplements you're using, steps you've taken, how many hours you've slept, and, finally, a place to record your weight. Seeing is believing!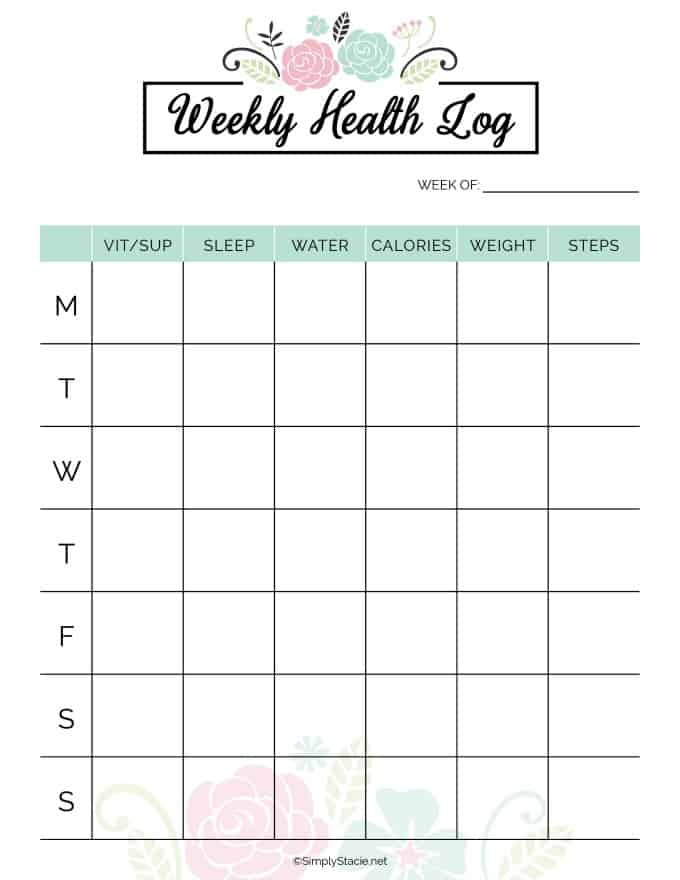 I wish you the best of luck on your health journey for 2019! You got this!
Update: My 2021 Fitness Planner is now in stock in my new shop! I also have a 2021 Organizing Bundle with all the printable sets.
You might also like this 2019 Yearly Calendar, 2019 Household Planner, 2019 Financial Planner and 2019 Meal Planner.