Disclosure: We are celebrating girl power today with our sponsor Simon & Schuster. All opinions on this blog are my own.
One of the most important skills I can teach my 13-year-old daughter, Bridget, is to be kind not only to other people, but also to herself. We are our own worst enemies and the things we say to ourselves internally, we would never in a million years speak to another person. I want my daughter to be strong, confident and kind. There is so much negativity in the world that it's not the easiest of tasks.
I strive to practice what I preach showing her that if she puts her mind to something, she can accomplish anything. I also want her to know it's ok to make mistakes, but it's important to learn from them. Growing self-confidence isn't something that happens overnight. It takes a lot of work soul-searching and focusing on positive self-talk.
I was glad to see Jennifer Weiner's The Littlest Bigfoot series that promotes the exact message I'm trying to teach Bridget. It focuses on positive, uplifting themes of self-love, body image and friendship between girls. In other words, it's all about girl power!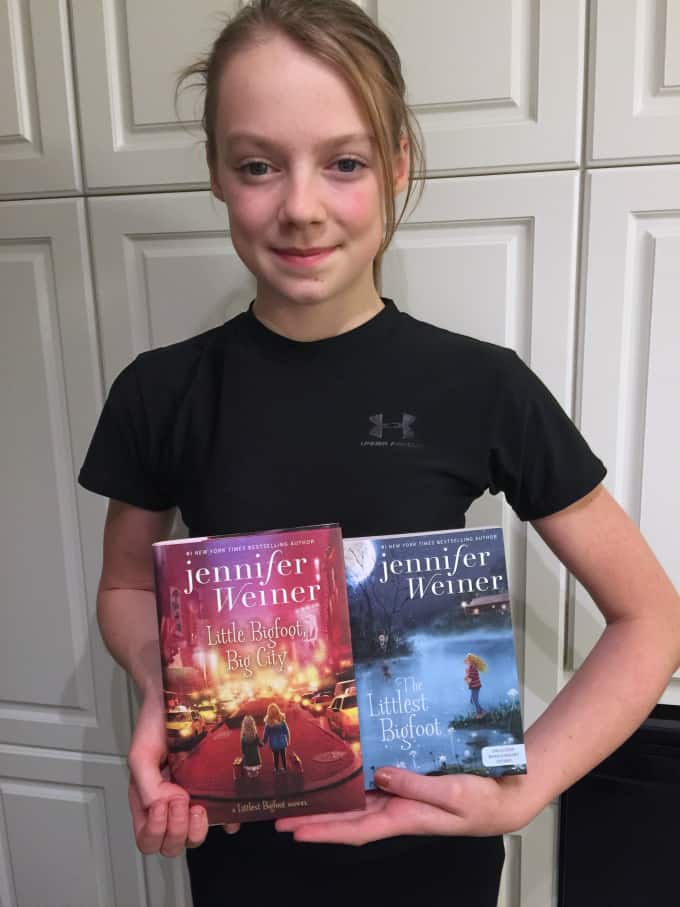 I'm a big fan of Jennifer Weiner. I've read several of her adult books and she is one of my favourite authors. I was very excited to see that she writes for children, too! This series is perfect for middle-grade readers aged 8 to 12. Bridget is 13, but I think she can still benefit from reading the series. She reads before bed and is really enjoying the books.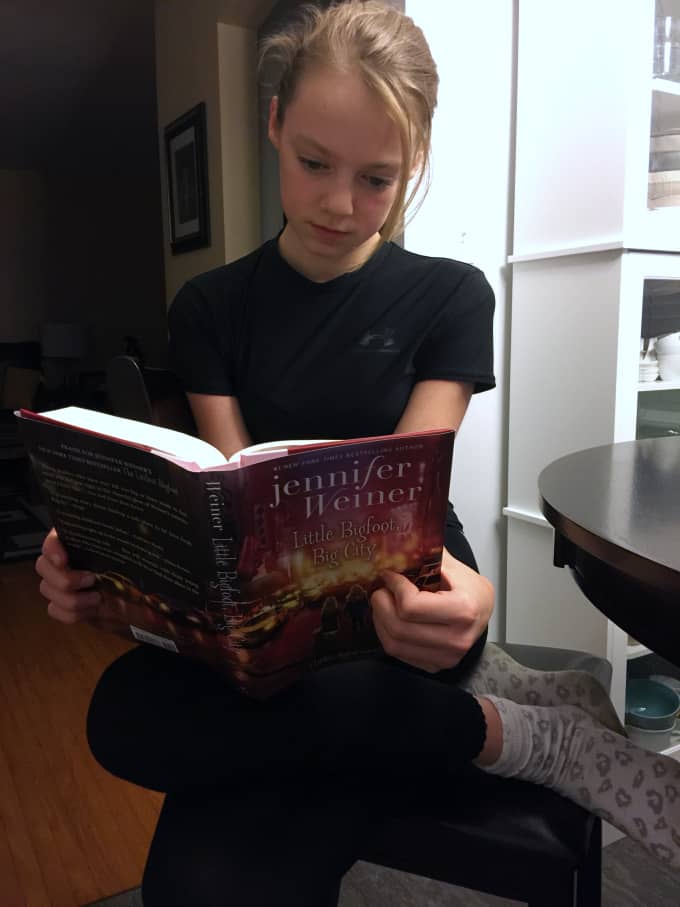 Out of curiosity, I asked Bridget to write down 10 things she loves about herself. I figured it would tie in to the books and also be a good exercise teaching her the importance of learning to love yourself. She was able to write down several right off the bat, but then she started to struggle with finding more. She had to sit and think a few minutes and wrote down the rest of her list.
Some of her answers surprised me, while others I knew that she would put down.
Here's a look at her list of things she loves about herself.
I love that I'm flexible.
I love that I'm a good listener.
I love that I'm perfect for riding horses.
I love my silly personality.
I love my love for horses.
I love that I'm good with horses.
I love that I'm strong.
I love that I'm good at sports.
I love that I'm artistic.
I love that I can run/jump like a horse.
I knew that she would put something down about horses. Bridget takes horseback riding lessons and competes in jumping competitions. She's already won several awards and is very proud of her achievements. I'm super proud of her, too!
I loved seeing that she values the importance of listening – a skill that we don't often think of when it comes to things we love about ourselves.
This little exercise helped her to see all the good things about herself. Try it with your child and see what they come up with!
As for the books, you can buy book one and two of The Littlest Bigfoot series now. The final book will release in 2018.
Here's a bit of info about the first two books in the series.
The Littlest Bigfoot (Book #1)
From #1 New York Times bestselling author Jennifer Weiner comes a "smartly crafted" (BCCB) and "heartwarming" (School Library Journal) tale of friendship, furry creatures, and finding the place where you belong.
Alice Mayfair, twelve years old, slips through the world unseen and unnoticed. Ignored by her family and shipped off to her eighth boarding school, Alice would like a friend. And when she rescues Millie Maximus from drowning in a lake one day, she finds one.
But Millie is a Bigfoot, part of a clan who dwells deep in the woods. Most Bigfoots believe that people—NoFurs, as they call them—are dangerous, yet Millie is fascinated with the No-Fur world. She is convinced that humans will appreciate all the things about her that her Bigfoot tribe does not: her fearless nature, her lovely singing voice, and her desire to be a star.
Alice swears to protect Millie's secret. But a league of Bigfoot hunters is on their trail, led by a lonely kid…
Little Bigfoot, Big City (Book #2) – released on October 31, 2017
From #1 New York Times bestselling author Jennifer Weiner comes the second book in the "smartly crafted" (BCCB) and "heartwarming" (School Library Journal) trilogy about friendship, furry creatures, and finding the place where you belong.
Twelve-year-old Alice Mayfair has a secret. She's not human. But who—or what—is she? While Alice goes in search of her past, her best friend Millie Maximus, a tiny Bigfoot with a big voice, prepares for her future. Together they plan to sneak off to New York City, where Millie hopes to audition for The Next Stage, the TV show she's sure will rocket her to stardom and free her from the suffocating expectations of her tribe.
Meanwhile Jeremy Bigelow's Bigfoot research has put him on the radar of a shadowy government organization led by a mysterious man named Trip Carruthers. The Bigfoots have something, a chemical so powerful and dangerous that the government will do anything to obtain it. And Jeremy is tasked with securing it once and for all.
In an unexpected twist of fate, Jeremy, Alice, and Millie find themselves facing off at a crossroads. But in order to determine where they're going, they have to first figure out where they come from—and draw the line between what is good, what is evil, and what it means to be a hero.
For more information, visit the publisher, Simon & Schuster. These books would make awesome holiday gifts for young girls on your list!
What kinds of things do you do as a parent to teach your child the importance of self-love?