Banana Cake
The more brown a banana, the sweeter they get! Don't throw away those brown bananas. Save them and make this delicious Banana Cake!
I admit, I used to throw the brown bananas in the compost. They just looked so icky to me and I couldn't imagine peeling the skin and eating one. Blech. However, little did I realize just how many uses for brown bananas there are. They are so sweet, yummy and perfect to use in your baking.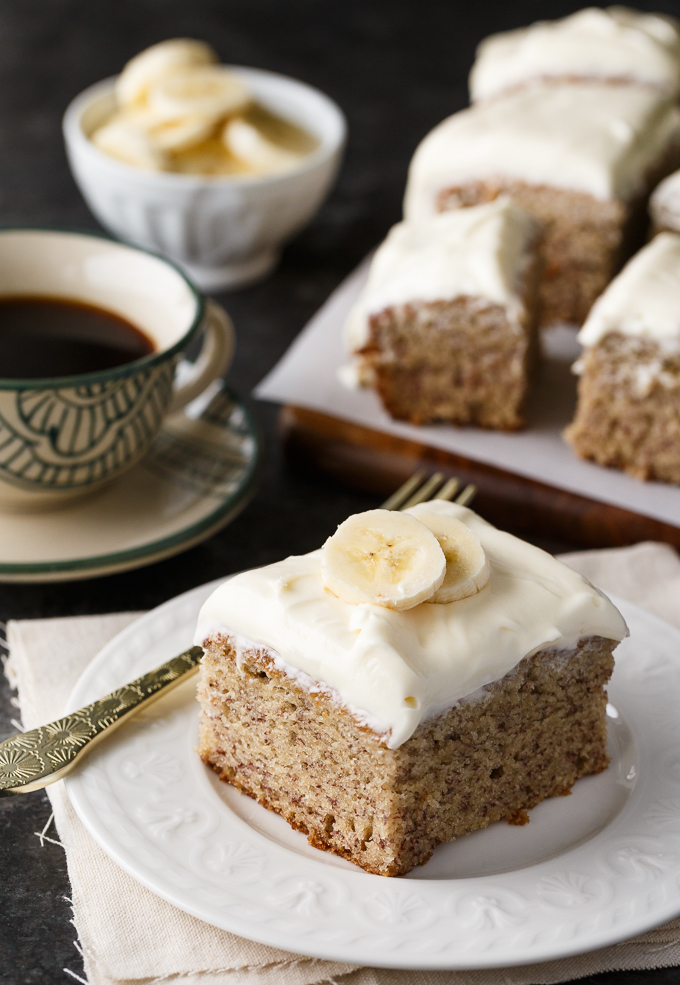 In fact, I buy bananas and let them sit on the counter till they get that deep yellow colour and flecks of brown. My mom throws brown bananas in the freezer to use. I would too if I had a deep freezer.
This Banana Cake is sweet, dense and packed full of flavour. The cream cheese icing is the perfect complement.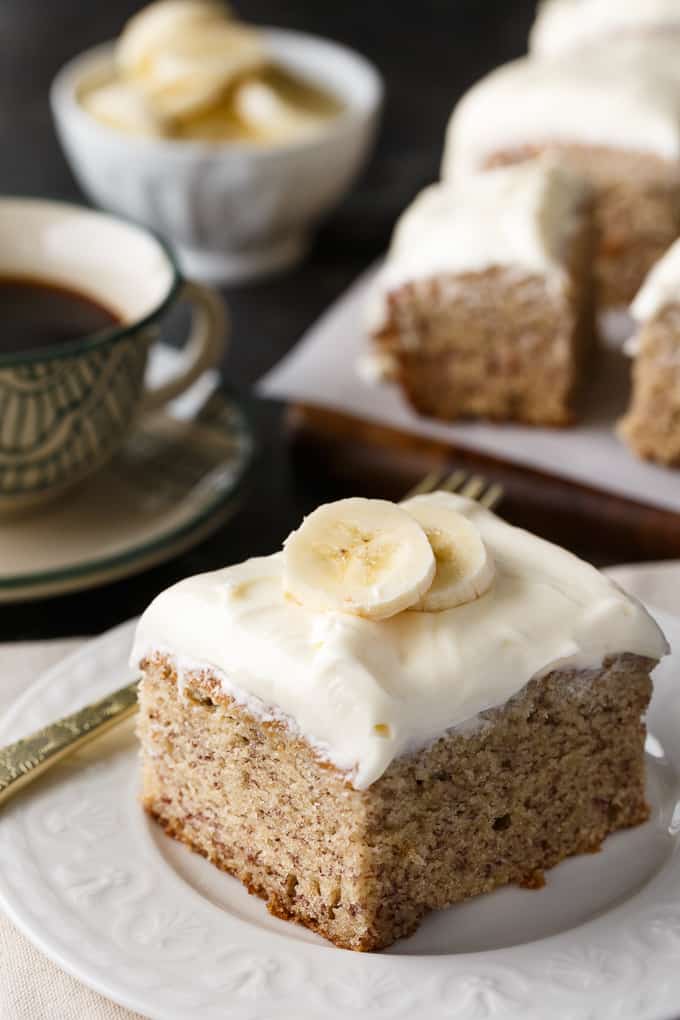 It reminds me a little of a Banana Bread, but in cake form. It's also super easy to make. Serve for a sweet breakfast with your morning coffee or as a dessert to a nice meal.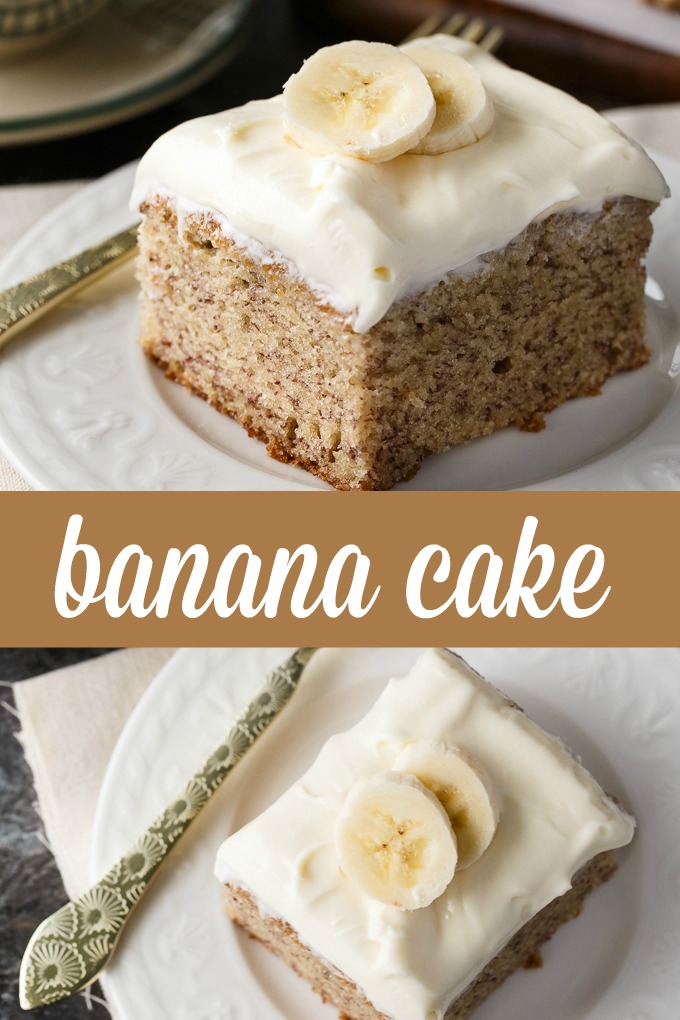 For more ways to use brown bananas, check out my recipes for Banana Split Brownies, Banana Bread Breakfast Casserole and Banana Cake with Toffee Frosting. You might also like this Earthquake Cake or coffee cake.
What is your favourite way to use brown bananas?
!
Ingredients
CAKE
1/2 cup butter, softened
2 cups sugar
3 eggs
1 1/2 cups bananas, mashed
1 tsp vanilla
2 cups flour
1 tsp baking soda
pinch salt
CREAM CHEESE FROSTING
1/2 cup butter
1 250g package cream cheese, softened
2 cups icing sugar (powdered sugar)
1 tsp vanilla
Instructions
Preheat oven to 350F. Grease a 9×13 baking pan and set aside.
In a large bowl, beat butter and sugar until combined. Add eggs, bananas and vanilla and beat until combined.
In another bowl, stir together flour, baking soda and salt. Add to wet mixture and stir to combine.
Pour into prepared baking pan. Bake for 45 minutes or until a toothpick comes out cleanly from the centre. Cool.
Cream Cheese Frosting
Beat butter and cream cheese together until smooth. Gradually add in icing sugar and vanilla. Beat until smooth. Spread over cooled cake.
Recommended Products
As an Amazon Associate and member of other affiliate programs, I earn from qualifying purchases.
Nutrition Information:
Yield: 10 Serving Size: 1
Amount Per Serving: Calories: 631 Total Fat: 29g Saturated Fat: 17g Trans Fat: 1g Unsaturated Fat: 9g Cholesterol: 130mg Sodium: 387mg Carbohydrates: 89g Net Carbohydrates: 0g Fiber: 1g Sugar: 66g Sugar Alcohols: 0g Protein: 7g