Audible is Now Available to Canadians!
Hello, my name is Stacie and I'm addicted to books.
I've loved books from way back before I even learned to read. My mom used to read me stories constantly – her exact words. She said I would be fussy if she stopped. Bedtime stories, nap time stories and stories just because. I loved listening to them and when I learned to read myself, I spent hours reading each day. Even 35+ years later, I'm still reading daily.
My mom doesn't read me stories anymore. I think she'd look at me pretty weird if I asked her to come over to read to me. Instead, I've discovered another new way to listen to my favourite books. I'm so happy that this service is finally in Canada. Canadians, Audible is available to you!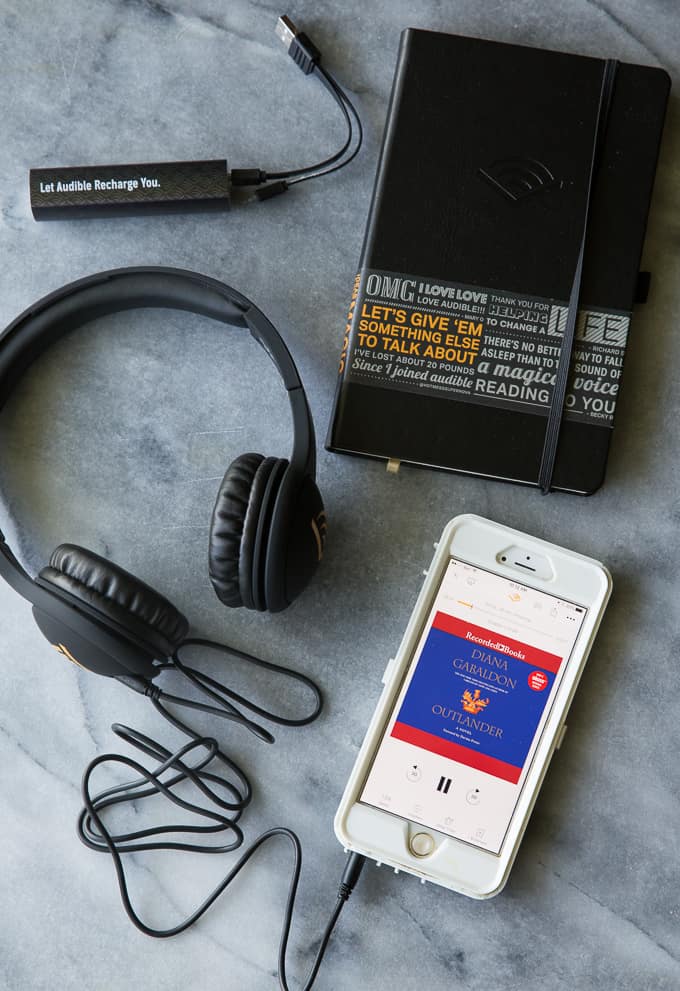 I first heard of Audible about a year ago when I was listening to some of my favourite podcasts. The podcaster mentioned Audible and how they were really enjoying listening to books. If you aren't familiar with Audible yet, it's a digital content platform that offers the best in spoken word content from Canada and around the world. In fact, they are the world's largest producer and distributor of audiobooks with more than 200,000 audio programs from leading audiobook publishers, broadcasters, entertainers, magazine and newspaper publishers and business information providers.
Instead of reading new and old favourite books, you listen to them via your computer or their mobile app.
I logged into Audible.ca with my Amazon.ca account credentials. Once inside, I was like a kid in a candy store browsing the large selection of books. I discovered books that were on my "must-read" list already and some new authors that I hadn't heard of before. It was great to see many Canadian books featured and I quickly added them to my Wish List.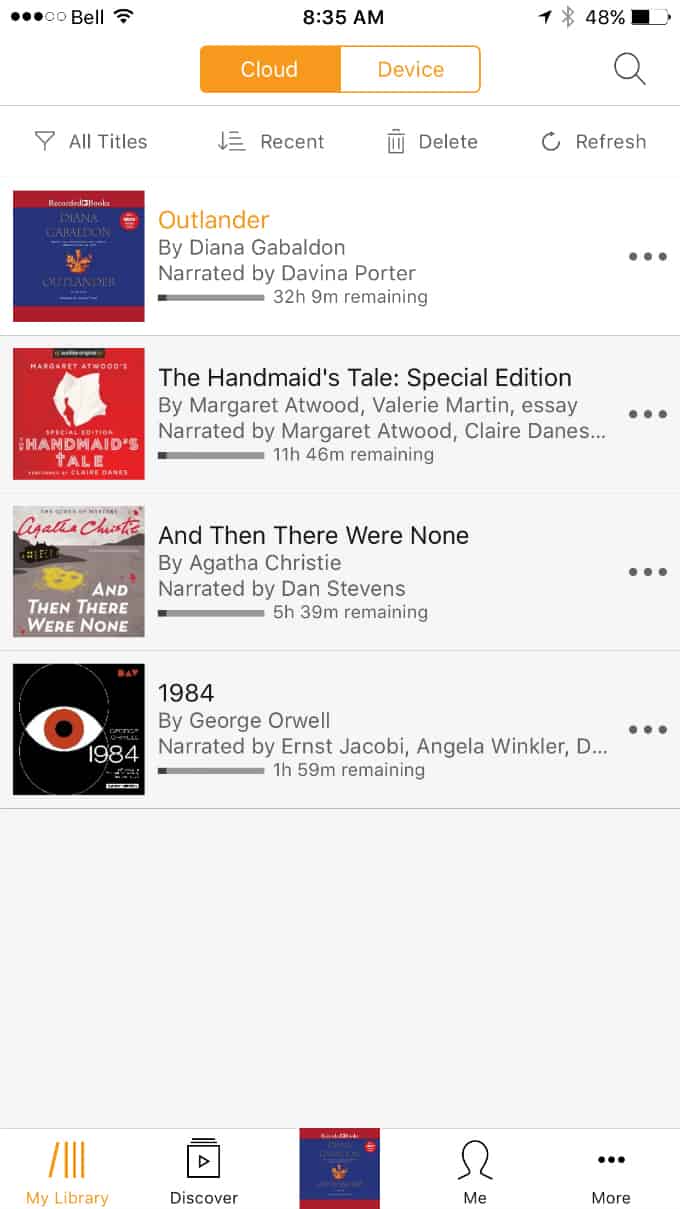 I was impressed with the large selection of books on Audible. You can search by category (like Romance, Mysteries & Thrillers) as well as by Bestsellers and new books.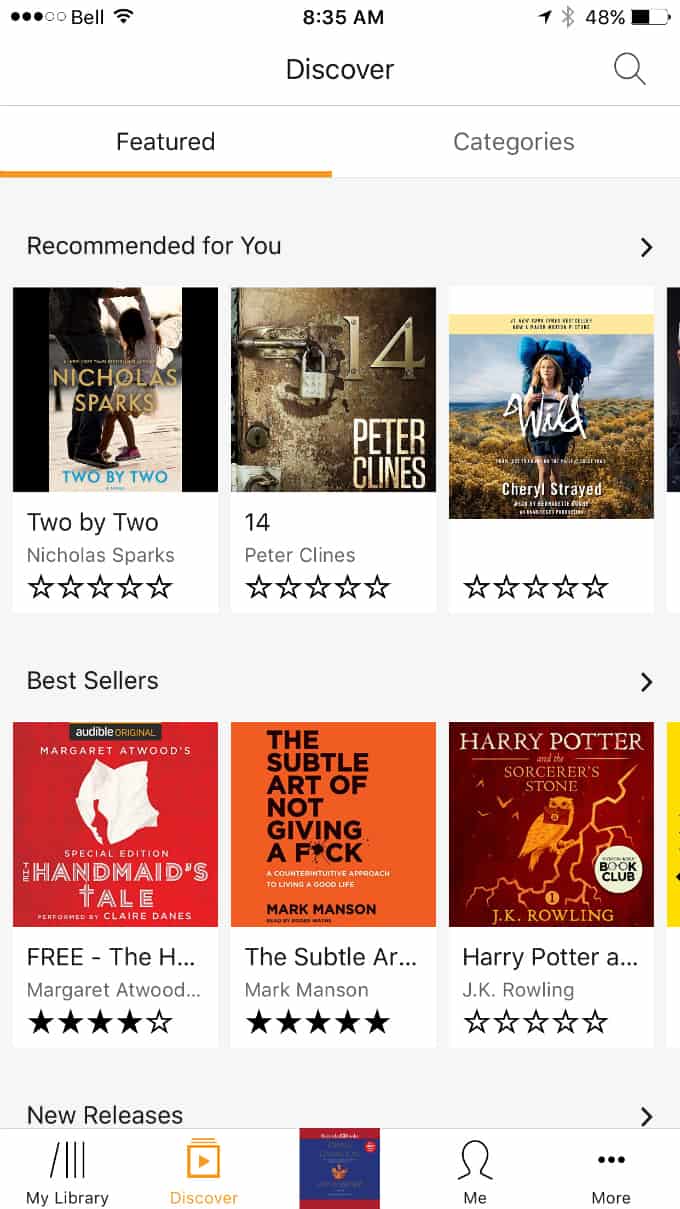 The hardest part was deciding which book to listen to first. I ended up picking a few because I couldn't make up my mind.
I started with The Handmaid's Tale by Margaret Atwood, Outlander by Diana Gabaldon and And Then There Were None by Agatha Christie.
I haven't read The Handmaid's Tale before, but have started watching the new TV show. It's really good and it made me want to read the book. "They" always say the book is better anyways. So far so good!
Another neat thing about The Handmaid's Tale is that it's narrated by Claire Danes, one of my favourite actors!
I read the other two over 15 years ago and loved them back then. It's been long enough that I wanted to listen to the story again.
I like that I can buy the book on my computer and then it's immediately available on the Audible app on my smartphone. I typically listen for about 30 minutes once a day, usually around bedtime. I find it incredibly relaxing and it reminds me of having someone reading me a bedtime story – a comfort from my childhood!
I'm not concerned about falling asleep because I set the sleep timer on the app so it will shut off after a certain time. I can easily go back a chapter, too.
I think that John, my husband, would benefit from an Audible membership, too. He doesn't read traditional books, but loves listening to books on CD. He's already listened to the few we own. I know he would love some new reads!
Another way I can also see us using Audible is on long drives. I have my phone hooked up via Bluetooth in my vehicle and can play my books through the stereo. Books help make a long, boring drive much more interesting.
An Audible membership is $14.95/month which will give you 1 credit a month to use. 1 credit can be used to purchase any book, at any price. You get to keep your audiobooks even if you cancel. Plus, you can save 30% on any additional book purchases.
I think 1 credit a month is perfect because some of the books are quite long and may take you a whole month to listen to.
I'm loving Audible and think that you will too! Visit Audible to browse their selection of books and start building your Wish List!
Which book are you looking forward to listening to first?
Connect with Audible on Facebook. 
Disclosure: I was compensated for this post. All opinions expressed are my own.