I thought I had a cold all summer, but I was wrong. It turns out I have summer allergies. Yay me. I thought this "cold" was dragging on longer than normal and wondered why it wasn't going away. I've had allergies before, but not in the last few years. This year, they are back with a vengeance!
Besides visiting your doctor for advice, there are other ways you can help your summer allergies around the home. I've been researching them because I want to feel better! I think small changes can make a big impact and they've helped my symptoms quite a bit.
Here are some of things I've done this summer to keep my allergies at bay.
1. Stay indoors when pollen counts are high. Pollen is a big trigger. I avoid going outside right after the lawn is cut because everything is stirred up. You can also check your weather app on your phone to see what the pollen counts are for that day.
2. Keep the windows closed and use an air conditioner. We had central air installed last year so my house is much more comfortable especially on those humid days.
3. Stay on top of the dust. Indoor pollen can accumulate so it's important to regularly dust and keep surfaces clean.
4. Wash bedding in hot water. Dust mites LOVE bedding so make sure to regularly wash your blankets, sheets and comforters.
5. Change clothes after spending time outdoors. Don't bring the allergens inside the house and get them all over everything. I like to have a shower after I've spent an extended period outside. Plus, the heat of the shower helps open my nasal passages.
6. Wear a mask if you mow the lawn. If you don't have anyone else to mow your lawn, wear a mask to cover your face to limit your exposure. You may look funny, but at least you'll be able to breathe better later!
7. Don't wear shoes in the house. That's one big rule I enforce especially with my new tile floor! I don't want dirt and allergens tracked everywhere.
8. Drink hot fluids. I know it seems counter-intuitive on a hot day to drink something hot, but it helps to open everything up. I love my big mug of steaming hot coffee no matter what the weather.
9. Use an air purifier. For the past couple weeks, I've been using the Philips Air Purifier Series 2000i and it's been great! It's designed to reduce allergens, odours, volatile organic compound emissions and some bacteria. The pre-filter and True-HEPA filter remove 99.7% of allergens and pollutants and the Active Carbon filter reduces gases and odours.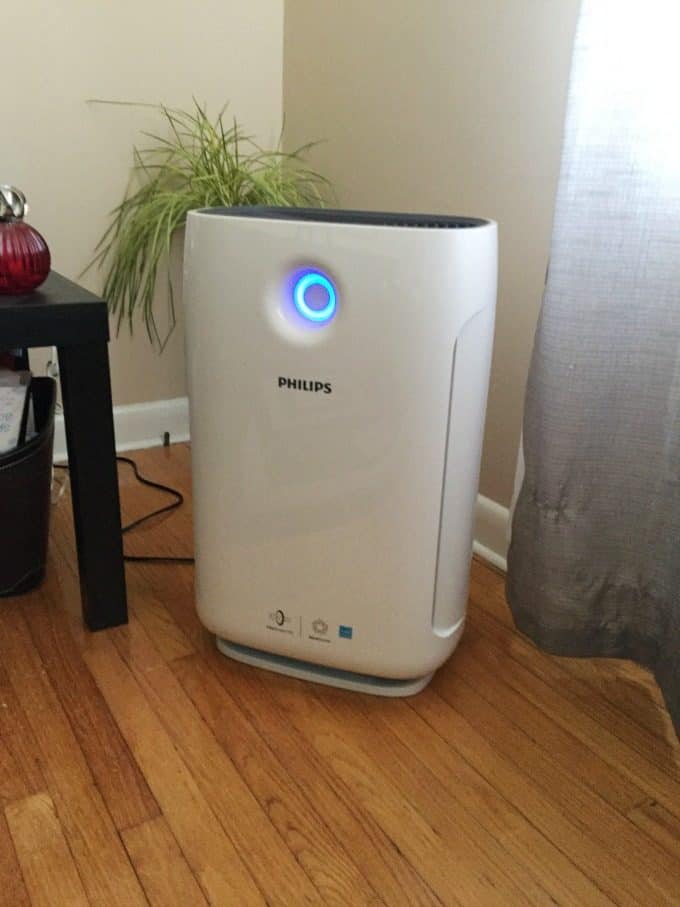 I have it in my living room which is also my home office. I like knowing it's there working away and cleaning the air in my home. With three cats, it's needed!
The cool thing about this air purifier is that it's connected to an app on my phone. I can monitor the air quality in my house in real-time. I notice when I'm cooking something in the oven that the air quality decreases and the air purifier kicks in stronger. Most of the time, the air quality is good in my house and that makes me feel more comfortable and less symptomatic.
It has three purification settings: General mode, Allergen mode and Bacteria and Virus mode. I've been keeping mine set on Allergen mode. It's also super quiet unless it picks up that there are more allergens in the air. Then it kicks on louder for a bit until the air quality improves. Most of the time, I don't even notice it there.
I'll be glad when summer allergy season is over, but in the meantime, I'm using these tips to feel better. Do you suffer from summer allergies?
Disclosure: I received product and was compensated for this post. All opinions on this blog are my own.