Celebrate Summer with Ice Cream Desserts
You really don't need a reason to enjoy ice cream; however, this summer I do have a couple of celebrations that could use a sweet treat!
The biggest one is that my oldest daughter was accepted to university in southern Ontario and will be leaving the nest in August (sniff, sniff). This is an important milestone in our lives. She's starting her adult life and I'm dealing with my first child leaving home.
The second celebration will be the unveiling of our renovated kitchen. It's been a long time coming and I can't wait to see the finished space. It's going to be SO nice. All the mess I'm dealing with now will be worth it.
Ice Cream Desserts
Whether you're celebrating a milestone or simply craving something cold and sweet, ice cream is the answer! It doesn't have to be expensive and you can enjoy delicious frozen treats for less when you shop at Walmart. They recently provided me with a couple easy recipes to try and share with you. The results were outstanding! We love Great Value Ice Cream and I think you will too.
Superlicious Float
Floats are a popular cold treat in our home. They are simple for the kids to make and require only a few ingredients. The Superlicious Float was a hit after a day of renovating.
The star of the recipe is Great Value Superlicious Ice Cream. It's smooth, creamy, colourful and packed full of fun fruity flavours. It's yummy on its own, but this float recipe takes it up a notch. Each sip is a different flavour experience! The kids will get a kick out of all the colours and how each bite tastes different from the last. It has banana, strawberry and blueberry flavours.
You'll also need Great Value Peach Sparkling Water, Great Value 4-Berry Frozen Fruit Blend and some Great Value Strawberry Wafer Cookies for garnish.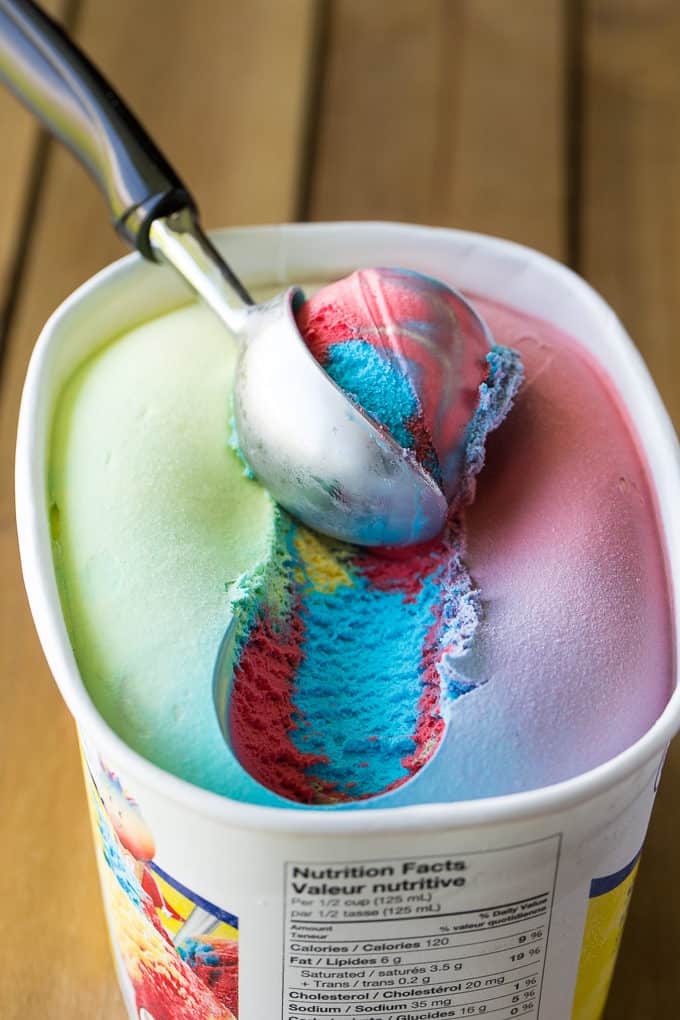 Add 2 scoops of ice cream and 2/3 cup of frozen berries to large glasses. Pour the sparkling peach beverage over top and garnish with a strawberry wafer cookie. I told you it was an easy recipe!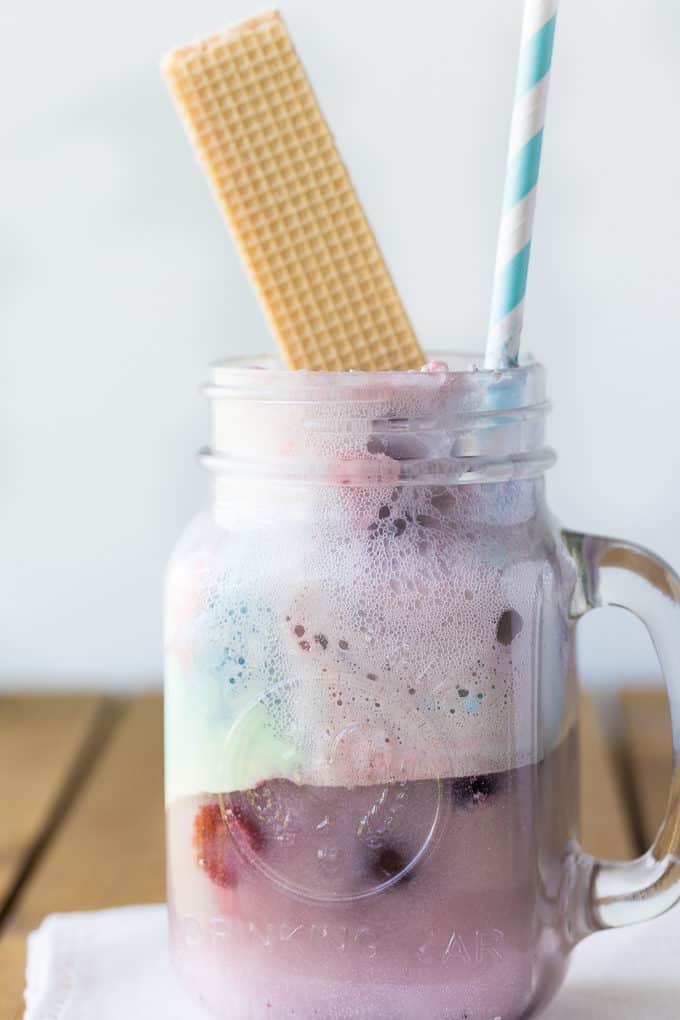 The result is a sweet, refreshing and creamy summer drink you can enjoy to beat the heat on a hot summer's day.
The frozen berries are a nice touch and act like little ice cubes keeping your drink cold despite the hot weather.
I like to dip my strawberry wafer cookie into the float, as it makes for a prettier presentation for a perfect frozen dessert. Bridget, my 12-year-old, can easily make her own floats without my help. She's been asking me to buy more Great Value Ice Cream in some other flavours so she can create different recipes. It's a fun way for kids to experiment in the kitchen.
Birthday Bonzana Cake
Are you ready to learn how to make the ULTIMATE ice cream cake? This Birthday Bonzana Cake will blow your mind with how scrumptious it tastes and how simple is it to assemble. You are going to want to save this recipe so you can WOW your friends and family for your next special occasion.
For this recipe, pick up the following ingredients the next time you are doing your grocery shopping at Walmart: Great Value Birthday Party Ice Cream, Great Value Fudge Creme Filled Sandwich Cookies, chocolate flavoured topping, Great Value Vanilla Ice Cream Sandwiches, Great Value Whipped Topping and rainbow sprinkles. All these ingredients are great on their own, but when they come together? Amazeballs.
I went over to my cousin's house to use her kitchen (and her freezer) to make this recipe. She didn't mind as long I left her a piece to try. That was the deal and it was fine with me!
The first step is to soften the Great Value Birthday Party Ice Cream in the fridge for about 30 minutes. This important step will ensure it's soft enough to spread on the cake.
Chop the Great Value Fudge Creme Filled Sandwich Cookies and mix with chocolate flavoured topping. I know it's tempting to grab a few spoonfuls and eat out of the bowl. Hold yourself back, because you'll need to save it for the recipe. It's worth it, I promise.
Lay four Great Value Vanilla Ice Cream Sandwiches on a baking sheet covered in plastic wrap. They will become the base for your cake.
Spread a layer of softened Great Value Birthday Party Ice Cream on top of the base and cover with the chopped cookies and chocolate mixture.
Add another layer of ice cream and finish with another layer of ice cream sandwiches. Time to wrap the cake!
Wrap it up tightly with plastic wrap so it retains a rectangle shape and pop into the freezer for four hours.
After the four hours, your cake should be nice and firm. Top with thawed Great Value Whipped Topping and rainbow sprinkles. The cake then goes back into the freezer (minus the plastic wrap) for 2 hours so that the whipped topping firms up.
Look at this beauty? I was so happy with how it turned out. This was my first time ever making an ice cream cake! It sure won't be my last though now that I know how.
I'm sure you're wondering if it tasted as good as it looks. All I can say is "Oh my, did it ever!" It was a creamy contrast of fun flavours.
I loved the Great Value Birthday Party Ice Cream. It tastes just as yummy (if not better) than a homemade ice cream! It's melt-in-your-mouth good. If you love the cake and ice cream combination, you need to try it.
It slices beautifully so that everyone can try all the layers of cold sweetness.
My cousin's kids devoured this cake in record time. I left some in her freezer for them to try. She said it was gone by the next day. I can't say I'm really surprised though! It's a keeper.
I left her the recipe so she can make it again. She said she had some birthdays coming up this summer and this cake will be perfect for the occasion.
Satisfy your sweet cravings and stay cool with Great Value Ice Cream this summer. I hope you'll try these unique recipes and let me know what you think!
Superlicious Float and Birthday Bonanza Cake
Ingredients:
Superlicious Float:
Birthday Bonanza Cake:
Directions:
Superlicious Float:
Into each of 4 large glasses, portion 2 scoops of ice cream and 2/3 cup fruit blend. Over top, pour sparkling beverage and top with a strawberry wafer cookie. Serve immediately.
Birthday Bonanza Cake:
Place ice cream in the fridge to soften for 30 minutes.
In a small bowl, mix cookies with chocolate topping.
Invert a rimmed baking sheet (to act as a guide for cake layout) and lay 2 sheets of plastic wrap next to one another overlapping slightly to create a base to wrap the cake. In the centre of the plastic wrap, working quickly, lay 4 ice cream sandwiches side by side lengthwise to create a rectangle base. Spoon 2 cups (about 4 1/2 cup scoops) ice cream over top, lightly pressing to flatten evenly to edges of sandwiches with a spoon.
Spoon chocolate mixture over top, spreading to within 1/2 inch of edge. Repeat ice cream layer and top with remaining ice cream sandwiches. Fold plastic wrap over to completely seal the cake. Lightly press ice cream sandwiches down to flatten and adhere to ice cream and press ice cream in to ensure cake maintains its rectangular shape. Freeze until firm, about 4 hours.
Unwrap cake and spread evenly with thawed whipped topping and decorate with sprinkles. Place in freezer until whipped topping is firm, about 2 hours. Remove to a serving tray. Slice and serve immediately.
What frozen desserts do you love to enjoy in the summer?
Connect with Walmart Canada on Facebook, Twitter, Pinterest and Instagram. 
Disclosure: This post is sponsored by Walmart Canada as part of the Walmart Great Value Ice Cream program. In exchange for this post, I have received perks in the form of products and/or compensation. All opinions on this blog are my own.