Disclosure: I was compensated for this post. All opinions and experiences on this blog are my own.
It's important to take time out of your day for yourself. As a mom, I know how hectic life gets. We are busy working both inside and outside the home, taking care of household chores, running multiple errands, cooking meals and the list goes on and on. I know I'm guilty of forgetting about "me time" and I'm working hard on making it more of a priority.
"Me time" doesn't have to be complicated. Even a nice hot shower using your favourite body care products can fit the bill. Pamper yourself and relax! We are currently in the middle of a huge kitchen renovation so a hot shower at the end of the day feels like pure bliss! Bye bye dust and grime and hello soft, sweet smelling skin.
Lately, I've been enjoying the new body care products from AVEENO that use the power of ACTIVE NATURALS Oatmeal and the nutrients found in Greek yogurt to give me a wonderful spa-like experience. If you want soft summer skin that smells fabulous, you need to try these products!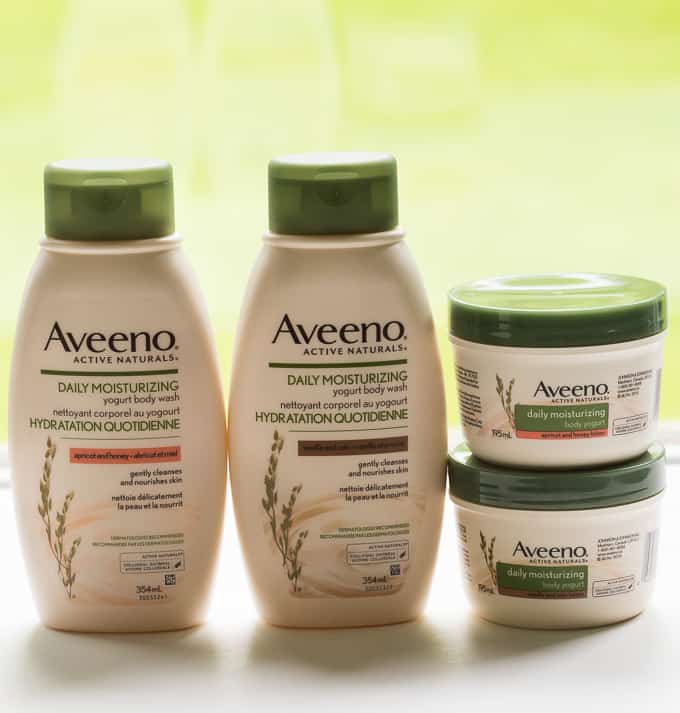 Meet AVEENO Daily Moisturizing Body Yogurts and Washes to revitalize and nourish your skin. I found it interesting that they used yogurt in their formulation as it's not something I would have thought to use. It's really brilliant though. Yogurt is packed full of vitamins, lactose, proteins, lactic acids and lipids that work together to help your dry skin.
My skin drank in all the moisture and felt wonderful after my shower. I used the AVEENO Daily Moisturizing Body Washes to wash in the shower. It comes in two scents: Vanilla Oat and Apricot Honey. I loved the rich, creamy lather and soft scent. It was an experience that piqued my sense of touch and smell. It rinses easily off leaving my skin feeling incredible. John kept trying to sniff me because he said I smelled so good.
I also appreciated its gentleness. I have sensitive skin and have to be careful with the products I use. I had no issues using the body washes on my skin. The AVEENO Daily Moisturizing Body Washes' ingredients are made to gently cleanse skin without over stripping or damaging skin.
I also used it to prep my legs for shaving. The razor glides right over top for a close, even shave.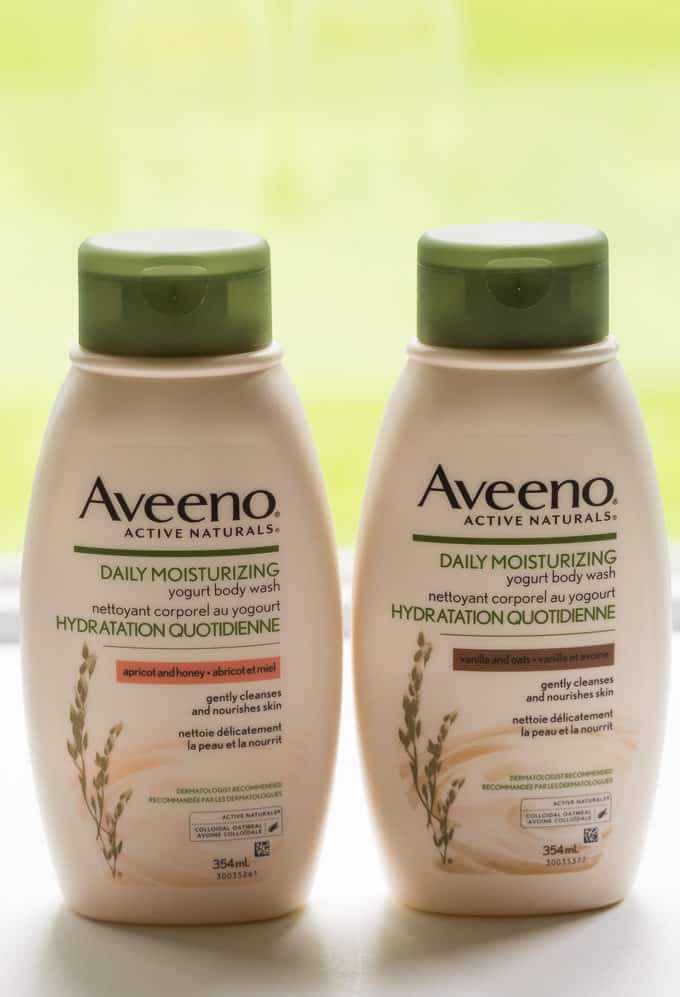 After my shower, I applied the AVEENO Daily Moisturizing Body Yogurt. It comes in the same two scents (Vanilla Oats and Apricot Honey) so I'll use the same one as the body wash I used. It's also made with ACTIVE NATURALS Oatmeal and nutrient-rich yogurt. Just rub it all over your clean skin and feel it work its magic as it hydrates your skin. It works for 48 hours after you apply to keep skin hydrated. I love how soft my skin feels after my shower. I don't mind that I'll get dirty the next day because I know what I have waiting for me after the reno crew leaves! It's something I look forward to each day.
It even looks like Greek yogurt a little bit, don't you think? It's an ample size so it will last me a while!
Are you ready for beautiful summer skin? Look for these new AVEENO products at food, drug and mass merchandisers across Canada. My skin thanks AVEENO for this introduction and I hope you try them, too. Take some "me time" – you deserve it!