Canadian Burger Recipes to Try this Summer
In Canada, we don't let a little weather stop us from barbecuing. I have friends who barbecue all winter long. I'm not one of those crazy folks (I mean that in a good way) so this past weekend was my first time dusting off the barbecue on my patio and getting my grill on. It rained a little, but my daughter, Bridget, and I didn't care. We were hungry and couldn't wait to try some new, creative burger recipes from Walmart Canada!
The star of the recipes were these Great Value Beef Burgers . I've seen them before, while shopping for groceries at my local Walmart, but never picked them up. I was curious to see how they would taste. Let me tell you, they do not disappoint!
I picked up the box of eight burgers, but they also come in boxes of 20. You can't beat the price. The box I bought was under $7 and the larger size is $15. I love that they offer more bang for my buck.
With Canada's 150th birthday coming up this summer, I know many of us are planning to celebrate with a cookout and Great Value Beef Burgers are perfect for the occasion! I tried them in two unique recipes representing different regions of our beautiful country.
I chose this particular recipe because I've lived in the Maritimes on two different occasions. I went to University of New Brunswick in Fredericton in the early 2000's and called the Annapolis Valley in Nova Scotia my home for 5 years, until 2014. The Ultimate Maritime Burger is unlike any burger I've ever tried. It features sauerkraut, a popular Maritime ingredient that is made on Tancook Island, NS, peanut butter and regular burger toppings like bacon and lettuce.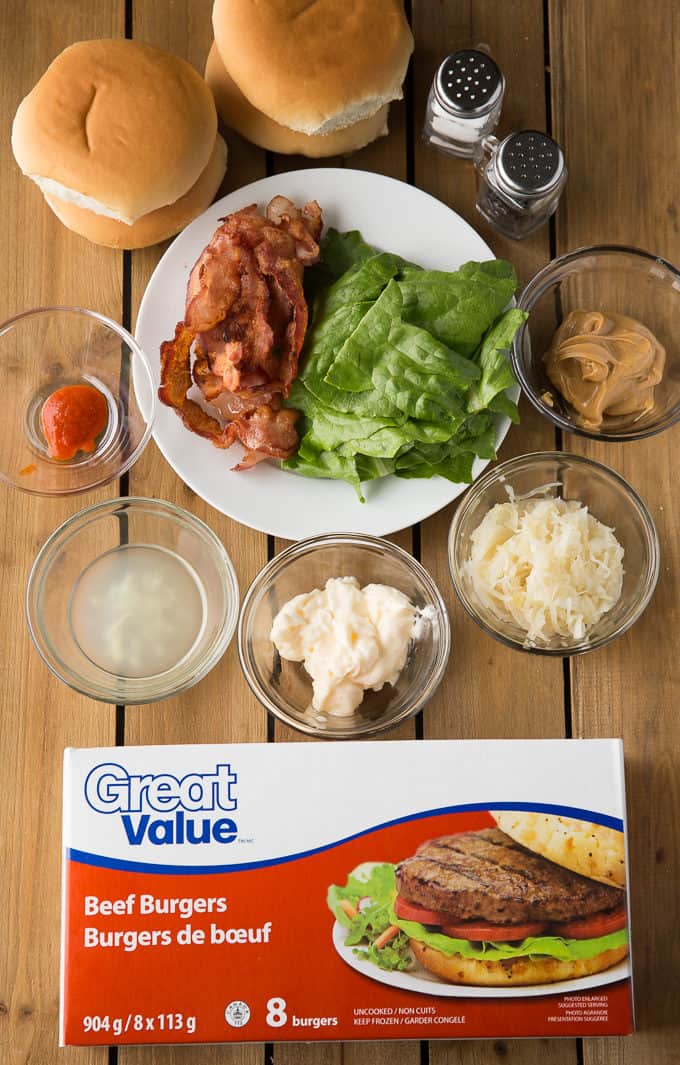 Normally, we put sauerkraut on our sausages, but it works well on burgers too. I bought Great Value Sauerkraut and ate it right out of the jar. It was that good!
The "special sauce" is made with sauerkraut juice, Great Value Mayonnaise and Sriracha Sauce.
Just whisk the ingredients together in a bowl and set aside in the fridge until you are ready to serve. This is an easy step that the kids can help you with.
Bridget and I braved the weather and headed out to the patio to barbecue our Great Value Beef Burgers. I tried to get those pretty grill marks on them by rotating the burgers throughout their cooking time.
Bridget is only 12 so still a little young, in my opinion, to barbecue, but she was great company for me while I was busy grilling.
After the burgers are cooked to perfection, it's time to assemble and create your burger masterpieces.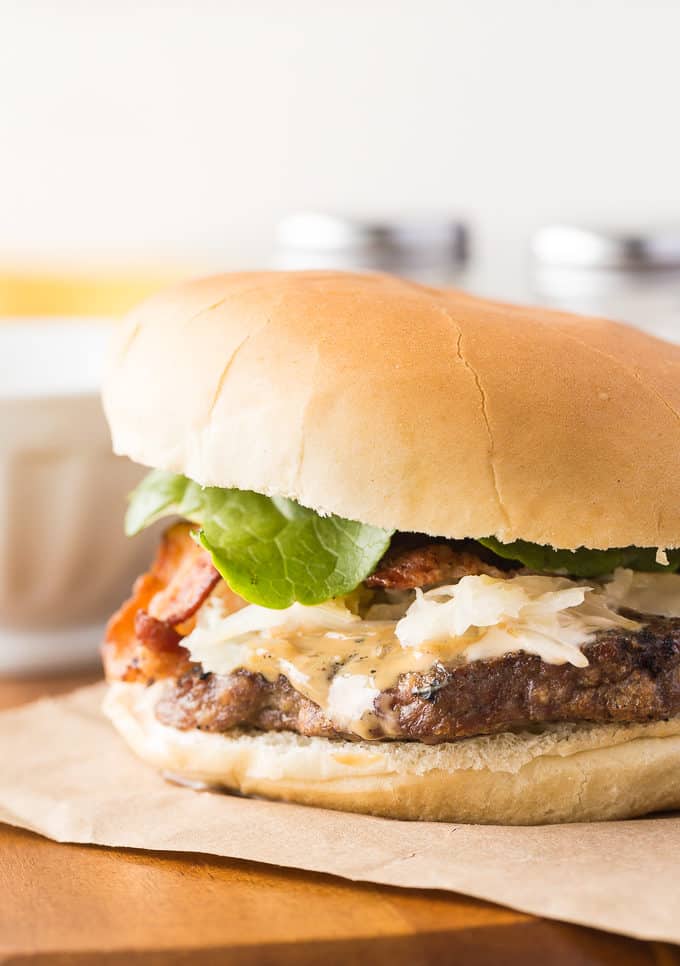 I know it sounds a bit weird to put peanut butter on a burger, but don't knock it till you try it yourself. I was skeptical, too. However, my view changed with the first bite. I used Great Value Peanut Butter slathered it on my burger and it just works. I know, crazy, but it added a lovely nutty taste that paired wonderfully with the tangy sauerkraut and juicy beef.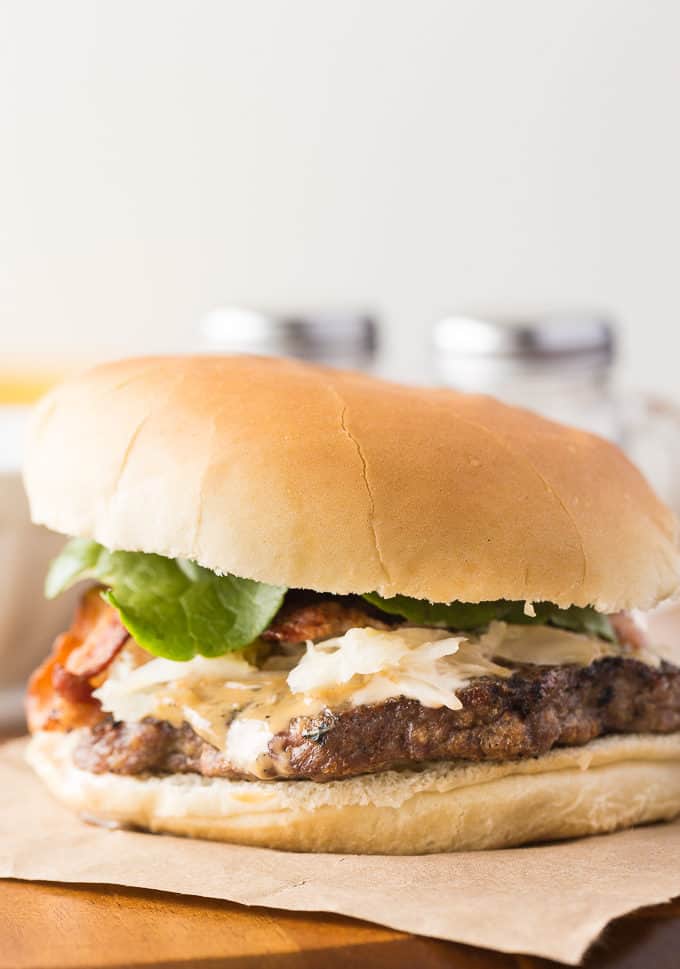 And that sauerkraut sauce. I wanted to bottle it up and drink it! It was tangy, creamy with a hint of spice. It drips off the burger while you are eating it and I was sopping it all up with my bun!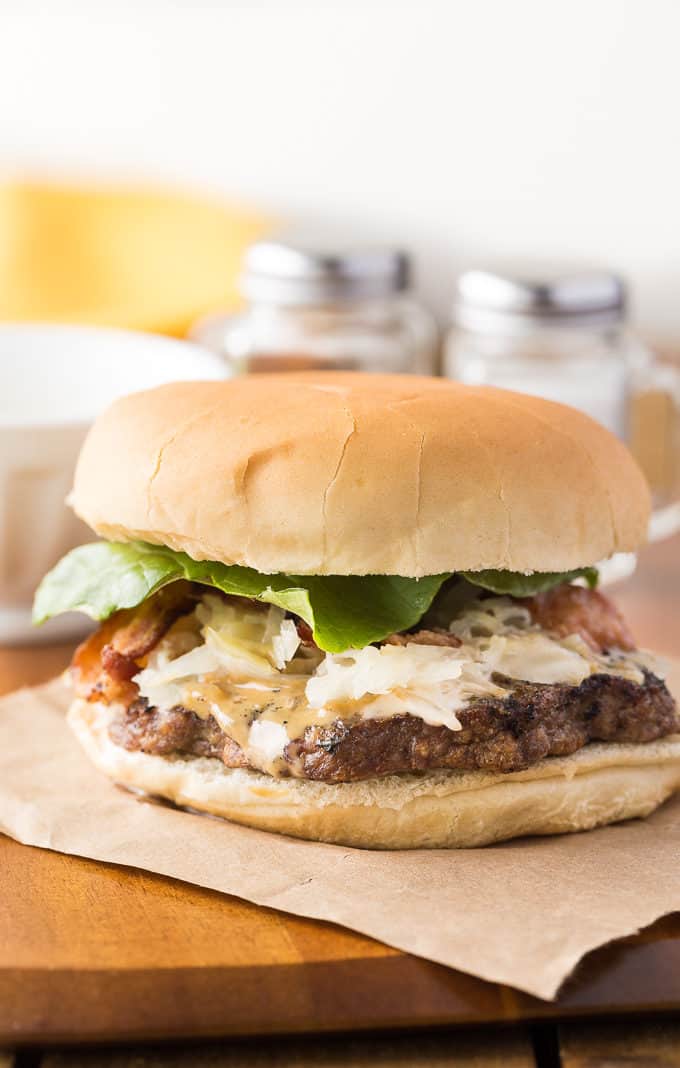 The Ultimate Maritime Burger has so many flavours and textures going on at the same time. It's an explosion of yum with each bite.
My favourite part was the Great Value Beef Burger. This high quality burger is juicy and tender with a mouthwatering grilled flavour. I was surprised by how much I enjoyed it. I can easily see these burgers becoming my go-to burgers this summer.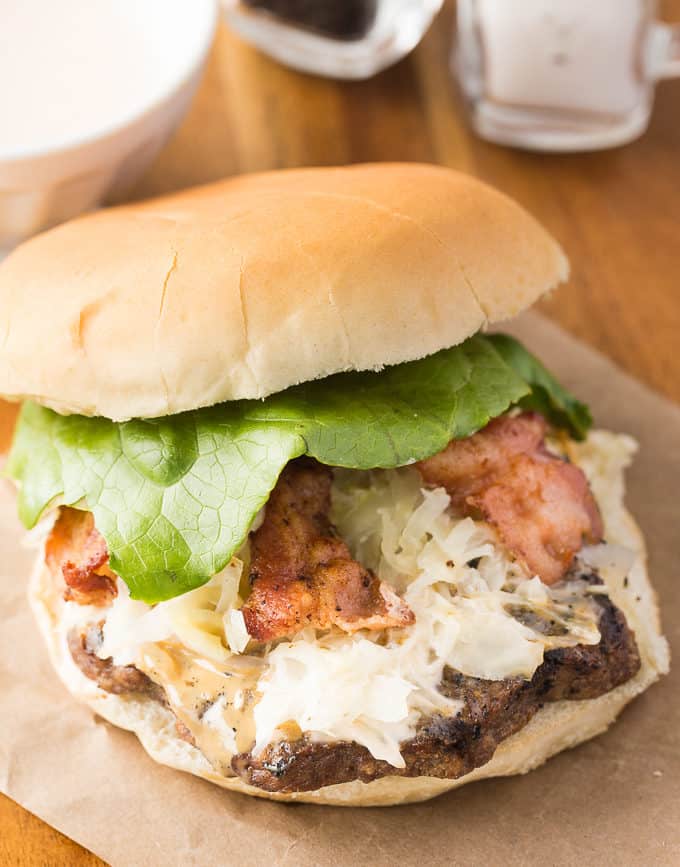 Ultimate Ontario Burger
I was born and raised in the beautiful Ottawa Valley and it's also where I currently live. Ontarians love their summer BBQs and I know they will enjoy this simple recipe for the Ultimate Ontario Burger. This recipe uses local ingredients to take a regular cheeseburger to a whole new and exciting level. Think fresh cheddar cheese curds, peameal bacon, maple syrup and fresh veggies. Oh my!
While your burgers are grilling, whip up the Maple Mustard sauce. It's the easiest sauce recipe you'll ever make with two ingredients: Great Value Dijon Mustard and Our Finest Maple Syrup.
Stir together to make a luscious savoury/sweet sauce to dress up your burgers.
Bridget assembled the burgers. The iceberg lettuce goes on the bottom along with a dollop of maple mustard and is followed by a perfectly cooked Great Value Beef Burger with melted cheddar cheese curds. Then add your red onion slices, Ontario hot house tomato slices and cooked peameal bacon. Finish off with more yummy Maple Mustard sauce.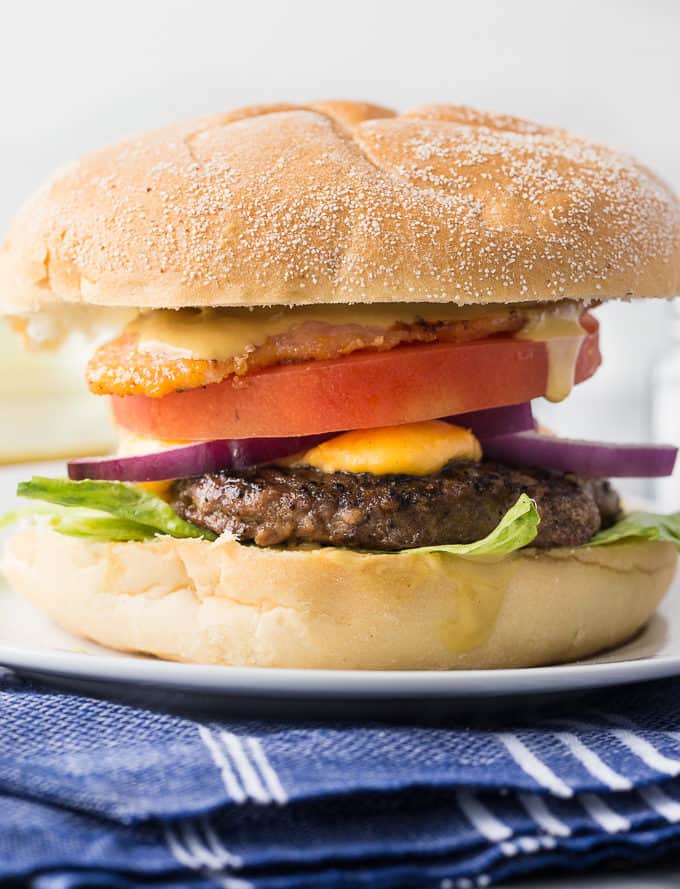 It's a big burger so you'll want to make sure you have some napkins nearby!
Olivia and her boyfriend were here to try the burgers out and they said the Ultimate Ontario Burger was their favourite.
I'm torn between the two burgers because they were both so different, yet delicious. Don't make me pick a favourite!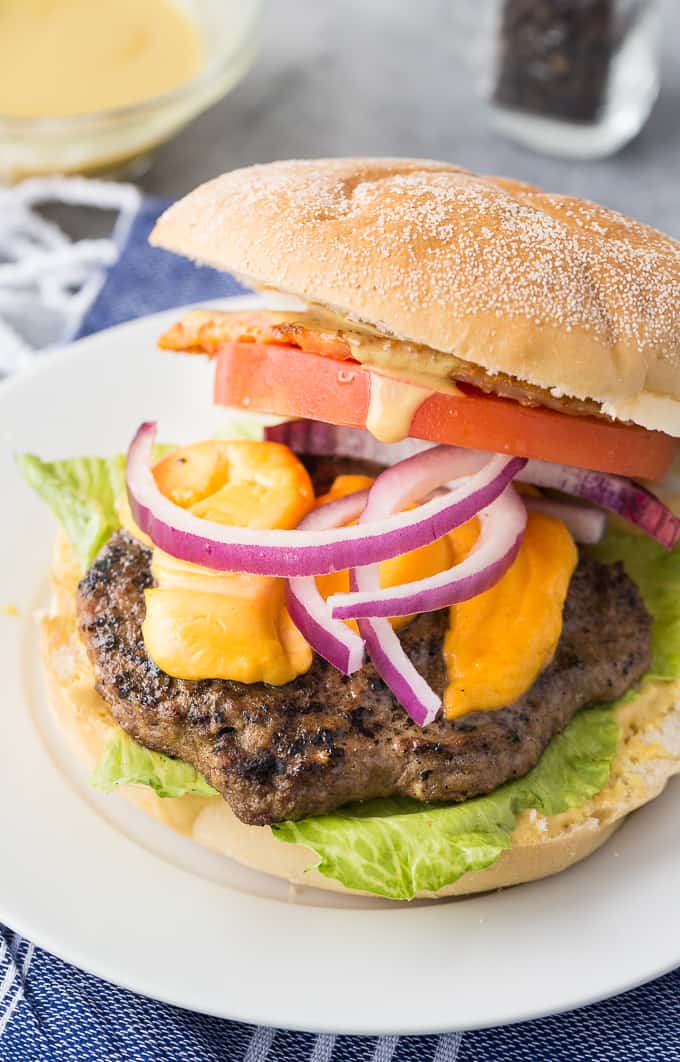 These recipes are only a sampling of the recipes you can find in the Walmart Recipe Centre . You'll also want to try their Ultimate B.C. Burger and their Ultimate Prairie Burger. They are so creative! These burger recipes are perfect for Canada's 150th birthday celebration.
Bridget, my sweet, picky girl, enjoyed the burgers, but kept them plain topping with only Great Value Ketchup. I tried to get her to try the new recipes, but she wanted to stick to her favourite topping.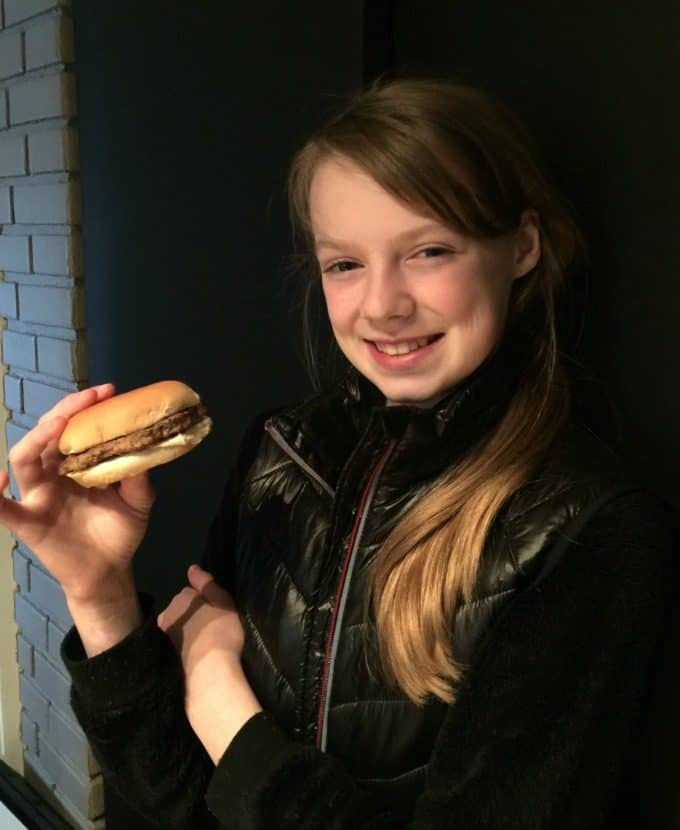 It was a great weekend! We connected over delicious, unique Canadian burgers and enjoyed some family time in the process. I highly recommend you try Great Value Beef Burgers and make these recipes, too. I bet your family will enjoy them as much as mine did!
What are your favourite burger toppings?
Connect with Walmart Canada on Facebook, Twitter, Pinterest and Instagram.
Disclosure: This post is sponsored by Walmart Canada as part of the Walmart Great Value Beef Burgers program. In exchange for this post, I have received perks in the form of products and/or compensation. All opinions on this blog are my own.
Ingredients
4 Great Value Beef Burgers
3 tbsp juice from the sauerkraut jar
3 tbsp Great Value Mayonnaise
1/2 teaspoon Sriracha sauce or to taste
Salt and pepper, to taste
4 hamburger Buns
4 tsp Great Value Peanut Butter
1/2 cup Great Value Sauerkraut, drained
8 slices cooked Great Value Bacon, optional but highly recommended
4 pieces of romaine lettuce or a tangle of arugula or baby spinach
Instructions
Cook burgers on BBQ according to package directions. While the burgers are grilling, whisk together the juice from the sauerkraut with the mayonnaise. Add Sriracha, salt and pepper and whisk well until smooth.
Place cooked burger on top of the bun and spread with a layer of peanut butter, followed by a spoonful of Sriracha dressing.
Top burger with sauerkraut, bacon and finish with romaine, arugula or baby spinach.
Recommended Products
As an Amazon Associate and member of other affiliate programs, I earn from qualifying purchases.
Nutrition Information:
Yield:

4
Serving Size:

1
Amount Per Serving:
Calories:

655
Total Fat:

37g
Saturated Fat:

12g
Trans Fat:

0g
Unsaturated Fat:

21g
Cholesterol:

112mg
Sodium:

1117mg
Carbohydrates:

41g
Fiber:

4g
Sugar:

7g
Protein:

39g
Ingredients
4 Great Value Beef Burgers
1 cup cheddar cheese curds or 8 slices Great Value Old Cheddar Cheese
¼ cup Great Value Dijon Mustard
1 tbsp Our Finest Maple Syrup
4 Kaiser buns
4 pieces iceberg lettuce
1 small red onion, sliced
1 Ontario hot house tomato, sliced into 4 rounds
4 slices Peameal bacon, cooked
Instructions
Cook burgers on BBQ according to package directions. Top burgers with cheese curds (1/4 cup per burger) or sliced cheddar cheese (2 slices per burger). Melt on BBQ with lid closed, about 2 to 3 minutes.
In a small bowl, combine Dijon mustard with maple syrup to make maple mustard. Spread evenly between tops of Kaiser buns. Place lettuce on bottom half of Kaiser buns.
Place cooked burger on top of lettuce on each Kaiser bun. Top with onion slices, tomato slice and Peameal bacon. Serve with extra maple mustard.
Recommended Products
As an Amazon Associate and member of other affiliate programs, I earn from qualifying purchases.
Nutrition Information:
Yield:

4
Serving Size:

1
Amount Per Serving:
Calories:

753
Total Fat:

42g
Saturated Fat:

18g
Trans Fat:

0g
Unsaturated Fat:

19g
Cholesterol:

153mg
Sodium:

1321mg
Carbohydrates:

42g
Fiber:

3g
Sugar:

9g
Protein:

49g