9 Ways to Avoid a March Break Meltdown
Disclosure: I was compensated for this post. All opinions are my own.
Are you ready for March Break mayhem? If you are a parent or caregiver, you'll know exactly what I mean. They call it a "break", but really it's anything but that! The kids are off school and the days seem to drag on. In my experience, the worst thing about it is hearing the dreaded, "Mom, I'm bored" over and over AND OVER again. With younger kids, you can expect temper tantrums otherwise known as #MarchBreakMeltdowns. You'll want to avoid that at all costs!
Don't worry, it's not that hard to do. With a few simple ideas, you can keep your kids happy and entertained throughout the week and save your sanity (and eardrums). Who knows, maybe you'll even be able to relax a bit yourself as well as spending some quality family time together with the ones you love the most.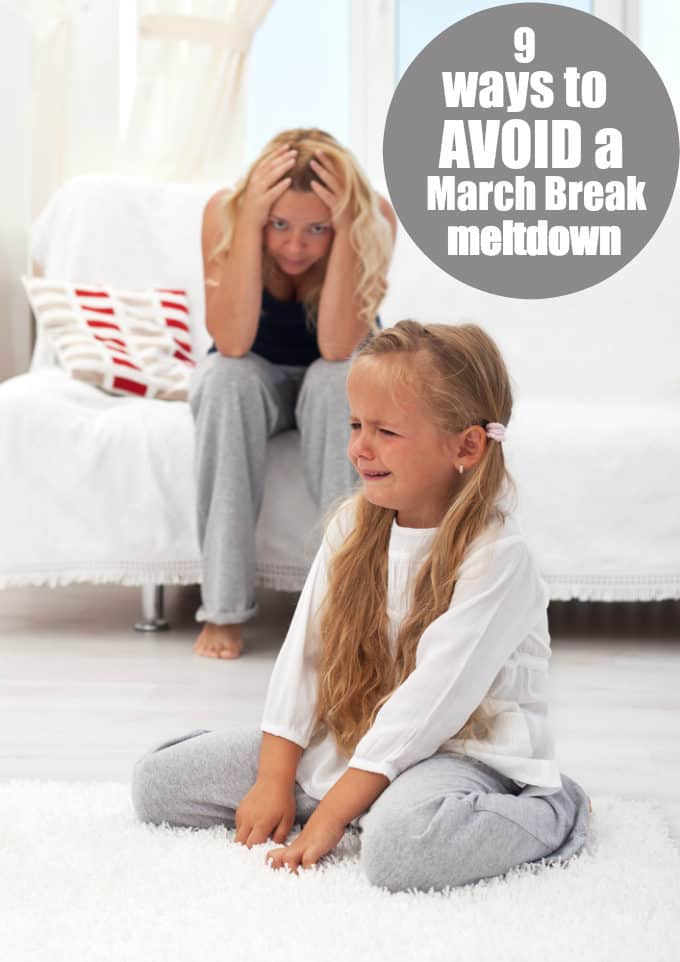 Here are nine ways to avoid a March Break meltdown and ensure there is laughter and smiles all week long.
1. Stick with battery powered toys. Prepare for the week ahead by stocking up on Duracell batteries. They'll power your kids' favourite toys and games all week long and keep them busy so you can catch up on housework or relax with a book. You can trust that Duracell has the power to make it through the week and prevent any meltdowns because of a toy that stopped working. Tablets are great, but the batteries don't last forever. That's why we prefer Duracell to ensure the fun doesn't have to end.
2. Plan a Game Day. Grab a variety of fun games, some snacks and drinks and sit down for a few hours of quality family time. We typically have a Game Night once a month with my girls, but during the holidays, we make a day of it instead. It's a great way to keep everyone busy, entertained and out of trouble. If you need game suggestions, I recommend going to Walmart to pick up Trolls Operation, Toilet Trouble and Despicable Me 3 Operation along with some Duracell batteries.
3. Host a Play Date. Invite some of your mom or dad friends over and their kids for a play date at your home. The adults can catch up while the kids are busy playing with their toys. The kids can entertain themselves and you can relax a little with a friend. It's a win-win.
4. Play Hide and Seek. Some of my best memories of my childhood are the games of hide and seek my dad used to play with my sisters and I. We would hide somewhere in the house while my dad looked for us. That game never gets old and I've continued on the tradition with my own two kids. They've found some pretty inventive spots to hide in the house!
5. Watch movies. Movie days (or nights) are a fabulous way to get kids to relax a little after the hustle and bustle of a busy day. Let your kids pick out two or three of their favourite movies to watch and you can prepare some popcorn for everyone to enjoy. My kids like to take the cushions off the couch as make-shift beds to lay on while they watch the movie. If you're lucky, maybe they'll fall asleep so you can enjoy a little peace and quiet!
6. Go on a scavenger hunt. Make a list of items in your home (or outdoors) for kids to find. Each child takes a list with them as they hunt and can check off when they find each item. I've set up nature scavenger hunts for my kids where they have to find items in the yard like a specific type of flower or a bird's nest. Give the kids an instant camera like the Fujifilm Instax 300 and let them take and print pictures of their finds! This way, you'll save the battery on your smartphone and kids can put their photos into a scrapbook if they like!
7. Take the kids to the local pool. Typically, local community pools are open during March Break so you can take the kids swimming for an hour or two. It's great exercise and allows them to practice an important skill. Bring your bathing suit so you can join them!
8. Have a dance competition. Put on the tunes and get the kids to dance like no one is watching! They can plan out a routine and show off their best moves. It's a great way to burn off extra energy and might make them more tired at bed time. Plus, dancing is good old fashioned fun.
9. Make a craft. It doesn't have to be anything complex if you don't want there to be a big mess. My mom used to sit us down with paper and crayons and tell my sisters and I to write a picture book. Kids can let their creativity flow and you'll have a nice keepsake.
Avoiding a March Break meltdown is totally doable and I hope you'll try some of these tips. The power is in your hands and with a few simple activities, you can ensure that the kids have an action-packed week they'll never forget.
Check out these 8 ways to keep kids busy on March break.
Do you have any tips or tricks on preventing meltdowns?